At least 23 people were killed and dozens injured Sunday when at least two powerful tornadoes swept through eastern Alabama, authorities said.
The deaths were in Lee County and the victims included Armando Hernandez, 6, according to his family.
East Alabama Medical Center in Opelika, the county seat, said that it was treating more than 40 patients and that an undetermined number of others had been sent to other hospitals.
Gov. Kay Ivey declared a statewide emergency. Officials said victims had to be transported by trucks out of some of the affected areas because ambulances couldn't get through the debris.
Ivey said Monday the Federal Emergency Management Agency was sending a team, whose primary focus would be on search and rescue "as there are many people unaccounted for."
"FEMA has been told directly by me to give the A Plus treatment to the Great State of Alabama and the wonderful people who have been so devastated by the Tornadoes," President Donald Trump wrote in a tweet Monday.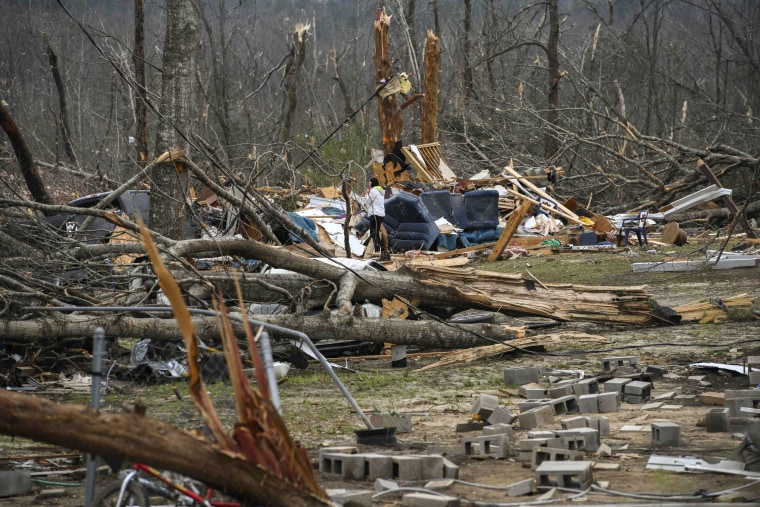 Sheriff Jay Jones said the ages of the dead hadn't been fully determined, but the 6-year-old wasn't the only child killed, and the death toll was expected to rise.
Jones described "massive damage" to buildings in the area. "The contents of one residence, we know for a fact, were located over 1,000 yards away," he added.
Drones equipped with heat-seeking devices had scanned the area for survivors but the dangerous conditions halted the search late Sunday, Jones said.
"The devastation is incredible," he said, adding that the affected area was at least a half-mile wide and a mile long.
"It appears it stayed on the ground for at least a mile and maybe longer."
The Lee County Emergency Management Agency said the worst of the damage was near the town of Beauregard.
One man living in the area said the tornado's advance sounded like a "freight train coming."
After nightfall Sunday, the rain had stopped and pieces of metal debris and tree branches littered roadways in Beauregard. Two sheriff's vehicles blocked reporters and others from reaching the worst-hit area. Power appeared to be out in many places.
Search and rescue efforts were due to resume in full force at daybreak, Jones said.
Jonathan Hickman, who lives in Beauregard, told NBC News he and his mother, Liz, saw the tornado pass through and barely got out alive.
They said many homes appeared to have been destroyed.
"Everything got wiped. It's been leveled," Hickman said in a Facebook Live posted while walking around the neighborhood. "Prayers for the people who lost everything they have ever had."
Liz Hickman was huddled with her grandchildren when the tornado hit.
"We're doing OK. I guess best to be expected."
She told her grandchildren: "Y'all just hold tight. We're here. We were just holding on so tight."
Radar and video evidence showed what looked like a large tornado crossing the area near Beauregard shortly after 2 p.m. Sunday, said meteorologist Meredith Wyatt with the Birmingham office of the National Weather Service.
"It appears it stayed on the ground for at least a mile and maybe longer," Jones told the Associated Press.
The NWS' preliminary assessment of the tornado put it at F3 on the Fujita scale. F3 storms typically are gauged at wind speeds of between 158-206 mph.
The tornado is the deadliest since 2013, when an F5 tornado killed 24 people in Moore, Oklahoma.
"This is a day of destruction for Lee County," county Coroner Bill Harris told NBC affiliate WSFA of Montgomery. "We've never had a mass fatality situation, that I can remember, like this in my lifetime."
"I wouldn't wish this on anybody," Jeremy Daniel, a Lee County resident, said. "I've seen earthquakes, and we had a fire last year -- me and my family. This just came on so quick and changed so many lives."
The NWS said the tornadoes touched down amid a severe weather outbreak across the Southeast.
"It's a widespread storm," Brian Hastings, director of the Alabama Management Agency, said in an interview with WSFA.
"We have historic flooding to the north and historic flooding on the Tombigbee [River], and now this storm system that just went through, and now we're getting reports of significant damage" in several neighboring counties, Hastings said.