A "particularly dangerous" and unusual spring-like storm system killed at least seven people and spun off more than a dozen tornadoes in the southeast.
The National Weather Service had declared a "particularly dangerous situation" for a wide area spanning eastern Arkansas, northwest Mississippi, northeast Louisiana and western Tennessee on Wednesday — the first such warning anywhere in the country in a year and a half.
Most watches and warnings had expired by 8:30 p.m. ET, the National Weather Service said, but warned that severe thunderstorms were likely through the night across large parts of the Ohio and Tennessee valleys and the central Gulf Coast states.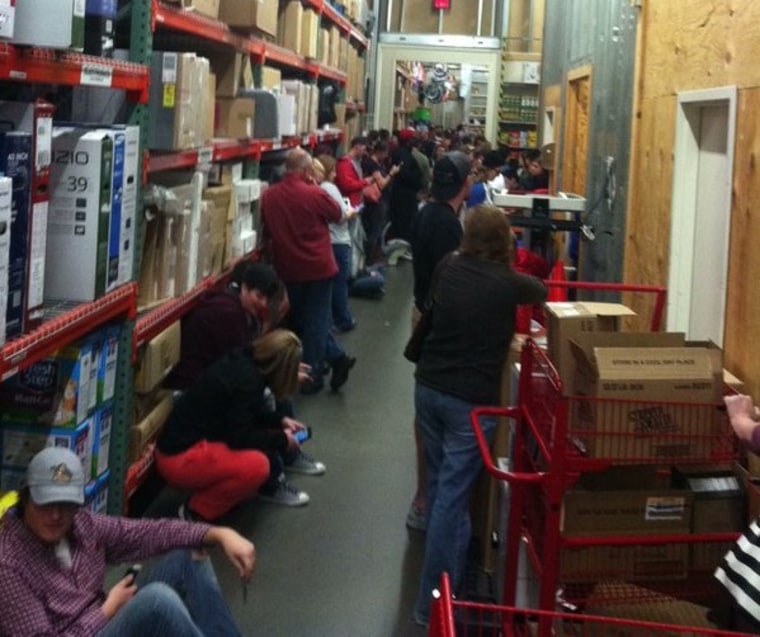 At least seven people were confirmed dead as a result of the violent weather:
A 7-year-old boy was killed in a van on Highway 7 as severe weather swept through the town of Holly Springs, according to Marshall County, Mississippi, Coroner James Anderson
Three people were killed and two others were missing in Benton County, Mississippi, Benton County Coroner Shane Ward said late Wednesday. The dead are two men and one woman, all approximately in their 60s. The Mississippi Emergency Management Agency said at least 40 people were injured as the storms moved swiftly across the state.
A man and a woman were killed in Perry County, Tennessee, the state Health Department said. No further information was immediately available.
An 18-year-old woman was killed and an 18-month-old child was taken to a hospital in Arkansas after high winds and heavy rain uprooted a tree Wednesday morning and tossed it on a house northeast of Atkins.
The rainy, gusty conditions — more reminiscent of June than December — spread north into the Midwest. Indiana emergency officials warned that outdoor Christmas decorations could turn into dangerous missiles and advised residents not to bother putting up inflatable decorations.
Even Santa Claus was canceled, as officials in Woodland Township, Ohio, called off their holiday light display Wednesday night at the town's rec center, NBC station WDTN of Dayton reported. Unfortunately for the town's children, it was supposed to have marked St. Nicholas' final appearance at this year's festival.
Even worse: "We're really concerned about the additional storms yet to come," said Danielle Banks, a meteorologist for The Weather Channel.
A tornado that Banks called "very large and fast-moving" hit the Bellville neighborhood, near Clarksdale, Mississippi, heavily damaged 15 homes and injured three people, one of them critically, the Coahoma County Central Fire Department told NBC News.
A crop dusting company was "wiped out," a fire dispatcher said.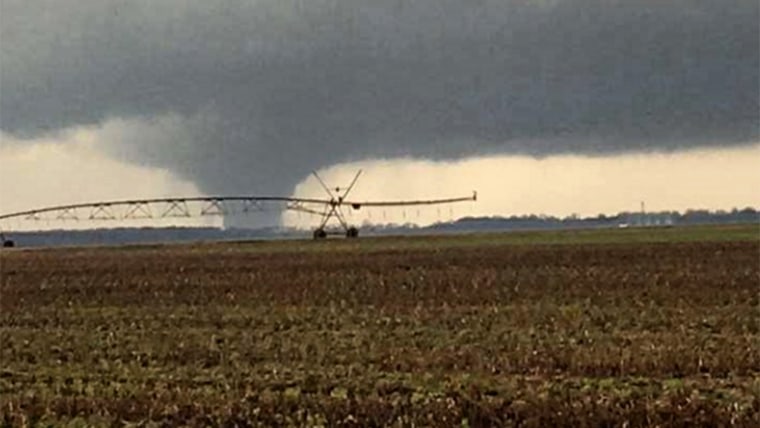 Guy Malvezzi, owner of the Shack Up Inn about a mile away, said, "My partner drove down there and called me and said that there were planes that were blown all over the place and pretty much destroyed, and then one plane that looked like it hadn't been touched at all."
He added: "It happened so fast that you really didn't have a chance to be afraid, but yeah, afterward, I was scared as hell."
Tornado watches stretched Wednesday from Iowa to South Carolina until well into the evening. The University of Alabama-Birmingham suspended operations Wednesday afternoon, leaving only its hospital open.
Nashville's Mayor Megan Barry urged businesses to send their employees home early.
"My first priority is that our citizens are safe," Barry said. "We have the best chance of making sure that happens if we manage the combination of severe weather and holiday travel by getting people off the roads and into their homes as quickly as possible."
Capt. William Swan of the Metro Office of Emergency Management said the holiday shopping rush was an added headache.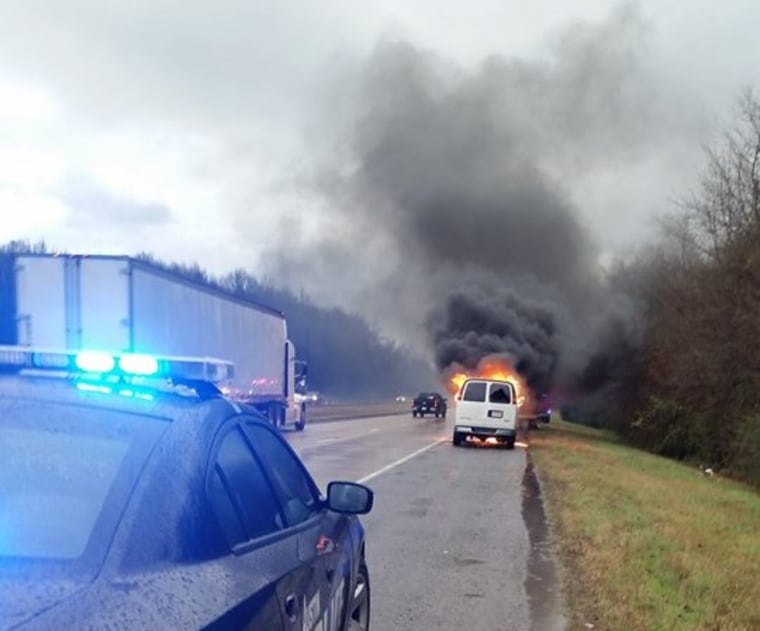 "We just want people to be very conscious of the weather and try to make this holiday safe as possible," Swan told NBC station WSMV of Nashville. "It'd be nice if they could get all of their shopping and visiting done before or after the weather event."
The unseasonably weird weather is yet another manifestation of the unusually strong El Niño setting up shop off the West Coast, meteorologists told NBC News. Much of the eastern half of the country will spend a Christmas Day with temperatures in the 70s.
And it couldn't come at a worse time, with nearly 1 in 3 of all Americans traveling this week for Christmas.
"We are seeing more than 100 million people will be traveling overall," Robert Sinclair, a spokesman for AAA, told NBC News. "That's the first time we've ever hit that record."
The great majority of them will be traveling by car, but the weather was bogging things down for airline passengers, as well. More than 275 arrivals and departures had been canceled by 10:30 p.m. ET at LaGuardia, JFK and Newark airports in the New York area, and more than 1,200 others had been delayed.
Elsewhere, flooding was the big fear.
Parts of Florence County, South Carolina, were under a flash flood warning beginning Thursday, with Black Creek expected to top flood stage, county emergency officials said.
In Macon, Georgia, U.S. 41, better known as the Industrial Highway, was closed because an 8-foot stretch was washed out, and the Walker Road Landfill in south Bibb County was closed until further notice because of rising water.
Meanwhile, hail approaching the size of tennis balls was reported across parts of Arkansas, Mississippi and Tennessee.
At the Outlets of Mississippi, in Pearl, mall managers mobilized after they got a text message blast warning that severe weather was on its way, NBC station WLBT of Jackson reported.
"We have a weather radio in my office and the director of operations' office," said Kathy Hackshaw, the mall's general manager. "The chief of police and I contact each other directly through cellphone."
But the ominous clouds and the brisk winds weren't deterring last-minute Christmas shoppers.
"We put our faith in God and go on," Arnold Brown of Sontag, Mississippi, told WLBT.