Hawaii residents strapped in and forecasters warned of "life-threatening impacts" for the arrival of what could turn out to be the strongest hurricane to hit the islands in a quarter-century.
Hurricane Lane was straddling the line between category 4 and category 5 as it headed northwest through the Pacific on course for the main Hawaiian Islands.
At 5 a.m ET on Thursday, it had maximum sustained winds of 145 mph after having stepped into category 5 territory — 157 mph — a day earlier.
The last category 5 storm to even come close to Hawaii was Hurricane John in 1994, which skirted 345 miles south of the islands. The last severely damaging hurricane was Iniki, a category 4 storm that killed six people in September 1992.
"Lane is a dangerous storm that will impact Hawaii," said Jeff Byard, a senior response and recovery administrator for the Federal Emergency Management Agency, or FEMA. "The time to act is now."
Cathy Shanks, 65, of Lihue on the big island of Hawaii, said in a telephone interview that she and her family learned their lesson during Iniki.
"We don't take hurricane warnings or watches lightly, and we want to make sure we're prepared," she said Wednesday.
The center of the storm was expected to move very close or over parts of the islands and linger there from Thursday through Saturday.
Hurricane conditions — which could include torrential rains, high winds, tornadoes, lightning and flooding from high surf — were expected to develop in southeastern coastal waters late Wednesday night, the National Weather Service's Central Pacific Hurricane Center said.
"Regardless of the exact track of the storm center, life-threatening impacts are likely over some areas as this strong hurricane makes its closest approach," the hurricane center said.
Noting that Lane was moving very slowly, at just 8 mph, Honolulu Mayor Kirk Caldwell said at a news conference Wednesday afternoon: "The rain will be heavy and longer, the wind will be longer in duration and we could have floods."
"We're planning for the worst and hoping for the best," he said.
FEMA was pre-positioning barges, supplies and more than 150 staffers in the state, and schools across the state will be closed Thursday and Friday.
"We don't know where this storm will hit," said Gov. David Ige, who issued an emergency proclamation to speed the state's response. "Everyone should be prepared."
But that could be difficult for thousands of Hawaii residents, said Tom Travis, administrator of the state's Emergency Management Agency.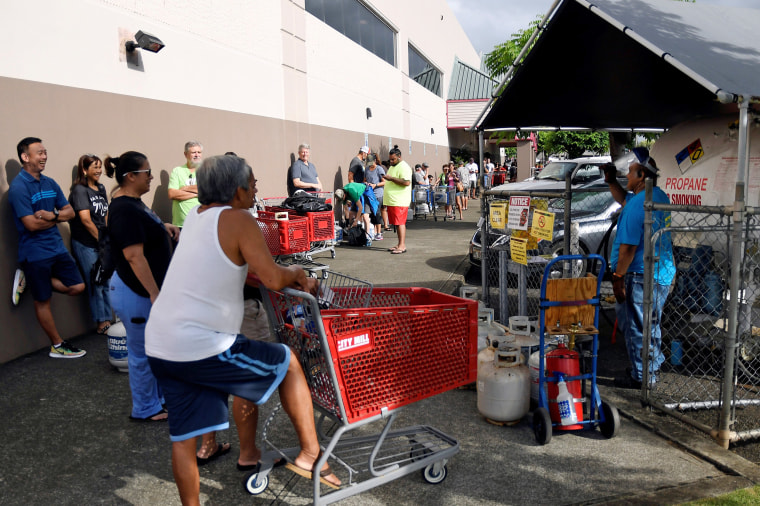 "We do not have enough shelters for everyone," Travis said at a news conference on Tuesday as officials ramped up warnings. "If you're not in a flood zone, most citizens should remain in their homes. If you are in a flood zone, you should actively seek shelters elsewhere."
In February, the Hawaii National Guard reported that the state has too few hurricane evacuation shelters and that those it does have "are in need of retro-fitting and improvement."
The report calculated that there are only 277,376 shelter spaces for the state's 1.4 million residents.
"Hurricane evacuation shelters are a last resort option for residents and visitors who do not have a safer place to stay," it said. "There are insufficient hurricane evacuation shelters to meet the estimated demand of the population and these shelters have no supplies."
Meanwhile, Oahu Emergency Management officials, who've been reviewing shelter sites across the island this week, concluded that some couldn't withstand even a category 1 hurricane, NBC affiliate KHNL of Honolulu reported.
Hiro Toiya, deputy director of the Department of Emergency Management for the city and county of Honolulu, said at a news conference Wednesday most of the shelters that will be opened on Oahu Thursday morning have not been designed or reinforced to withstand winds greater than a tropical storm.
"They are, however, a safer option than remaining in areas prone to flooding, or exposed ridge lines or in older homes with wood frames or single-wall construction," he said. He added that space is expected to be limited and people going there are expected to bring their own supplies.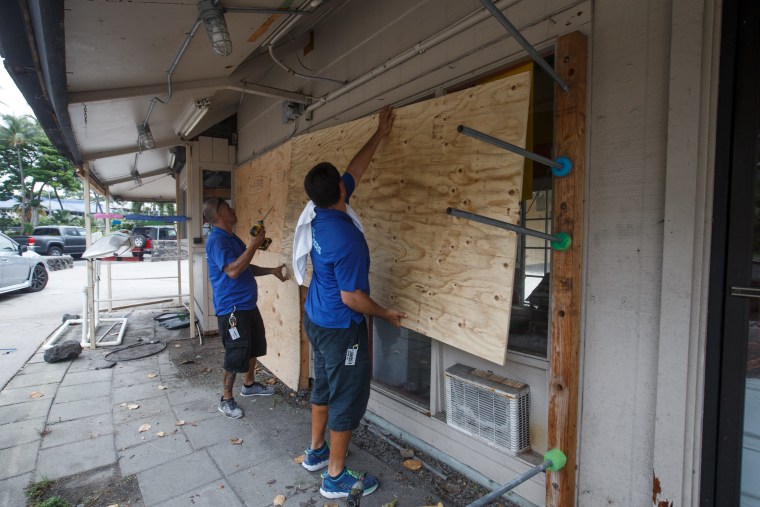 The U.S. Coast Guard set port condition "zulu," or a danger condition, for the Hawaii County port and a "yankee" or warning condition, for Oahu, Maui, Lanai, Molokai and Kauai ports in advance of the hurricane. All pleasure craft were directed to seek sheltered waters.
Hawaiian Airlines tweeted that due to heavy call volume there were long wait times, and that "while the path of Hurricane Lane remains uncertain, it is likely that it will impact our flight schedule as it passes the Islands."
For those choosing to bunker in at home, supplies were rapidly disappearing from store shelves. Costco reported that generators, bottled water and toilet paper were also flying off the shelves at stores where customers waited as long as 45 minutes just to park.
Keith Yasuda of Ewa Beach in Honolulu County needed only a single word to describe the scene at Costco's Iwilei store in Honolulu:
"Horrendous," he told KHNL.