Hurricane Laura made landfall in Louisiana near the Texas border early Thursday as a Category 4 storm with maximum sustained winds of 150 mph.
The storm slammed into Cameron, Louisiana, about 1 a.m., according to the National Hurricane Center, which called it an "extremely dangerous" hurricane.
Hurricane-force winds extended 60 miles from its center. Laura will move inland Thursday morning and move north across Louisiana through Thursday afternoon.
The National Weather Service has said that devastation could spread far inland in eastern Texas and western Louisiana.
Download the NBC News app for latest updates on Hurricane Laura.
Map: Hurricane Laura's potential storm surge
Hurricane Laura's storm surges are forecast to bring "catastrophic damage" to the shores of Texas and Louisiana.
Follow the probability of a storm surge greater than 3 feet above sea level in the map below. See a map tracking the hurricane's forecast path here.
Hurricane Laura's maximum sustained winds could reach 150 mph at landfall
The National Weather Service reported that Laura's strength has grown "rapidly" Wednesday and that the hurricane's maximum sustained winds could reach 150 mph at landfall.
That sustained wind speed would put it only 7 mph away from a Category 5 designation.
While Hurricane Laura is expected to make landfall near the Texas-Louisiana border, the NWS warns, "Laura is a large hurricane and users are reminded to not focus on the precise track forecast since wind, storm surge, and rainfall hazards extend far from the center."
After making landfall as a Category 4 hurricane, Laura is expected to weaken on Thursday, but will still bring a "swath of damaging winds well inland" in both western Louisiana and "extreme" eastern Texas, according to the report. The cyclone is supposed to move off the coast during the weekend.
Special Report: Cat. 4 Hurricane Laura nearing Texas-Louisiana coast; 150 mph winds expected.
Tornado watch issued for parts of Louisiana and Texas
As residents have been ordered to evacuate Louisiana and Texas in anticipation of Hurricane Laura, a tornado watch has now been issued in parts of those states until 9 p.m. central time.
The tornado watch coincides with Laura's initial bands moving onshore.
NWS warns of rising water levels as 'catastrophic' storm surge expected
The National Weather Service's National Hurricane Center reported in its latest Laura update that a "catastrophic" storm surge as well as extreme winds and flash flooding are expected to arrive on the northwest Gulf Coast tonight. The update also detailed that water levels are rising in Texas. 
Port Arthur, Texas braces for another major storm
HOUSTON — As Hurricane Laura churned toward his city, the mayor of Port Arthur, Texas, urged residents to evacuate while they still can.
And if they don't?
"Don't dial 911. No one's going to answer," Port Arthur Mayor Thurman Bartie told reporters.
Port Arthur, a city of about 50,000 people along Texas' Gulf Coast, has been battered by numerous storms in recent years, first by Hurricane Harvey in 2017, and then last year by Tropical Storm Imelda.
Unlike those storms, Hurricane Laura is projected to bring devastating winds and storm surge to Port Arthur, conditions that will make it impossible for emergency workers to respond to distress calls before the storm passes.
Standing in front of a line of EMS workers, Bertie said he wouldn't put any city employees at risk to help those who've refused to leave.
"You are on your own," he said. "What we cannot do, and as mayor what I will not do, is put any of these people in harm's way just because of a person deciding they weren't going to leave and they're going to ride it out. I have no problem with that. Just know it's going to be between you and God. OK? That's all I can say."
Hurricane Harvey scars reopened by Laura
Although her home appeared to be just outside Hurricane Laura's cone of uncertainty, Antonieta Cádiz, who fled Hurricane Harvey floodwaters in 2017, was expecting the worst.
"I am hysterical," Cádiz, 41 of Katy, Texas, a suburb of Houston told NBC News. 
Despite her anxiety, she is staying put for now with her two young children and husband.
"COVID," she said. "What are we going to do? We are in a national pandemic. I cannot go and expose my children ... I cannot expose my family to be with other people not knowing if they have COVID or not."
She was not reassured by the fact that the state is putting people in hotels. She and her husband have parked one of their two cars on higher ground and have a small boat in the driveway, as do her neighbors, just in case. 
Cádiz's home flooded in 2017 when local officials opened floodgates to release rainwater dropped by Hurricane Harvey, which made landfall as a Category 4 storm. When the floors cracked and water burst through, she and her husband, two children and a niece fled in a rescue boat that Cádiz flagged down with screams of "Help!"  The storm destroyed the home, which had to be rebuilt. 
A freelance Spanish-language journalist, Cádiz took a temporary job as a spokeswoman for Climate Power 2020 because of her experience.  
"This will happen again, I know it. Yesterday it was Harvey. Today Laura. Tomorrow it will be another catastrophic hurricane," she said. "If we don't do something to face the challenges of climate change, my story will be the story of millions in the U.S. and all over the world."
Hospital chief in Laura's path: 2020 has been the 'perfect storm'
HOUSTON — As soon as he saw the forecast calling for a Category 3 or 4 hurricane cutting a path directly through his home of Beaumont, Texas, Dr. Gary Mennie knew he and his team needed to act fast.
Mennie, the chief medical officer The Medical Center of Southeast Texas, said his hospital began transferring its most critically ill patients Monday morning, shuttling many of them two hours west by ambulance to Houston, which is now expected to avoid the worst of Hurricane Laura's impacts.
That included all of the hospital's COVID-19 ICU patients.
Now — after months of treating patients on the frontlines of a deadly pandemic — Mennie and dozens of his colleagues are preparing to camp out in a mostly empty hospital, waiting for Laura to come ashore.
"It's like, great, 2020," Mennie said. "The perfect storm."
Like many other hospital workers, Mennie sent his wife and children out of town so he could focus on treating patients without having to wonder whether his family was safe. But it'll be hard not to think of his home in Beaumont. 
Mennie's house was flooded in 2017 during Hurricane Harvey, and again last year during Tropical Storm Imelda. His family had just gotten everything pieced back together, and now Laura is barreling ashore with what forecasters warn could be devastating winds and storm surge.
It's been a long three years, Mennie said. But he and his colleagues won't have time to worry once storm refugees begin streaming through the hospital doors.
"Everybody that stays are the people who say, 'I want to stay. I'm going to ride it out. We're going to be here for the community,'" Mennie said. "And that's sort of in the blood of frontline workers. It's not even an obligation, but you feel that duty. You've got to be there for the community."
Flooding in southeast Louisiana
Flood waters in southeast Louisiana have caused partial closures to Louisiana Highway 1, beyond the Leon Theriot Lock in Golden Meadow. Golden Meadow is approximately 75 miles south of New Orleans. 
Gov. Greg Abbott urges residents of southeast Texas to get out now
Gov. Greg Abbott pleaded with residents of southeast Texas on Wednesday to evacuate immediately because first responders won't be able to get to any storm-ravaged areas until  the morning.
The impact of Hurricane Laura should be felt at about 7 p.m. CT near the Texas-Louisiana border and then make landfall by 1 a.m.
"The hurricane is going to be quite severe," Abbott told reporters in Austin. "People in that area will be dealing with the ravages of that storm for a few more hours." 
Laura should leave that corner of Texas by morning and be out of the state by the end of Thursday, but Abbott said first-responders won't be able to do much work until 9 a.m. at the earliest.
"It will be a little bit of a lockdown time period for the ability of rescuers and aiders to get in and to provide support for anybody in the local regions," Abbott said. "We urge everybody who may be in harm's way to take these last few hours to get out of harm's way." 
Louisiana Gov. John Bel Edwards warns residents to evacuate now
Louisiana Gov. John Bel Edwards doubled down on warnings about Hurricane Laura, a category 4 storm with 140 mph winds, which is expected to make landfall in Texas and Louisiana later tonight. 
Edwards emphasized that now is the time for Louisianans to evacuate their homes, and said that the window to do so is quickly closing. 
Louisiana is anticipating an "unsurvivable" storm surge that is expected to reach 18 to 20 feet, and the majority of Cameron Parish will be underwater at some point.  
"I am asking people right now to pay attention to this storm and to get out of harm's way if there is an evacuation order in place, whether it's mandatory or voluntary, and understand our state hasn't seen a storm surge like this in many, many decades." 
Already, 200,000 people were ordered to leave low-lying Calcasieu Parish and parts of Cameron Parish in southwestern Louisiana.
For the first time in many years the entire Louisiana National Guard has been activated for Hurricane Laura, according to Edwards. Three thousand guardsmen are currently providing support, and the number will continue to increase throughout the day. 
Edwards added, "If you think you're safe because you made it through Rita in Southwest Louisiana, understand this storm is going to be more powerful than Rita." 
Laura upgraded to Category 4 hurricane, National Weather Service says
Laura was upgraded to an "extremely dangerous" Category 4 hurricane just before 2 p.m. ET, according to an update from the National Weather Service.
In an alarming all-caps warning, the weather service said Laura was poised to lash the northwest Gulf Coast with "catastrophic storm surge, extreme winds and flash flooding."
"LITTLE TIME REMAINS TO PROTECT LIFE AND PROPERTY," the NWS said in its update.
The weather service also described the potential surge as "unsurvivable" in some places, with seawater penetrating up to 30 miles inland near the Texas-Louisiana border.
President Trump tweets administration 'fully engaged' on storm prep
Dire warning from the National Weather Service
Coronavirus forces hurricane evacuees to hotels in Texas
SAN ANTONIO — Evacuees from the Texas coast began arriving in cities farther inland Wednesday, but officials have had to abandon the large shelters for hotel rooms to wait out Hurricane Laura. 
Cities were seeing more evacuees than expected. 
San Antonio was expecting about 300 people, but by 9 a.m. Wednesday, 1,458 evacuees had driven in or arrived by buses to a welcome center, said Joe Arrington, a spokesman for the San Antonio Fire Department.
Laura intensified overnight and was a Category 3 hurricane Wednesday morning. 
"Usually we would use warehouses or empty retail centers, but because of COVID we are using hotel rooms that were contracted by the state," Arrington said.
The Circuit of Americas racetrack used as a check-in site in Austin shut down for several hours after the city ran out of hotel vouchers, The Austin American-Statesman reported. Evacuees were directed to go to other cities, but the racetrack opened again Wednesday morning for people who wanted to wait for more hotel rooms to become available. 
Arrington said people have generally been arriving with masks and a medical team was on standby should anyone have COVID-19 symptoms. He said the city has resources prepared should more arrive. 
"This is not our first rodeo, to use the full Texas parlance," he said. 
Photos: Louisiana residents prepare to evacuate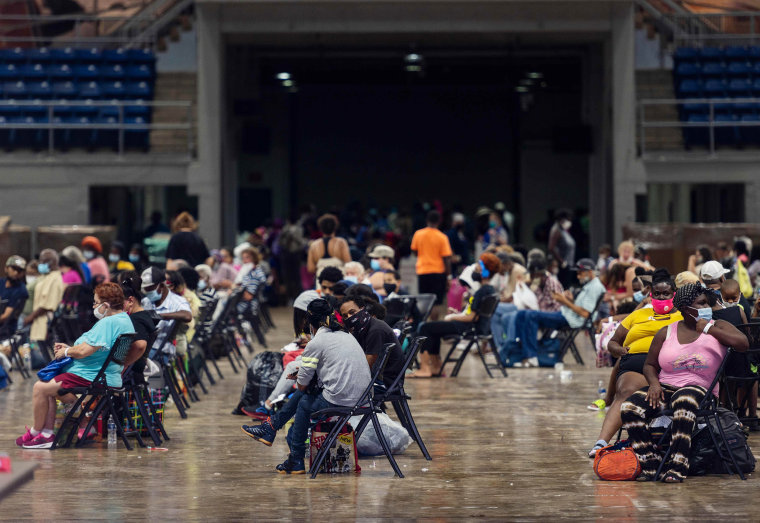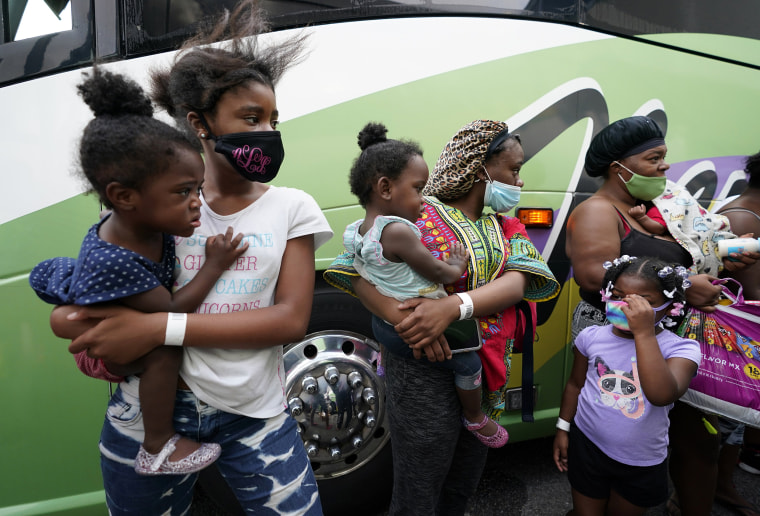 Hospitals prep for 'crazy' dual threat: A hurricane during a pandemic
Emergency officials along Texas' storm-battered coast have gotten plenty of practice responding to disasters in recent years, but they've never seen a scenario like this: A destructive hurricane slamming ashore in the midst of a pandemic.
"It's crazy," said Darrell Pile, CEO of the Southeast Texas Regional Advisory Council, which coordinates emergency medical response in a 25-county region along the state's coast. "You do get to a point where you're like, what else do you want to put on us? You just have to do your best."
Fortunately, Pile said, the number of people hospitalized for COVID-19 in southeastern Texas has dropped significantly since early July, when a surge of new cases strained hospital systems across the greater Houston region. 
As Laura approaches, Pile said hospitals have capacity to care for a rush of patients injured in the storm. But he and other emergency officials are concerned about how to do it safely in the midst of a pandemic.
Experts worry that emergency shelters or crowded hospitals could become incubators for new COVID-19 outbreaks across the region, and are taking steps to mitigate the risk.
"Social distancing will be much more difficult for people who are evacuating," Pile said. "However, they can wear a mask. And they can do their best to minimize being too close to other people. My point is, everyone who is being impacted by this storm still needs to remember what they've been taught to minimize the spread of COVID."
6 million people under flash flood watches
More than 6 million people were under flash flood watches from Louisiana to Arkansas on Wednesday.
Parts of the northwestern Gulf Coast, from western Louisiana to far-eastern Texas, could see 15 inches of rain — on top of a 10 to 15 foot storm surge that could reach 30 miles inland.
The storm surge, a tsunami-like rise of water, "will cause catastrophic damage from Sea Rim State Park, Texas, to Intracoastal City, Louisiana," the National weather Service said. Some areas could see surges up to 20 feet, the National Weather Service said, adding levels even approaching that high were "unsurvivable."
"The deepest water will occur along the immediate coast near and to the right of the landfall location, where the surge will be accompanied by large and destructive waves," the weather service said.
A buoy located near Laura clocked a wave height of 37 feet Wednesday morning, alarming forecasters.
Laura expected to make landfall as Category 4 hurricane
Hurricane Laura is expected to make landfall as an "extremely dangerous" Category 4 hurricane, the National Weather Service warned at 11 a.m. ET.
As of Wednesday morning, Laura was about 230 miles from the coast of Texas and Louisiana, and moving at 16 mph.
The storm was expected to make landfall late Wednesday night. But with Laura's hurricane-force winds extending outward up to 70 miles, and its tropical-storm-force winds up to 175 miles, harsh conditions are expected between 8 p.m. Wednesday and 6 a.m. Thursday.
Fear of coronavirus could give people under evacuation orders pause
A fear of getting sick with the coronavirus may make some people hesitant to go to shelters despite widespread evacuation orders.
"Hopefully it's not that threatening to people, to lives, because people are hesitant to go anywhere due to COVID," resident Robert Duffy said as he placed sandbags around his home in Morgan City, Louisiana. "Nobody wants to sleep on a gym floor with 200 other people. It's kind of hard to do social distancing."
Officials urged people to stay with relatives or in hotel rooms to avoid spreading the virus. Buses were stocked with protective equipment and disinfectant, and they would carry fewer passengers to keep people apart, Texas officials said.
Shelters opened with cots set farther apart to curb coronavirus infections. People planning to enter shelters were told to bring just one bag of personal belongings each, and a mask to reduce the spread of coronavirus.
Fearing that some residents might not want to evacuate, Louisiana Gov. John Bel Edwards said those in southwest Louisiana need to reach wherever they intend to ride out the storm by noon Wednesday.
NOAA aircraft captures aerials of Hurricane Laura from the Gulf of Mexico
More than 500,000 residents ordered to evacuate
In what is now the largest evacuation in the U.S. since the start of the coronavirus pandemic, more than half a million people have been ordered to flee.
More than 385,000 residents were told to evacuate from the Texas cities of Beaumont, Galveston and Port Arthur. Ten more Texas cities and counties were under voluntary evacuation orders, including parts of Houston. About 60 counties in the state were under a disaster declaration Wednesday.
Another 200,000 people were ordered to leave low-lying Calcasieu Parish and parts of Cameron Parish in southwestern Louisiana.
"Cameron Parish is going to be part of the Gulf of Mexico for a couple of days based on this forecast track," said Donald Jones, a National Weather Service meteorologist in Lake Charles, Louisiana.
Track Hurricane Laura's path with our interactive map