Tropical Storm Nate is winding up to wallop the Gulf Coast this weekend.
The latest NBC News forecast has the storm making landfall somewhere on the Mississippi or Alabama coasts sometime around 1 a.m. Sunday, possibly as a Category 1 hurricane.
With Nate expected to drench the region with anywhere from 3 to 6 inches of rain, Louisiana Gov. John Bel Edwards has declared a statewide emergency and a dozen or so members of the National Guard were dispatched to New Orleans to help monitor the low-lying city's fragile pumping and drainage system.
New Orleans Mayor Mitch Landrieu said 108 out of 120 pumps "are working."
"I have instructed all departments and agencies to begin executing their emergency plans," Landrieu said Thursday. "There is no reason to panic, there is reason to prepare."
The governors of Alabama and Florida have also declared statewide emergencies ahead of the storm, which has already killed more than 20 people in Central America.
Packing 65 mph winds, Nate strengthened early Friday and was "expected to become a hurricane by the time it reaches the northern Gulf of Mexico," the National Hurricane Center reported Friday in its latest update.
A hurricane warning was in effect was in effect for metropolitan New Orleans, Lake Pontchartrain and from Grand Isle, Louisiana to the Alabama/Florida border.
And a hurricane watch was in effect east of the Alabama/Florida border to the Okaloosa/Walton County Line.
The deadly storm was about 90 miles northeast of Cozumel, Mexico and was moving north-northwest at around 22 mph, the hurricane center said in a 8 p.m. ET update.
In Nicaragua, at least 11 people died, seven others were reported missing and thousands had to evacuate homes because of flooding, said the country's vice president Rosario Murillo.
In Costa Rica, emergency officials reported at least eight people were killed due to the lashing rain, including two children. Another 17 people were missing, while more than 7,000 had to take refuge from Nate in shelters, authorities said.
Two youths also drowned in Honduras due to the sudden swell in a river, while a man was killed in a mud slide in El Salvador and another person was missing, emergency services said.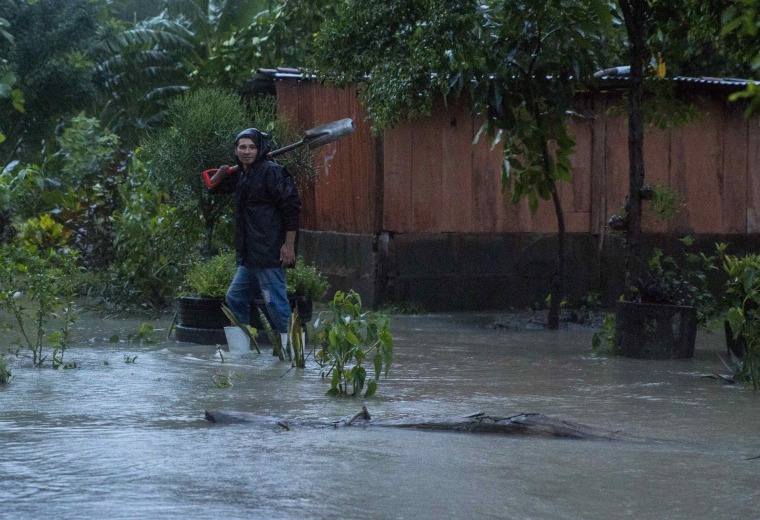 "Sometimes we think we think we can cross a river and the hardest thing to understand is that we must wait," Nicaragua's Murillo told state radio, warning people to avoid dangerous waters. "It's better to be late than not to get there at all."
Costa Rica's government declared a state of emergency, closing schools and all other non-essential services.