Days of rain and rising waters have devastated low-lying Louisiana, particularly in the state's river-swollen south, forcing risky rescues and killing at least 11 people.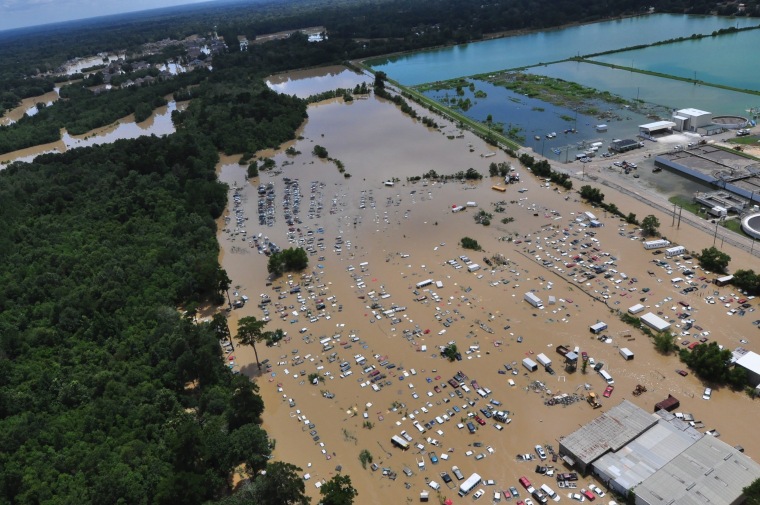 In hard-hit Livingston Parish — swamped by more than 25 inches of rain in three days — officials estimate about 75 percent of homes have been lost to the floods.
Related: What Louisiana Flood Victims Need to Do Right Now
As emergency workers and volunteers from across the country mobilize Wednesday in what is considered the nation's worst natural disaster since Superstorm Sandy in 2012, the heartbreaking toll on the state can be told through various numbers.
4,000,000,000,000
Amount of rain in gallons that fell across southern Louisiana from Aug. 12 to 14, according to Weather.com.
6,000,000
Olympic-sized swimming pools needed to hold all that rain.
70,000
How many Louisianans have registered for FEMA assistance, according to the government agency.
40,000
Estimated homes that have experienced at least some damage from the flooding, according to Edwards.
30,000
Residents rescued from homes and vehicles, according to the Governor's Office of Homeland Security and Emergency Preparedness.
784,00
Sandbags distributed by the Louisiana National Guard.
500,000
Liters of water supplied by FEMA at the incident support base in Pineville.
250,000
Meals handed out at FEMA's Pineville camp.
20
Parishes under a federal emergency disaster declaration. For a full list, click here.
1,000
Nationwide Red Cross volunteers who are assisting in the state.
30,000,000
Amount in dollars that the Red Cross says its relief operation will cost.