A major storm system that started moving through the South and the Midwest starting Friday has killed at least 30 people, according to officials.
President Joe Biden said in a statement Sunday that he has been in touch with officials in affected states, including Arkansas, Illinois, Indiana and Delaware, and that he had directed his administration "to help with immediate needs and long-term rebuilding."
"While we are still assessing the full extent of the damage, we know families across America are mourning the loss of loved ones, desperately waiting for news of others fighting for their lives, and sorting through the rubble of their homes and businesses," Biden said in the statement. "There's nothing we can do to heal the hole left in the hearts of far too many families who lost loved ones this weekend, but we will be there every step of the way as they rebuild and recover."
Thirteen of the deaths are in Tennessee, where an EF-2 tornado struck Wayne and Lewis counties on Friday night, later also hitting McNairy and Hardin counties, according to the National Weather Service field office in Nashville.
Nine of the deaths were in buildings that were destroyed down to their foundations in McNairy County, according to McNairy County Sheriff Guy Buck.
A tornado crossed the entire county and stayed on the ground for over 30 miles causing "every kind of damage imaginable," Buck told NBC News.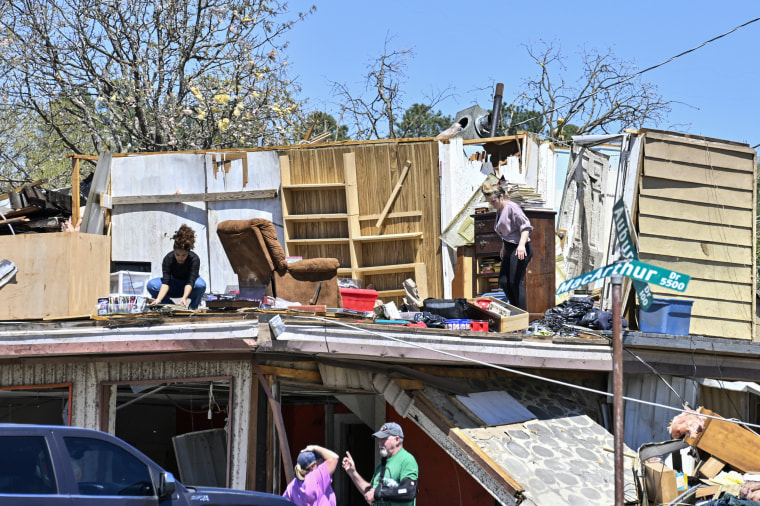 Two children and one adult were found dead in Memphis on Sunday after officers responded to South Edgeware Road after reports of trees having fallen on several homes, the city's police department reported.
A woman in Madison County in northern Alabama was also killed when a tornado hit the Tennessee and Alabama border, according to Tyler Berryhill, the county's coroner.
Survey teams will continue assessing likely tornado damage in Marshall, Rutherford, Cannon and Macon counties, the National Weather Service field office in Nashville said in a tweet.
In Arkansas, five people are dead in Cross and Pulaski counties, where an EF-3 tornado made landfall, according to preliminary data from the National Weather Service field office in Little Rock.
The tornado pummeled between 2,100 to 2,600 structures and sent around 50 residents to hospitals with injuries, according to Little Rock officials.
Arkansas Gov. Sarah Huckabee Sanders' request for a Major Disaster Declaration from President Joe Biden was approved on Sunday.
"It's clear that the damage caused by Friday's tornadoes is significant and widespread," Sanders said in a statement. "I will continue to work with our first responders, law enforcement, volunteers, and state and local leaders to help Arkansans recover. Arkansas stands strong. I know we will come back from this."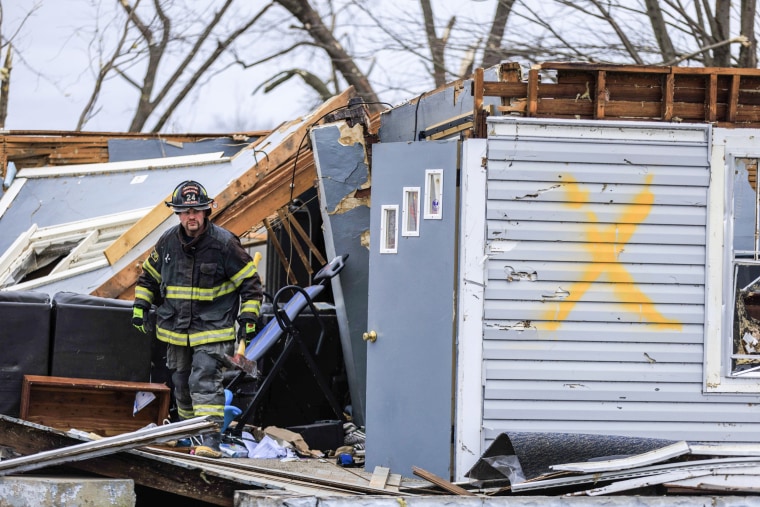 Five people are also dead in Owen and Sullivan counties in Indiana, according to officials. A couple, identified as Brett Kincaid, 53, and Wendy Kincaid, 47, were found dead in the campground at McCormick's Creek State Park following the severe storms in Owen County.
At least three tornadoes were confirmed to have hit the state by the National Weather Service field office in Northern Indiana, one of which was an EF-2 tornado in Allen County.
Indiana Gov. Eric Holcomb signed an executive order on Saturday declaring Sullivan and Johnson counties in a state of emergency.
At least 12 tornadoes were confirmed in Illinois by the National Weather Service field office in Chicago, including an EF-1 tornado that hit Boone County, killing a 50-year-old man and injuring 48 others when the roof collapsed during a concert at the Apollo Theatre.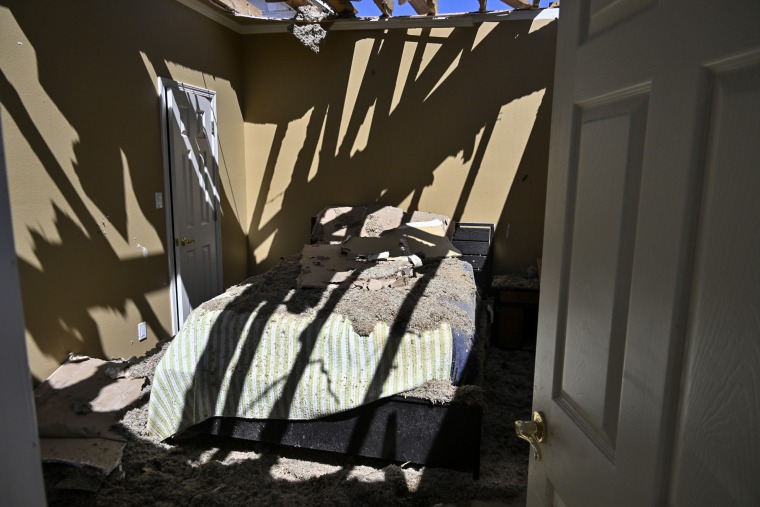 Five of those injured at the concert remain in critical condition, Illinois Gov. J.B. Pritzker said in a news conference on Sunday.
Pritzker said the concert goers were told to seek shelter but events unfolded really quickly. A disaster proclamation was signed for the county, he added.
A total of four people were reported dead in Illinois, including in Crawford County, where three died in a residential structural collapse, according to officials.
In Delaware, a tornado is suspected to have struck Sussex County on Saturday evening, killing one person, according to Chip Guy, the county's communications director.
An EF-1 tornado was also reported to have moved through Marion and Winston counties in Alabama, according to a preliminary rating from the National Weather Service in Birmingham.
One person was reported dead and four others were injured in Pontotoc County in Mississippi as a result of severe weather, the Mississippi Emergency Management Agency said in a statement.
"Statewide there are reports of homes damaged, trees down, and power outages due to high winds," the agency said. "Initial damage assessments are underway."