The number of warnings and advisories about a "major winter storm" sweeping across the country grew on Saturday as it threatened to dump eight inches of snow on Boston and bring bitterly cold wind to Illinois.
As of Saturday evening, winter storm warnings, advisories or watches stretched from southeastern Wyoming and parts of Colorado all the way to northern Maine, according to the National Weather Service.
Central Illinois could receive wind chills of minus 10 to minus 15 degrees late Sunday and Monday morning, and a low of just 4 degrees was possible for the Chicago area by Monday, with wind chills expected to make it seem even colder, forecasters said.
The weather service said in a forecast discussion Saturday that a "bitterly cold arctic airmass will impact much of the U.S. east of the Rockies." Heavy rainfall and the threat of flooding and severe weather would also affect the Gulf Coast states and Southeast, the weather service said.
Boston's mayor on Friday announced preparations for two storms to hit the region, and New York Gov. Andrew Cuomo urged residents of that state to prepare for the possibility of significant snowfall beginning Sunday, with 2 to 5 inches expected for Long Island and between 3 to 12 inches possible in the capital region upstate.
"With Mother Nature showing no sign of slowing down this winter, many regions of the state are once again expecting significant snowfall Sunday night that has the potential to impact the Monday morning commute," Cuomo said in a statement.
Newark Liberty International Airport, LaGuardia Airport, and John F. Kennedy International Airport in the New York City region said Saturday that weather was causing delays or other flight disruptions.
In Colorado, around 4 ½ inches of snow had fallen in the Fort Collins area north of Denver, and locations in the mountains to the west received between 8 and 10 inches of snow, according to the weather service for that region. More snow was expected for the Interstate 25 corridor through Sunday night.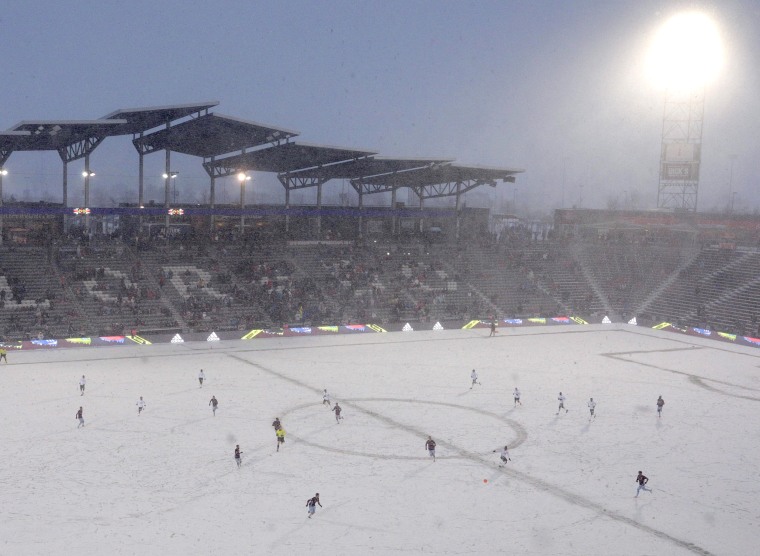 Parts of Montana, no stranger to harsh winter weather, could see wind chills from minus 30 to minus 50 degrees this weekend, forecasters tweeted.
Winter weather was punishing in some parts of the country in February. In Wisconsin on Thursday, an old dining hall at a scout camp being used for winter storage collapsed under the weight of heavy, wet snow. No one was in the building at Bear Paw Scout Camp in the tiny town of Mountain at the time, the camp said.
That state's department of transportation tweeted Friday that the state patrol responded to 5,892 calls for motorist assists in February. A total of 1,648 were "slide-offs" and 1,274 were crashes.
In Nebraska, a 29-year-old man in a Jeep was killed last month in a pileup involving several semis on a highway near Aurora, and weather was considered a factor, the state patrol said. Most of the state was under winter weather or wind chill advisories Saturday evening.
CORRECTION (March 3, 2019, 9 a.m.): An earlier version of this article misstated the forecast for snowfall in Boston. The expected snowfall for the Boston area is around 8 inches, according to the weather service, not more than a foot.