A state of emergency was declared because of devastating flash flooding in Leominster, Massachusetts, on Monday night after rain inundated roads, created sinkholes and damaged homes.
Mayor Dean Mazzarella said the city was under a state of emergency at 5:30 p.m. ET Monday, warning on social media: "Do not venture out. It is not safe."
Slow-moving thunderstorms sparked flash flooding across parts of New England on Monday evening, dumping 9½ inches over Leominster, which is northwest of Boston.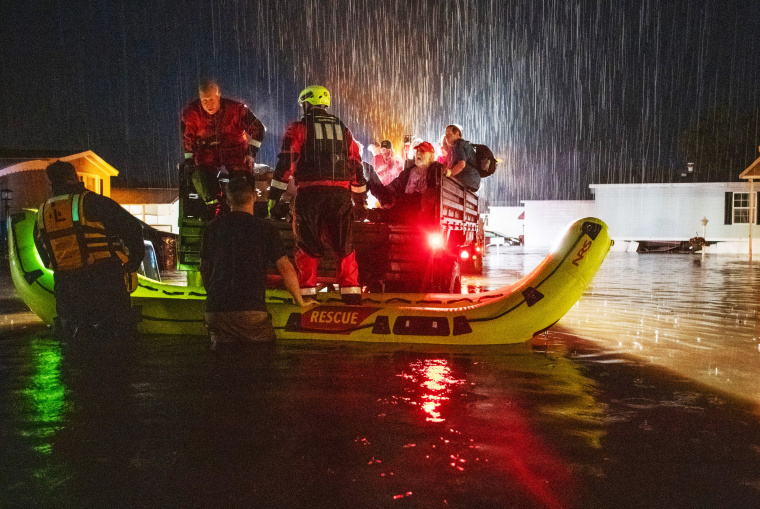 Mazzarella shared videos on Facebook from his drives through the city warning people to stay home.
"Everything's flooding. Simplest thing I can tell you. It's every part of the city. It's basements, roofs, cars, it's everywhere. What I can tell you is there's no reason to go out. Unless it's an emergency, stay home," Mazzarella said in a video.
He said that police and fire crews were called in to help and that rivers were in danger of reaching above crest levels.
A flash flood emergency was declared for the area through 10:30 p.m. and was extended to 8 a.m. Tuesday for Leominster, Fitchburg and Lunenburg, the National Weather Service said. The warning urged people to "move immediately to higher ground" and avoid walking or driving through floodwater. 
Stark images from overnight show streets turned into rivers, buildings partly collapsed and gaping sinkholes in streets, making some roads impassable. 
Early Tuesday, the Massachusetts Emergency Management Agency issued an evacuation alert because of concerns over the Barrett Park Pond Dam.
The alert said people in low-lying areas of the Fall Brook tributary to Fall Brook along Central Street, Fall Brook and the North Nashua River should "immediately evacuate and safely leave the area."
A shelter is available at Sky View Middle School in Leominster, officials said.
In an update Tuesday morning, Mazzarella said that around 15 roads were closed in town, that around 100 people were sheltered at Frances Drake Elementary School and that the floods affected businesses and homes, while dozens, if not hundreds of cars, had to be towed out of floodwaters Monday night, NBC Boston reported.
Crews are working to assess the damage, and schools are closed in Leominster on Tuesday.
Gov. Maura Healey said Monday night on X, formerly Twitter: "My heart goes out to residents and public safety officials in Leominster and other communities experiencing catastrophic flooding tonight."