Snow fell in parts of North Carolina, Virginia and Tennessee on Thursday in a winter blast that closed school districts and prompted weather advisories affecting some 13 million people.
The snow in North Carolina, which had been blanketed by winter weather advisories Thursday, had largely moved on from the central part of the state but transportation officials warned that freezing temperatures could cause black ice. Police had warned motorists to be prepared to stay off roads if conditions deteriorate.
"North Carolina is about to feel this year's first blast of winter weather," North Carolina Gov. Roy Cooper said at a news briefing Thursday morning. "The state's getting ready, and now is the time for you to get ready, too."
The entire state of North Carolina had been under winter weather advisories or warnings Thursday evening, but by early Friday those were in the eastern part of the state and southeastern Virginia, according to the National Weather Service. Twenty-nine school districts in the state were closed Thursday and another 55 were on early release, Cooper said.
Around 2 inches of snow had fallen in Alamance County, which is east of Greensboro, as of 10:30 p.m. Thursday, and 2.5 inches fell in Wake County, which is where Raleigh is located, the weather service said in a statement.
The weather service in Raleigh tweeted Thursday night that the heaviest snowfall had moved out of the area, but temperatures would continue to fall. In coastal North Carolina, snow continued to fall early Friday, the weather service in Wilmington said. The weather service in Wakefield, Virginia, said that between 3 and 4 inches fell in the southeastern part of the state near Suffolk.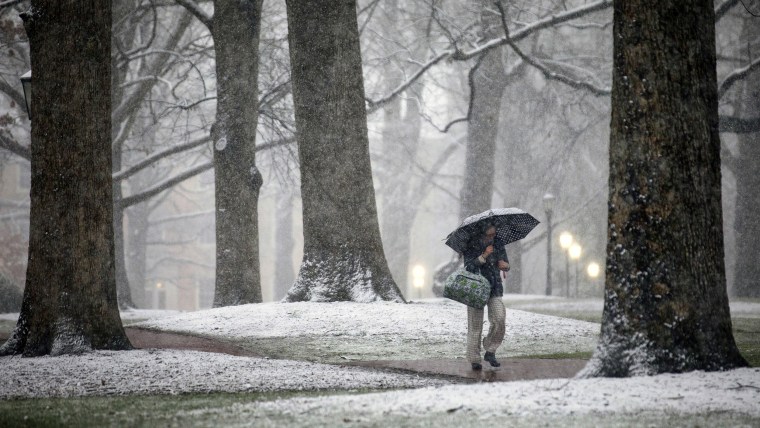 Farther west, more rain moved across central Mississippi Thursday, where heavy rainfall had swollen the Pearl River and flooded homes. The state's emergency management agency said flooding closed several highways, and it was monitoring rising waters in Simpson County.
Johnny Lewis, who lives in the state capital of Jackson, was among those whose homes flooded. Every room took on water, and he has no flood insurance. "I lost everything I had, almost everything," he told NBC affiliate WLBT of Jackson. "My grandson's room, my daughter's room, me and my wife's room ... is just a disaster," he said.
Flood warnings affected around 10 million people and covered areas from Louisiana and Arkansas to Georgia and South Carolina, according to weather service estimates.
As a batch of rainfall moved east Thursday, it was expected to clash with cold arctic air in the afternoon and evening and switch to snow that would fall in parts of Tennessee, South Carolina, North Carolina and Virginia.
The weather service had issued winter weather alerts for about 13 million people in parts of Georgia, South Carolina, Virginia and almost all of North Carolina. By early Friday that number was around 9 million.
The last time Charlotte, Raleigh and Norfolk picked up 1 inch or more of snow was 2018.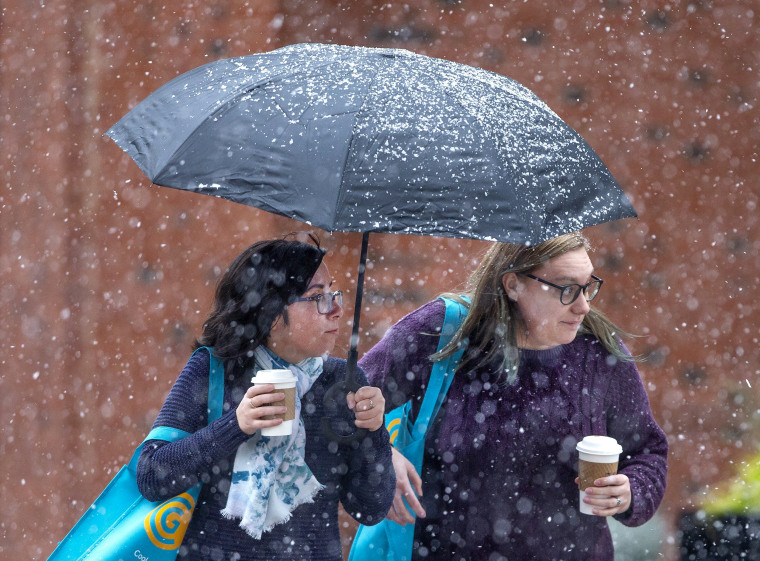 Cooper said the heaviest snowfall in North Carolina was expected in the northeastern part of the state, and whiteout conditions caused by snow and gusting winds were expected along the coast.
"Don't let the temperature right now fool you," he said Thursday. "It's still winter in North Carolina." The temperature in Charlotte was around 45 degrees shortly before 11 a.m.
He said the Department of Transportation and state police were prepared for the snow, and he asked residents to stay off the roads when conditions worsen. A state emergency operations center opened Thursday afternoon to help the response. Significant icing was not expected, Cooper said.
State troopers were positioned to be mobilized at a moment's notice, North Carolina Highway Patrol commander Col. Glenn McNeill said, adding that driving conditions were expected to deteriorate overnight. "Motorists are encouraged to avoid travelling if at all possible," he said.
Around 13,800 customers were without power across North Carolina early Friday, according to North Carolina Emergency Management's website.
Around 2 inches of snow had fallen in the Newfound Gap in the Great Smoky Mountains on Tennessee's eastern border, the weather service in Morristown said, and video showed snow falling in Gatlinburg, which is also in a mountainous area.
The cold air is part of an arctic air mass engulfing much of the eastern half of the continental U.S.