Millions of Americans on the East Coast were bracing Tuesday for more heavy rain and the risk of flash flooding — some of it "life-threatening" — as states in the West struggled with another day of record-setting heat.
At least two people died Monday amid strong downpours pummeling states in the mid-Atlantic and Northeast, which turned low-lying roads into lakes and saturated the ground.
A woman was killed when a tree fell on her home in Burke, Virginia, southeast of Washington, after days of heavy rain, Fairfax County Battalion Chief Willie Bailey told NBC Washington. Her husband was nearby but survived.
"Obviously, with all the rain in the past couple of days, the roots of these trees have really loosened up," Bailey said.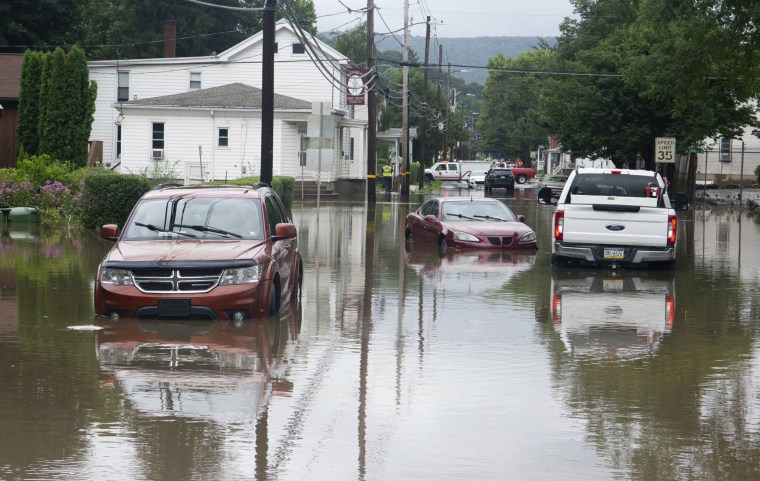 A tree fell on a home in Agawam, Massachusetts, killing another person, but it was unclear whether weather played a role.
Flood watches and warnings stretched along the East Coast on Tuesday evening from central New York to northern South Carolina as additional heavy rain was expected across parts of the mid-Atlantic and the Northeast through Wednesday.
Major cities like Washington, Baltimore and Philadelphia — already saturated after heavy rain over the weekend — were all expected to be among the wettest this week. The National Weather Service said five inches of rain could fall in the mid-Atlantic by Thursday, triggering "potentially dangerous, even life-threatening" floods.
The areas of heaviest rain are expected to shift farther northeast Wednesday night and Thursday, centering over eastern Pennsylvania and northern New Jersey into parts of upstate New York, the agency said Tuesday afternoon.
Weekend storms broke rainfall records in Virginia and Maryland, saturating the soil, closing roads and sparking several water rescues.
On Monday, parts of Pennsylvania saw flash flooding, with one borough declaring a disaster emergency and Hersheypark, a theme park near Harrisburg, forced to close its doors. The park reopened Tuesday morning, although some rides remained closed.
While driving in Schuylkill County, Zachary Reichert was forced to climb to the roof of his car to escape the floodwaters.
"I can't swim in the first place, so I wasn't jumping in to those waters," Reichert said. He livestreamed his ordeal on his phone until rescuers arrived.
Elsewhere in eastern Pennsylvania, two women, ages 19 and 22, were swept away in Dauphin County while walking along a creek Monday night. The 22-year-old was able to get out, but the 19-year-old, whom Pennsylvania State Police identified as Laura Olweiler, was officially declared missing, NBC affiliate WGAL of Harrisburg reported.
The rain was welcome in parts of the region that had been under a dry heat wave in recent weeks, like Granby, Massachusetts, where peaches, blueberries, raspberries and vegetables are in season at Dickinson Farm & Greenhouse.
While too much can damage crops, "the rain that we've had recently has been very good for us," owner Michael Laflamme told NBC affiliate WWLP of Springfield.
"It's been dry previous to all that rain we had, which makes for a lot of extra work irrigating," Laflamme said.
While the East was hampered by wind and rain on Monday, about 40 million Americans in other parts of the country were suffering from record heat.
Death Valley, California, was expected to hit 123 degrees on Wednesday, and temperatures are expected to remain well above average through Thursday, the National Weather Service said. Excessive heat warnings remained in effect from southern Arizona into southern Nevada and southern California, while heat advisories extended north through northern California into western Oregon.
In heat like that, it's not just the sun that can burn you, said Dr. Syed Saquib, a burn surgeon at University Medical Center in Las Vegas. People routinely show up at the emergency with pavement burns caused by walking barefoot or fainting on hot cement, Saquib told NBC affiliate KSNV
"When the temperature reaches 110 degrees, the pavement is usually on average 30 to 40 degrees higher," he said. "So you can imagine being in contact with the surface that is 140 to 150 degrees, it can cause serious damage and burns."
Parts of Phoenix set a daily record at 116 degrees on Tuesday, leading the Arizona Animal Welfare League to close Tuesday and Wednesday so the staff can focus on keeping its animals cool.
NBC affiliate KPNX reported that volunteers and employees were distributing cooling mats, ice treats and kennel games and monitoring temperatures between short bathroom breaks for the dogs. Some volunteers are taking adoptable dogs into their own homes temporarily, it said.