Hundreds of residents were evacuated, dozens of levees were threatened, and transportation in parts of Missouri came to a near-standstill Thursday as rivers in the Midwest swelled to historic levels.
The waters surged after more than 10 inches of rain fell this week in an area spanning Illinois to Missouri.
Hundreds of homes in the southwestern suburbs of St. Louis were damaged, and hundreds of other homes were evacuated in the wake of the powerful winter storm. Two rivers have risen to record levels set in the so-called "Great Flood" of 1993.
At least 22 people have been killed in Missouri and Illinois. Most of the deaths were in Missouri, where Gov. Jay Nixon on Tuesday declared a state of emergency and activated the National Guard earlier this week. The death toll in Illinois rose Thursday from seven to eight.
The waters caused authorities to close a major interstate, and transportation by boat, car and train was essentially paralyzed Thursday in the St. Louis area.
Most of the rain moved out Wednesday, and the region received some good news Thursday: The Missouri, Meramec and Mississippi rivers were cresting.
The Meramec River southwest of St. Louis had reached record levels — 4 feet above the prior record in the suburb of Valley Park — but had started to recede Thursday.
Nonetheless, officials closed Interstate 55 in both directions south of St. Louis to allow crews to deploy sandbags and pumps because it was in danger of being overtaken by the Meramec River, Greg Horn, a district engineer at the Missouri Department of Transportation, told NBC News early Thursday.
Other roads, including a 24-mile stretch of Interstate 44 over the Meramec River, were also closed, according to The Associated Press. The only alternative for traveling north-south was a local road.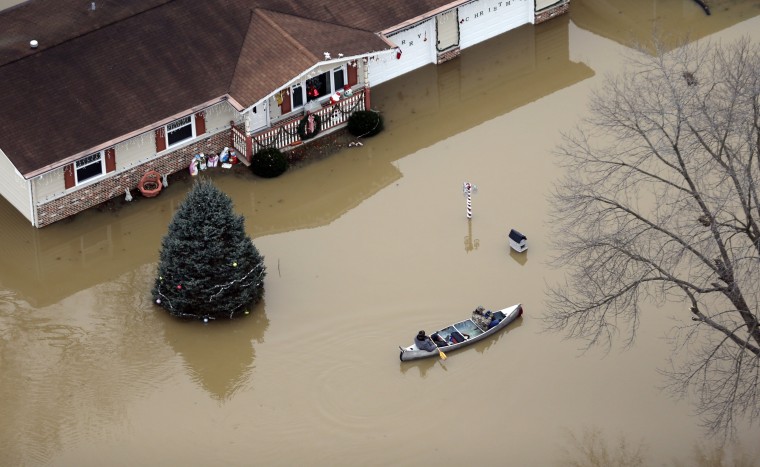 Other forms of travel weren't much better. Amtrak halted the St. Louis-to-Kansas City train Thursday, and a 5-mile stretch of the Mississippi River halted barges in St. Louis.
Officials with the Missouri Department of Transportation said they had spent the night sandbagging the interstate. But about 100 homes in the town of Arnold were damaged, hundreds more were damaged in Eureka, and dozens more were damaged in Pacific.
In Valley Park, Missouri, southwest of St. Louis, a wastewater treatment plant designed to treat 21 million gallons a day was shut down Thursday morning after a sandbag levee was breached, and wastewater was being sent directly into rivers and streams, the Metropolitan St. Louis Sewer District said.
The floods were the hangover from a large storm system that battered the center of the nation with tornadoes, ice and rain over the weekend. Despite the rain having dried up in the worst affected areas, most rivers were rising Thursday, swollen by floodwaters still flowing downstream.
Scattered flood warnings from the National Weather Service were still in effect across the entire region.
"It's a slow-motion disaster," said Michael Palmer, lead forecaster at The Weather Channel. "A lot of these areas are going to be nearing record crests in the coming days."
Nine levees had already been topped by water by Wednesday, the U.S. Army Corps of Engineers said according to the AP. Although most of these levees were barriers made of earth protecting farmland rather than populated areas.
President Barack Obama called Gov. Nixon for a briefing Wednesday and directed his staff to coordinate on any federal assistance required.
Photos: Missouri Braces for More Flooding
"We are here before the water rises. We're here after it falls," Nixon said. "We're here until this place is back to where it was before. And sometimes that takes a while."
Meanwhile, officials named the five international soldiers temporarily stationed at Fort Leonard Wood, Missouri, who died Saturday when their vehicle was swept off the road in flash flooding.
The men, who were returning to their post from Osage Beach, Missouri, were: Maj. Mohammad Hassan Ibrahim, 32, from Egypt; Maj. Akram Abu Al-rub, 38, from Jordan; Capt. Ahmed Moussouni, 32, from Algeria; Capt. Ahmed Abdelghani, 29, from Egypt; and Capt. Hasman Hussin, 33, from Malaysia.
They were all on a program that brings foreign soldiers to the U.S. for training.