/ Source: Associated Press
Millions of Americans were struggling under a winter storm that blocked roads and covered airports in treacherous ice Saturday, paralyzing transportation from Alabama all the way to New York City.
Four died from weather-related causes in Oregon, Kentucky, Georgia and Maine, according to The Weather Channel.
Parts of North Carolina and Virginia were forecast to see up to a foot of snow while roads in Georgia, Tennessee and Alabama were coated in ice, leading to hundreds of accidents. Charlotte, North Carolina, reported Saturday morning that 46 accidents, some with minor injuries, had occurred since 10 p.m. Friday.
In Connecticut, state troopers reported a pileup that included at least 20 cars, three tractor trailers and a tanker on Saturday, but there were no serious injuries.
Snow began falling in New York City Saturday morning and continued into the evening. Major delays were reported at New York City area airports on Saturday, with some arriving flights delayed an average of more than 6 hours.
Blizzard warnings were in place for parts of Massachusetts through Sunday morning. In Boston Saturday, Mayor Martin Walsh announced the preparations the city had undertaken due to the winter weather. More than 30,000 tons of salt were available for use and 420 pieces of snow equipment would be out on the roadway by 1 p.m. Additional resources would also be made available if necessary.
"With expected accumulations reaching nearly a foot of snow over the course of the day, we are encouraging residents to use caution if they need to travel and keep an eye out for our neighbors, especially our seniors during this time," Walsh said in a statement.
States of emergency were declared in Alabama, Georgia and the Carolinas, where road workers manned 12-hour shifts to treat roads as the storm covered the region in a mix of snow, sleet and freezing rain.
Sleet and snow fell on the northwest suburbs of Atlanta while rain and freezing rain brought slush to the city's streets. On Saturday morning, Delta canceled 175 flights, most of which were into and out of its hub in Atlanta, due to the accumulation of ice at the airport there.
Police in Alabama said roads in parts of the state were impassable, including around Anniston and Oxford. State troopers said they had responded to several weather-related crashes and warned that ice-covered bridges were hazardous around Birmingham.
North Carolina's new governor, Roy Cooper, said a state of emergency had been declared in all of the state's 100 counties.
"We are expecting significantly colder weather and the wind will pick up, increasing risk for power outages," he said, adding that the drop in temperatures would cause roads to refreeze. "Stay home," the governor said. "Do not go out and drive on the road unless you absolutely have to."
In Nashville, Tennessee, the weather was blamed for hundreds of fender benders, some involving school buses, on roads that were coated by 1 to 2 inches of snow early Friday. Nashville's city school district had ordered classes to start on schedule but had to hastily call early dismissals as police reports of minor crashes multiplied. All students made it home safely.
"We apologize," Nashville Schools Chief Operating Officer Chris Henson said. "We realize that it's been very frustrating for everyone."
Shoppers began lining up at stores as early as Friday to stock up on bottled water and groceries.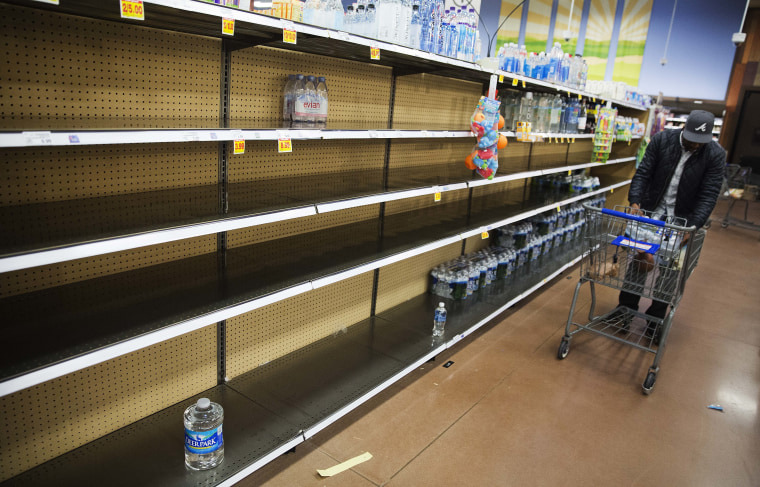 Lauren Rathbone, the manager of a hardware store in Durham, North Carolina, estimated the store sold nearly 7 tons of ice melt in 50- and 10-pound bags, along with hundreds of shovels — not to mention a number of sleds.
Describing the mood of customers, she said all was good until items began selling out: "Up until about 10 o'clock: Happy, excited, and 'at least I got my stuff.' After 10 o'clock: 'Why the hell ain't you got anything?'"
Winter weather was also slamming parts of the West, causing dangerous conditions and drawing skiers to the slopes. The storm dumped six feet of snow atop the Sierra Nevada and, in Colorado, heavy snow and strong winds raised the danger of avalanches.