At least six people were killed in tornadoes that knocked out power lines, downed trees and damaged homes in Alabama and Georgia, officials said Friday.
Authorities in Newnan, Georgia, said the city of around 39,000 "experienced heavy damage in and around the historic downtown area."
Newnan police warned residents to stay off roads as emergency officials assessed the damage, which included "trees down and power lines down." The storm also knocked out the city's phone and internet services, according to Newnan Utilities.
As of Friday morning, a total of more than 41,000 people were in the dark in Georgia and Alabama, according to poweroutage.us.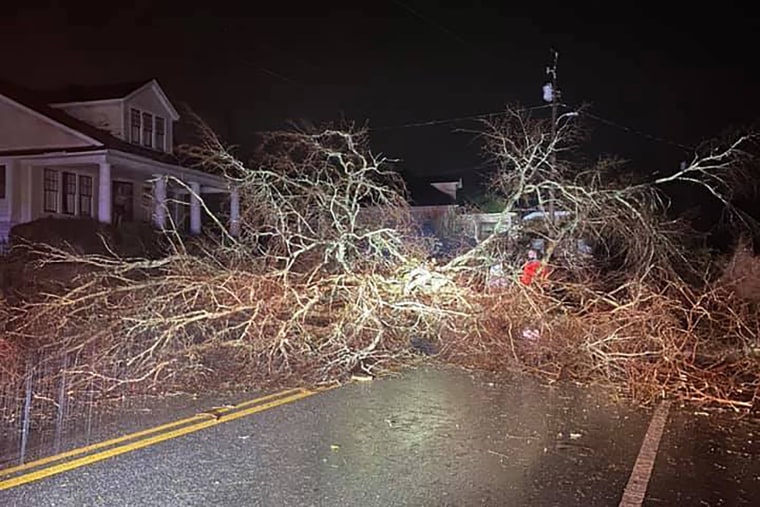 Schools in Coweta County, which includes the city of Newnan, were closed Friday in the wake of the heavy damage brought on by the storm.
One person was killed during the severe weather, Coweta County Fire Chief Pat Wilson said at a morning news conference. No other details, including the victim's name, were immediately available.
Ty Vaughn, a meteorologist with the National Weather Service's Atlanta office, said officials have received multiple reports that a tornado hit downtown Newnan.
"We can pretty much confirm that it was a tornado," he said, but added that survey crews would later confirm how powerful it was. He said the tornado approached the city around midnight.
Tornadoes were reported across Alabama before the weather system pushed east into Georgia.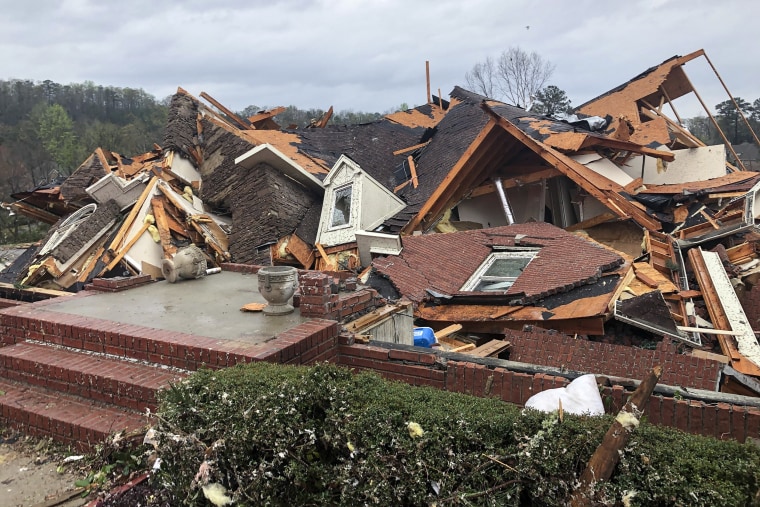 In Alabama, Calhoun County Coroner Pat Brown confirmed Thursday the deaths of five residents: an adult family of three in a wood frame home, and two adults in mobile homes.
Alabama Gov. Kay Ivey offered her "sincerest prayers to all impacted" and had urged Alabamans to continue to be vigilant in the face of severe weather.
"Y'all, please stay safe and vigilant!"
Officials said a tornado struck Pelham, a city of about 23,400 south of Birmingham, around 1:30 p.m. Several dozen homes were damaged, and 22 sustained serious damage, Fire Chief Michael Reid said.
"We're very fortunate. Even though a lot of people lost their homes, there are no injuries that we're aware of," Pelham Police Chief Pat Cheatwood said at a news conference. But he described the damage as devastating.
During the storm, around 200 people took shelter in a middle school that is a tornado shelter, City Manager Gretchen DiFante said.
Trish Partridge, whose Pelham home suffered serious damage, said she took her father's ashes and the family huddled in a closet in the basement as the tornado passed.
"We heard it, and I said, 'Oh, my God, it's gone,'" she said. "You could tell because you could smell it. You could smell the pine, you could hear it."
In Centreville, south of Tuscaloosa, Cindy Smitherman and her family and neighbors huddled in their underground storm pit as a tornado passed over their home.
A tree fell on the shelter door and trapped them inside for around 20 minutes until someone came with a chain saw to remove the tree, Smitherman, 62, said, according to The Associated Press.
"I'm just glad we're alive," she said, according to the news agency. "Praise the Lord."
According to the NBC News affiliate WVTM, extensive damage was reported in the Eagle Point area of Shelby County, which is southeast of Birmingham.
Video of the destruction showed a home with part of the roof and upper floor gone and brick walls pulled down, and another house flattened. No serious injuries were reported.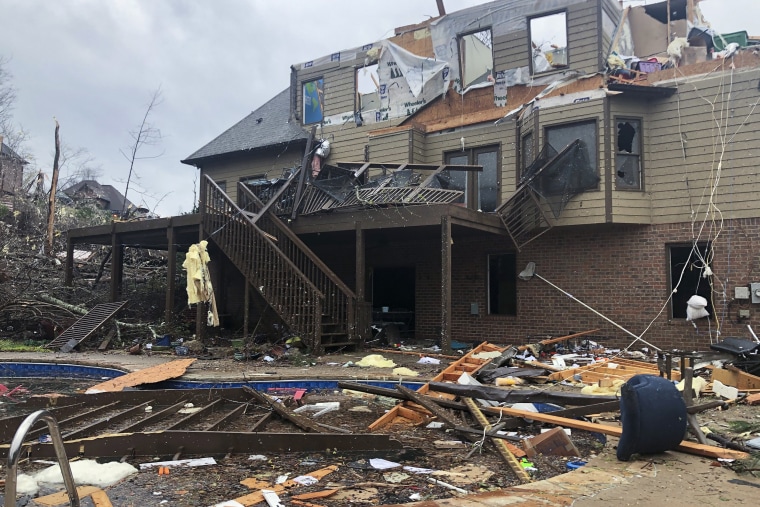 The Shelby County Sheriff's Office said in a statement that two storms caused severe damage in the county, and Eagle Point was one of the areas hardest hit. There have been no deaths there but many people have been displaced because of storm damage, it said. Sheriff John Samaniego said it was a tragic day.
First lady Jill Biden tweeted that her thoughts were with everyone in Alabama and the South affected by the severe weather.
Download the NBC News app for breaking news
"My prayers are with the grieving families. Please stay safe," she wrote in the message.
She and the actor Jennifer Garner had planned to travel to Birmingham on Friday as part of a "Help is Here" tour about Covid-19 relief and childhood poverty, but the trip has been postponed because of the storms, Biden's office said.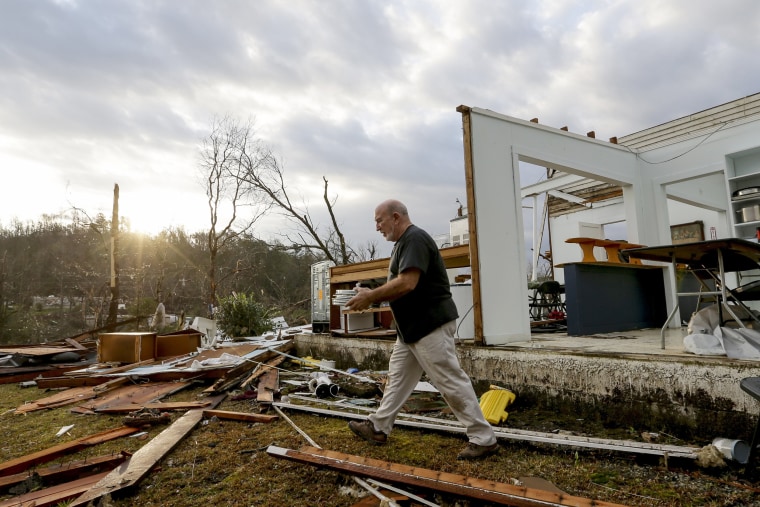 Just last week, severe weather swept through Alabama and other parts of the South, causing more than two dozen tornadoes and damaging and destroying homes.
The storms beginning March 17 produced 25 tornadoes in Alabama, according to a National Weather Service survey report. Three injuries were reported in the state.