Rescuers scoured the debris of leveled homes in northeast Nebraska early Tuesday for people trapped under the rubble after deadly twin twisters wreaked havoc on farming communities.
Complicating the rescue effort was the threat of another lashing from severe storms: after a tornado watch expired at 10 p.m. local time, a severe thunderstorm warning took its place.
Sign up for breaking news alerts from NBC News
At least two people died and 16 were critically injured when the twisters touched down almost simultaneously a mile apart about 4 p.m. (5 p.m. ET) on Monday. One skipped along the ground for nearly an hour.
Among the fatalities was a 5-year-old girl killed in her mobile home in the Stanton County village of Pilger, officials said at a Tuesday morning news conference.
About 75 percent of the village, including all of the business district, was wiped out. Officials said the 378 residents were staying strong — the bedroom community's motto has been "the little town too tough to die."
Rescuers went house to house calling out, "Hello? Hello? Anybody?" and spray-painted "OK" in huge letters on home that had been cleared, according to the Norfolk Daily News.
Residents will be allowed to return to their homes until 5 p.m. local time and can make a total of five trips to retrieve belongings, officials said.
National Guard members were due to deploy Tuesday morning to bolster the ranks of local responders sifting through the wreckage and to help with what is expected to be a massive clean-up operation in Stanton, Cuming and Wayne counties — all of which suffered severe damage.
The Weather Channel also reported that a "squall line with the potential for widespread wind damage should continue through parts of Wisconsin and Illinois overnight before eventually weakening." Millions were facing a tornado watch in cities including Chicago and Milwaukee until 9 a.m. local time (10 a.m. ET) on Tuesday.
Nebraska Gov. Dave Heineman declared a state of emergency and was expected to visit the affected areas to survey the damage.
Stanton County Sheriff Mike Unger told rescuers the damage was "10 times worse" than the 2013 twister that hit the nearby town of Wayne in October 2013, according to the Norfolk Daily News.
"More than half of the town is gone — absolutely gone ... It looks like almost every house in town has some damage"
The first tornado tore down power lines and leveled a rural farm house operating a day-care center, officials said. As rescuers worked to pull four people out of the wreckage, reports started coming in that a second twister was moving directly towards the nearby village of Pilger.
Pilger took "a direct hit" from the second tornado, Unger said in a statement.
He said the twister leveled a "large portion" of the village, which is home to around 350 people and located around 75 miles northwest of Omaha.
Rescuers found several critically injured people near Pilger's Main Street, including a 5-year-old who died after being taken to the hospital. Another fatality was confirmed in Cuming County about four miles east of Pilger, he added in a statement. Further details were not immediately available.
Faith Regional Health Services said it had 16 people in critical condition. Three of the injured were taken to Providence Hospital in Wayne. Two were treated and released for lacerations while the third remained under observation in stable condition, according to hospital spokeswoman Sandy Bartling.
Officials are also investigating a traffic fatality that occurred about 2.5 miles east of Pilger, according to a statement from the Cuming County Sheriff's Department. It was not immediately clear whether the death was a result of the tornadoes.
Authorities shut down stretches of highway, urging motorists to stay off the roads to give emergency crews room to respond to the reports of severe damage.
"More than half of the town is gone — absolutely gone," Jerry Weatherholt, a member of the Stanton County Commission, told The Associated Press. "The co-op is gone, the grains bins are gone, and it looks like almost every house in town has some damage.
Officials evacuated Pilger and put the town under a strict curfew overnight. Residents were bused to Red Cross shelters, and the sheriff's office said they would be allowed back into the village under escort on Tuesday morning to survey the damage and retrieve valuables.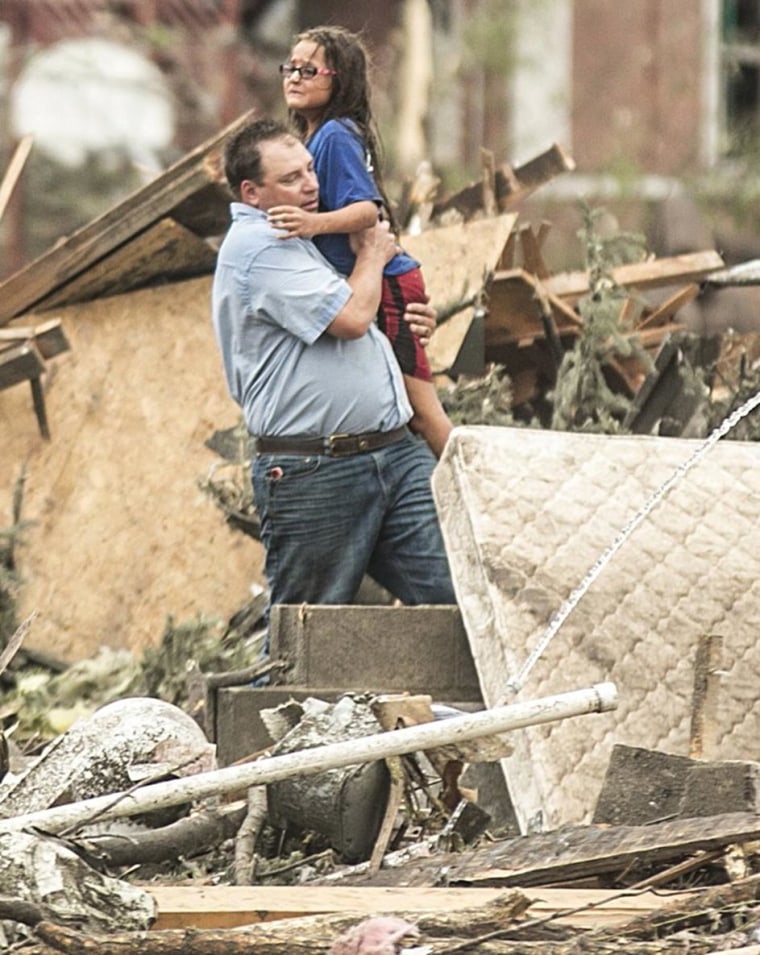 Nebraska's Emergency Management Agency said emergency crews were on the ground in Pilger and the nearby communities of Wisner and Stanton searching for possible further victims trapped under debris.
"We are still in a response mode in these communities," said Earl Imler, NEMA operations officer. "We are collecting damage reports from local officials on the ground."
The storm system stunned even the most seasoned of severe weather watchers.
"This is a significant storm, and one that I have never seen the likes of, ever. Really," said Greg Postel, a severe weather specialist for The Weather Channel.
Barbara Mayes, a meteorologist with the National Weather Service, said the dual tornadoes were unusual because both appeared to have roughly the same strength.
"It's less common for two tornadoes to track together for so long, especially with that same intensity," she told the AP. "By no means is it unprecedented. But we don't see it often."