The Northeast has gone from short sleeves to snow boots in less than 24 hours as a deadly storm barreled into the region.
More than 3,800 flights were canceled and all public schools in New York City, Boston and Philadelphia were closed Thursday as about 50 million people braced for a nasty nor'easter that could dump a foot of snow or more — the largest so far this season.
The first reported storm-related death occurred in New York City, where 59-year-old doorman Miguel Gonzalez was killed while shoveling snow around 9:30 a.m. ET. Gonzalez fell through a glass window, officials said during a news conference.
According to New York police, the medical examiner is still determining the cause of death, as the man received several cuts to his neck and face because of the fall. He was transported to and pronounced dead at Metropolitan Hospital.
New York Gov. Andrew Cuomo said the man had a heart attack.
The Latest on the Northeast Storm
Fifty million people from Maine down through Philadelphia and Washington, D.C., are being affected by a winter storm that dumped as much as four inches of snow per hour.
Snow forecasts for major cities by the end of the day: Boston, 12-18 inches; New York City, 8-12 inches; Philadelphia, 3-5 inches.
A blizzard warning has been issued for southeastern Massachusetts, southeastern Connecticut and eastern and central Long Island, New York, but blizzard conditions should lift for most by 6 p.m. Thursday. Snowfall across the East Coast will cease late Thursday, according to The Weather Channel.
Wind gusts have reached about 40 mph in some areas and will continue into Friday, causing blowing and drifting snow.
More than 4,300 flights have been canceled, with at least 290 more already scrapped for Friday, FlightAware reported. Runways were temporarily closed at New York's John F. Kennedy International Airport at 11 a.m., but at least one of them was set to reopen at 2 p.m.
Schools throughout Boston, New York and Philadelphia are closed, as well as some government institutions. Boston public schools will remain closed Friday.
PHOTOS: Monster Snowstorm Barrels up East Coast
The winter whiplash comes just a day after states along the East Coast were enjoying record highs in the 60s and 70s.
"It's going to be a big shock to people, no doubt," said Michael Palmer, lead meteorologist at The Weather Channel. "It's quite unusual to have such a change in the space of one day."
The storm ramped up in the early afternoon, but it began tapering off in the later afternoon to early evening.
Officials, meanwhile, warned of treacherous travel conditions, and one snow plow on Long Island, New York, appeared to have trouble navigating the roads when it crashed into a pole.
Steven Bellone, the Suffolk County executive on Long Island, said 18 car crashes were reported Thursday morning amid whiteout conditions. He declared a state of emergency for his county, which saw more than 6,000 people lose power. Nonessential state employees were ordered to go home by the governor's office.
There's a "tremendous amount of snow falling at a very high rate with wind gusts up to 50 mph," Bellone told reporters. "Those are conditions that are just not possible to be driving in."
Neighboring Nassau County reported 19 accidents, while Connecticut had about 30, officials said.
Meanwhile, Cuomo spent some time on the Sprain Parkway near Hawthorne, New York, and helped stranded drivers, according to a tweet by the governor's chief of staff, Melissa DeRosa.
The storm began rolling down the heavily populated Interstate 95 corridor as snow in the early hours, hitting Boston at around 6 a.m. ET and New York City an hour later. Several institutions were closed out of precaution, including courts in Massachusetts and the United Nations headquarters in Manhattan.
The storm could undergo what meteorologists call "bombogenesis" — or a "weather bomb" — which is when the system's central pressure nosedives by 24 millibars within 24 hours.
This can cause blizzard conditions, sometimes accompanied by lightning, according to The Weather Channel.
Forecasters said heavy snow and high winds were set to slam coastal New York and Massachusetts.
New York City's Central Park saw 9 inches by 1 p.m., while parts of the Boston area got about 3 inches, the National Weather Service said. The storm was winding down in the Philadelphia area by early afternoon, and less than the 6 inches forecasted actually fell, NBC Philadelphia reported.
"We are asking folks to stay off the roads tomorrow and not travel unless absolutely necessary," Massachusetts Gov. Charlie Baker warned. "The last time we had a storm of this nature, accumulation turned out to be much higher than originally anticipated."
Anticipating widespread impact from the storm, airlines canceled more than 2,700 arrivals and departures Thursday, according to the flight-tracking website FlightAware.
The winter storm is being caused by a southward plunge in the polar jet stream, causing a low-pressure system that's moving northeast, according to The Weather Channel.
A swath of coast from Maine through New York into Philadelphia was under a winter storm warning and much of Long Island and Cape Cod, Massachusetts, were under blizzard warnings.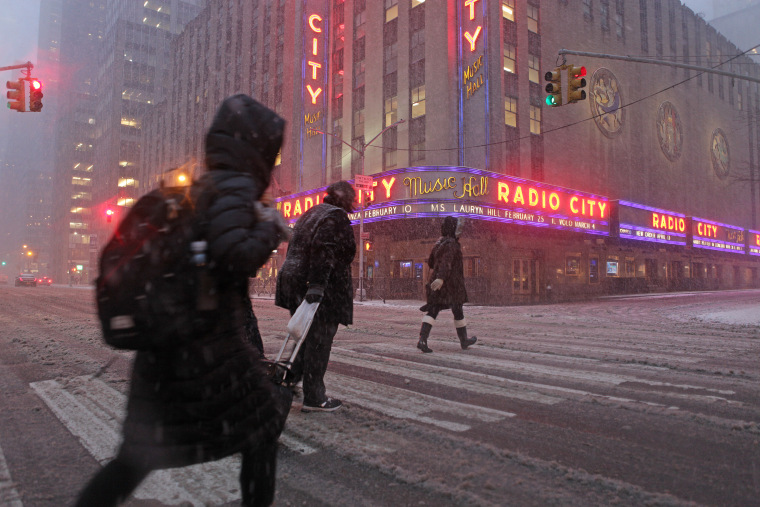 "What may happen is people will get on the road and it's not particularly bad and then suddenly it gets to 8 o'clock [a.m.], and I will tell you an inch and a half to 2 inches of snow an hour is hard for people to handle," Connecticut Gov. Dan Malloy told reporters Wednesday.
The storm system was expected to be a "quick hit — in and out," according to Michael Palmer, with the snow expected to stop in the afternoon.
The fast flurry couldn't be a further cry from the record highs seen on Wednesday, when New York hit a pleasant 62 degrees, Philadelphia reached 66 and it was a balmy 72 Washington, D.C.
"You're seeing people out there on bicycles today. Don't be fooled," New York City Emergency Management Commissioner Joseph Esposito warned Wednesday.
Earlier Wednesday, icy conditions were suspected in a 55-vehicle pileup in Wakefield, Massachusetts, north of Boston. Eight people were taken to hospitals, but none of the injuries were considered life-threatening, NBC Boston reported.
"When I tapped my brakes, it was just a sheet of ice, and there's nothing I could really do after that. Everybody just started sliding into each other," Nathan St. Onge told the station.