Phones around New York City buzzed Wednesday afternoon with warnings about an impending snow squall, prodding many to ask: "What even is a snow squall?"
Snow squalls are a relatively new concept — they were given a name only in November 2018, when the National Weather Service declared that it would begin issuing snow squall warnings. They are best described as sudden, moderately heavy snowfalls that blow snow and strong surface winds, NBC News meteorologist Kathryn Prociv said.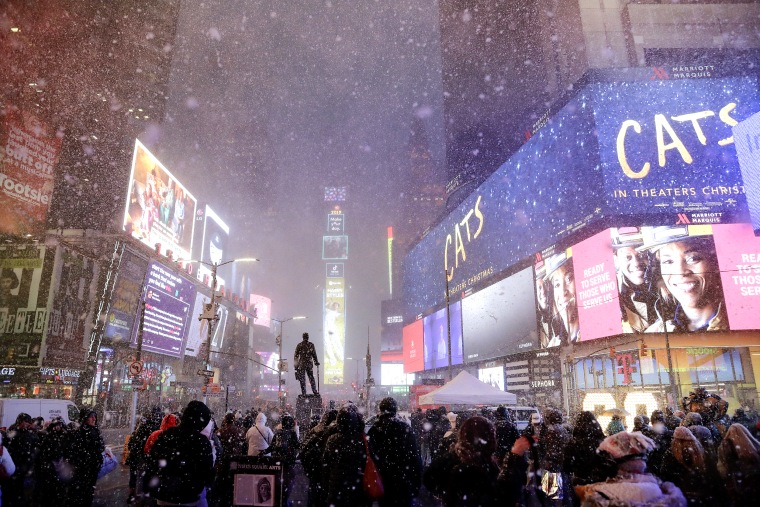 "Snow squalls are the winter equivalent of severe thunderstorms and are pretty common this time of year," Prociv said. "They're fast-moving. One second there can be sunshine; the next second there's snow."
Many people took to Twitter to joke about the weather, but snow squalls can be dangerous because they affect visibility and can crop up suddenly. In New York City, residents were first warned 30 to 40 minutes before the squall occurred, but it is not uncommon for squalls to occur within seconds, with no time for a warning.
The National Weather Service's warning was in effect until 5:30 p.m. and was extended east over Long Island.
While the squall was only about 10 miles wide and was poised to pass through any location in 30 minutes or less, the weather service predicted that it could leave up to an inch of snow. About four-tenths of an inch of snow fell as the squall swept through Central Park, according the weather service.
When New York City experienced its first snow squall warning last January, confusion ensued about the best practices during the weather event. Meteorologists recommend staying inside during a squall and avoiding driving, as squalls can affect the roads and cause crashes.