BOSTON — A nor'easter that could bring blizzard conditions and nearly 2 feet of snow to some areas of New England quickly intensified Tuesday morning, covering highways with snow and knocking out power to hundreds of thousands.
The National Weather Service issued a blizzard warning for the entire coast of Maine, New Hampshire and most of Massachusetts. The rest of New England was under a winter storm warning, and a winter weather advisory blanketed most of New York and parts of New Jersey, Pennsylvania, West Virginia and North Carolina.
Wind gusts near 70 mph were reported on Cape Cod, Massachusetts.
Although the latest storm wasn't expected to knock out power to as many power customers as last week's nor'easter did, because the snow is lighter and fluffier, more than 237,000 customers in Massachusetts were without power Tuesday afternoon.
The storm was expected to last through most of Tuesday, disrupting road and air travel. Amtrak said it would restore most service between Boston and New York City on Wednesday.
The blizzard warning predicts sustained winds of greater than 35 mph, along with visibility of less than a quarter mile for prolonged periods, according to the National Weather Service.
Boston and eastern Massachusetts, as well as Rhode Island, could get a foot and a half of snow, with less to the west of the city.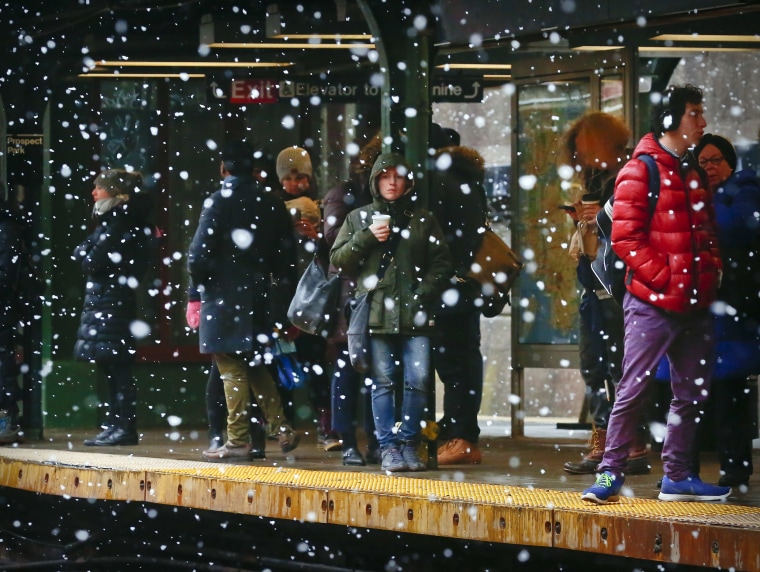 The storm closed schools and businesses across Rhode Island, knocked out power and made driving treacherous. Gov. Gina Raimondo urged residents to stay off the roads and let the plows and work crews do their jobs.
"I know we're all ready for winter to be over. This is the third storm in a row," the governor said. "I know folks are weary with power outages, but hang in there with us."
Maine was bracing for 12 to 18 inches of snow, said James Brown, a meteorologist for the National Weather Service.
In New Hampshire, where as much as 14 inches of snow was forecast, the storm was wreaking havoc with the age-old town meeting tradition.
More than a foot of snow was expected in parts of Connecticut.