A nor'easter crept up the Mid-Atlantic coast Tuesday, bringing heavy rain and high winds from Maryland to Maine and making for a miserable commute and travel delays at airports. Tens of millions of people will be hit by rain and snow as the storm system lingers through the end of the week, including the threat of flooding along the coast and major snow accumulations in higher elevations.
Wind gusts of more than 30 mph were causing four-hour delays at New York's LaGuardia Airport on Tuesday afternoon, while Philadelphia International was experiencing delays of more than an hour, according to FlightAware.com. More than 500 flights were canceled because of poor conditions, mainly at LaGuardia, Philadelphia International and Newark Liberty International Airport in New Jersey.
The backlog and cancellations are only expected to worsen as coastal areas from New Jersey to Maine get pounded with 1 to 3 inches of rain through the day — and as much as 5 inches in some spots, The Weather Channel reported. Police were dealing with multi-vehicle accidents on rain-slicked roads, including one on Route 17 in Sullivan County, New York, in which one person died early Tuesday.
Away from the coast, the rain is forecast to change to snow overnight into Wednesday, with the heaviest powder in the interior Northeast from northern Pennsylvania to northern Maine. One to 2 feet could accumulate in New York's Catskills and Adirondacks as well as parts of New England before the slow-moving storm sweeps away Friday.
This is the second nor'easter to slug the Interstate 95 corridor in as many weeks. Flood watches were posted by the National Weather Service over much of southern New England and south into New Jersey, including the New York City region, Boston and Hartford, Connecticut.
On Tuesday morning, areas hit by Superstorm Sandy two years ago were the first in the firing line. The morning's high tide between 8:30 a.m. and 9:30 a.m. was expected to bring "moderate" coastal flooding from New Jersey to Long Island, said Kevin Roth, lead meteorologist at The Weather Channel.
"There could be some more this evening, including minor flooding in Atlantic City, but it won't be the hardest hit," he said.
The storm is expected to bring powerful sustained winds and gusts of up to 60 mph, especially during the worst of the wet weather Tuesday afternoon.
Meteorologists say the heavy, wet snow and gusty winds are likely to bring down tree limbs and power lines, causing outages.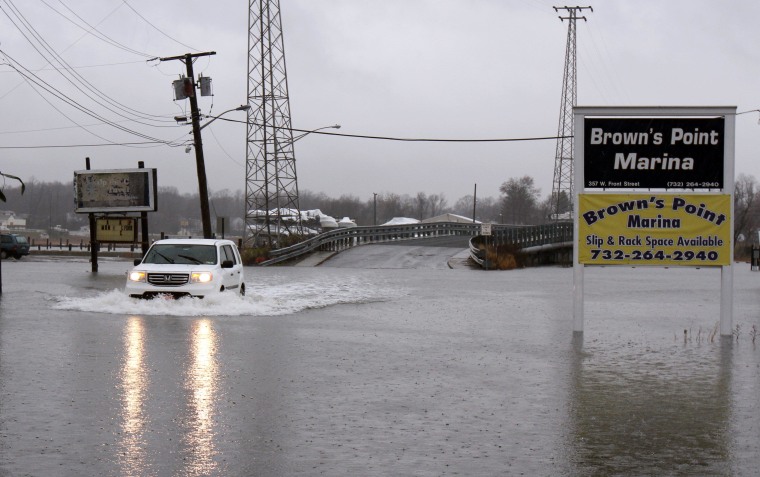 NBC News' Patrick Garrity and Alexander Smith and The Associated Press contributed to this report.