Just days after residents finished digging themselves out after a winter storm blanketed much of the region with heavy snow, another storm is threatening to do it all over again.
The National Weather Service issued winter storm warnings for upstate New York, New Jersey, New Hampshire, Maine and Vermont beginning at 2 a.m. ET Monday.
Much of the Northeast could see 8 to 16 inches of snow, the agency said, while parts of Maine were under a blizzard warning and preparing for even more.
"We're talking about very heavy snowfall," said Danielle Banks, a meteorologist for The Weather Channel. "It will rapidly intensify as we go through the overnight hours and Monday, taking us into the morning rush."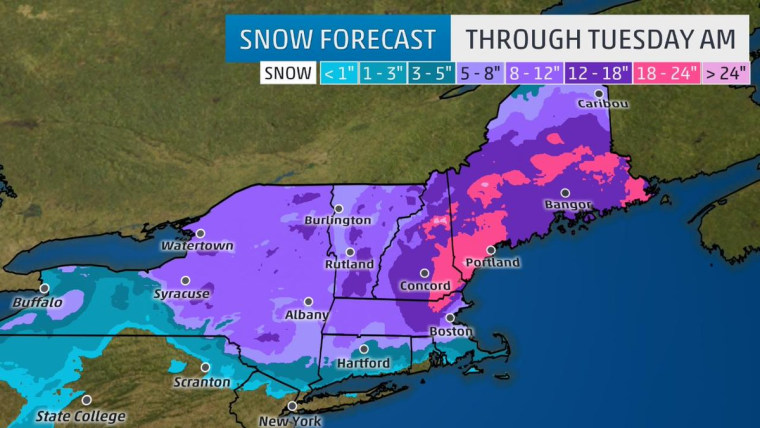 Hurricane-force winds and flooding were anticipated from Maine to Massachusetts, while high wind warnings were issued as far south as North Carolina.
In New Hampshire, officials said snow could fall at a rate of 1 to 3 inches per hour.
School closings were announced in Boston and Portland, Maine, and by 7 p.m. ET, airports across the country had already canceled more than 1,300 arrivals and departures and delayed nearly 1,700 others, according the flight tracking site FlightAware.
In New York, Gov. Andrew Cuomo urged residents, particularly those upstate, to prepare for the storm, and he directed state agencies to deploy resources in advance of its arrival. In Massachusetts, Boston Mayor Martin Walsh reminded people to check on elderly neighbors — and jokingly blamed the region's reigning sports champions for its weather woes.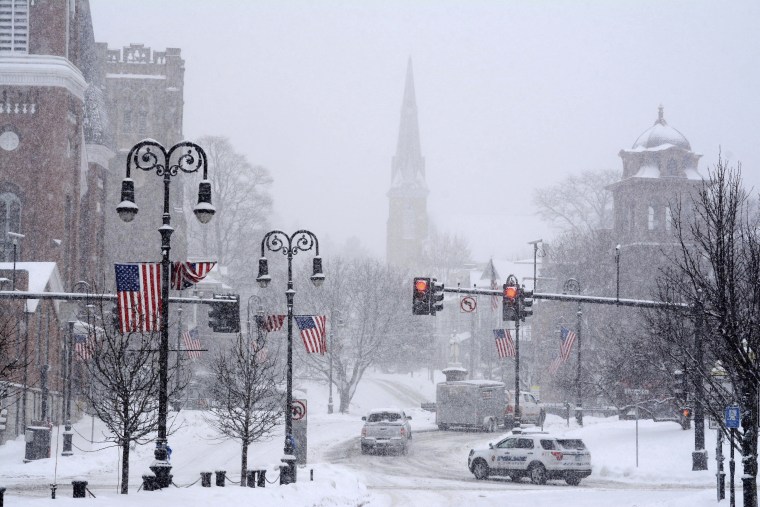 "Maybe it's the Patriots," he told reporters Sunday, recalling the city's record-shattering winter two years ago. "They won in 2015 and we had so much snow."
Banks said the storm will likely taper off by Monday night. But strong winds are expected to persist into early Tuesday, with gusts as powerful as 60 mph striking upstate New York and Hartford, Connecticut.
In Cape Cod, Massachusetts, they could reach 75 mph.
The earlier storm blanketed much of the region in over a foot of snow, left more than 50,000 people without power and resulted in numerous flight delays.
For those in the Northeast who still haven't had their fill of winter weather after the latest storm passes, they may not have long to wait for more. The Weather Channel warns that there is another storm system to watch mid- to late next week that could deliver more harsh weather.