The third nor'easter in 10 days is expected to blast parts of New England with snow, ice and heavy winds overnight Monday, threatening more power failures and treacherous travel conditions.
On its way north, the latest system dumped 2 to 4 inches of snow across southern Illinois and parts of Kentucky and Virginia, including as much as 11 inches in metropolitan Lexington, Kentucky.
Hundreds of students at Virginia Tech University in Blacksburg packed the campus' drill field for their annual snowball battle of civilians vs. ROTC cadets on Monday, NBC affiliate WSLS of Roanoke reported.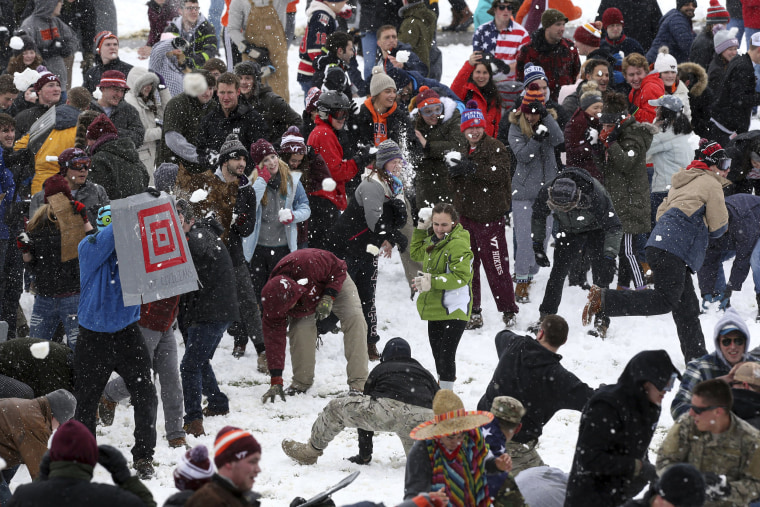 "All the civilians were on one side, and the cadets were on the other," Michael Johnson, a sophomore, told the station. "We all had forts set up, and then we just completely got overrun by the civilians."
Other than some mountainous parts of western Virginia and North Carolina, winter storm warnings were limited to New England on Monday night.
Metropolitan New York City was expected to get only about 3 inches of snow, the National Weather Service said Monday night, and it might not stick because of warmer temperatures — but forecasters warned that blizzard conditions are expected in Boston and areas farther north, with snow accumulations from 10 to 18 inches likely up through central Maine.
"Man, this storm is going to be brutal for Cape Cod," said Ari Sarsalari, a meteorologist for The Weather Channel. "Southern New England's going to be a beast."
John Kassell, an Ohio-based independent meteorologist, said models were showing an "outrageous" frontogenesis — a term to describe the formation of an atmospheric front that can explain why heavy snowfall is occurring.
"With the impressive frontogenesis being modeled, 1 to 4 inches per hour snowfall rates would be possible with such a setup," Kassell told NBC News. "I would not say this is odd by any means. The atmosphere can do some crazy things."
The Interstate 95 corridor from southern New England northward appears to be a "good bet" for the heaviest snows, Kassell said. He said "intense and possible long-duration snowbands" could lead to snowfall of several-inches per hour Tuesday morning in parts of Connecticut, Rhode Island and Massachusetts.
The last time there was a quick succession of nor'easters was also when three formed over 10 days in late January and February 2015, according to David Roth, a forecaster for the National Weather Service who keeps a database of such storms with high winds.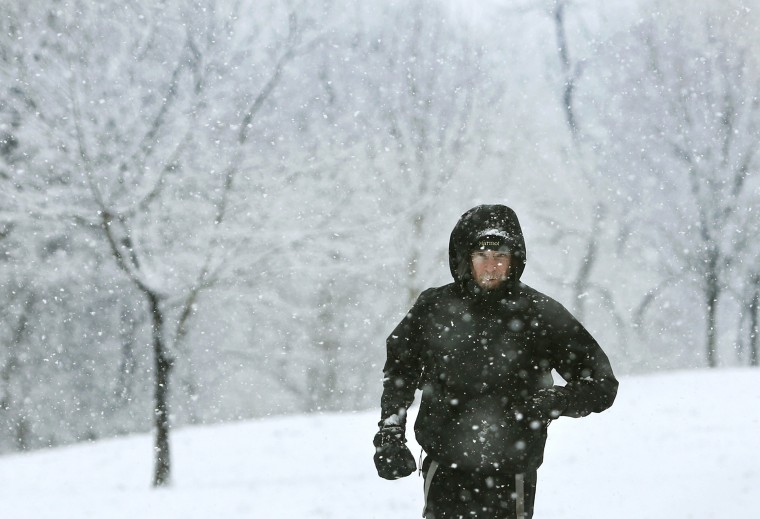 Meanwhile, strong winds have the potential to wreak havoc again in New England, bringing down already weathered trees and power lines.
In Rhode Island, which activated its Emergency Operations Center on Monday night, "driving will be tremendously difficult in the morning," Peter Gaynor, the state's emergency management director, told NBC affiliate WJAR of Providence.
Last week's nor'easter dropped as much as 2 feet of snow in some parts and cut electricity to more than 1 million people. At least two deaths were attributed to the storm. Meanwhile, coastal towns in Massachusetts are still recovering from devastating flooding from the first nor'easter on March 2, when at least nine people died.
Before the snow arrives, crews in Scituate, Massachusetts, raced during Monday's dry weather to get repair work done on the the coastal town's sea wall, which was damaged in the first storm.
"We're doing cleanup," Kevin Cafferty, the town's public works director, told NBC Boston. "It's a great day to do cleanup."
Nor'easters typically begin as low-pressure storms with winds that blow northeast to southwest. They might form from September to April, carrying rain or snow and creating coastal flooding.
And the fact that spring is looming doesn't mean another nor'easter is out of the question, said Roth of the National Weather Service.
In April 2007, a particularly nasty nor'easter formed, raking the Carolinas to New England, killing at least 18 people, nearly canceling the Boston marathon and plunging tens of thousands into darkness.