It's called the "Witch of November," and it's casting its spell on millions — threatening severe gusty winds and thunderstorms across the Upper Midwest and Ohio Valley through Friday.
The November Witch is what meteorologists call the powerful low-pressure weather system that's already spawned 10 suspected tornadoes, flooded streets and knocked out power to tens of thousands across Iowa, Nebraska and Missouri. Parts of the Rockies saw up to a foot of snow Wednesday.
The phenomenon — which is brewed up when intense low pressure clashes with a pocket of high pressure — is what sank the ship memorialized in "The Wreck of the Edmund Fitzgerald" 40 years ago.
It was forecast to move into southwest Minnesota and eastern South Dakota early Thursday before clobbering the Great Lakes, the northern Plains and the Ohio, northern Mississippi and Missouri valleys.
By Friday, remnants are expected to still be causing high winds as far east as northern New England. Several more inches of wet, lake-enhanced snow could accumulate in the Lake Superior region.
"We've got plenty of wind energy from the jet stream to work with," said Danielle Banks, a meteorologist for The Weather Channel. "That is going to drive the snow around, leading to poor visibility."
The thunderstorm threat was predicted to diminished as the huge system tracks eastward, leaving only the likelihood winds between 25 and 35 mph — with gusts of up to 60 mph in some spots.
In Chicago, a severe wind advisory was in place until 6 p.m. (7 p.m. ET) Thursday and was expected to disrupt the morning commute, NBC Chicago reported.
In Iowa City, one resident was spotted kayaking down a flooded street Wednesday night.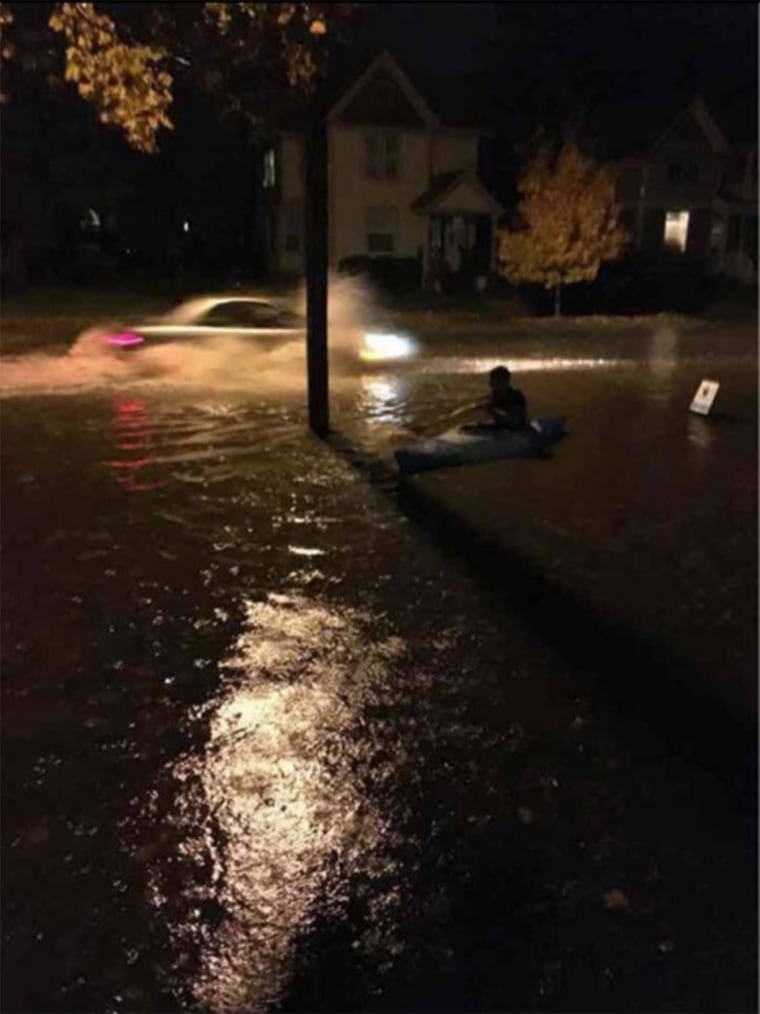 High winds toppled electric poles and wires into the Ozarks from Kansas.
The National Weather Service reported at least 10 suspected tornadoes, one of which was confirmed Wednesday night. An overturned semi-trailer closed the westbound lane of Interstate 80 near Avoca, Nebraska, where an EF-1 tornado with top winds of 110 mph touched down.
A second semi overturned in Knoxville, Iowa, with reports of injury, and National Guard trailers were damaged at Des Moines International Airport.
In West Des Moines, Iowa, about 20 customers at a Fresh Market grocery were led into a hallway next to the store's meat freezers as whipping rains descended. And staffers for Jeb Bush's presidential campaign took shelter inside the fire station in Waukee while setting up for a campaign town hall.
Across from the fire station, Nick Lose, 26, arrived home from work just before the tornado sirens went off. Although the storm caused little destruction, the abnormal timing for tornadoes surprised him.
"With the weather alerts, that's the only thing you can really listen to," Lose said. "It doesn't happen in the fall very often like this. This isn't tornado season. It just came out of nowhere. It's out of season."
Kara Kelly, a regional spokeswoman with the American Red Cross Serving Greater Iowa, said the agency was assisting residents in Melrose, Knoxville and Des Moines in central and southern Iowa.