Desperate officials pleaded with President Donald Trump to send federal assistance Monday after at least 20 people were killed by storms and tornadoes that caused devastation authorities likened to the impact of a nuclear blast.
Mississippi Gov. Phil Bryant said he had dispatched a letter to Trump pleading for help after four people were killed in his state. He said more 1,000 homes were damaged in Hattiesburg and surrounding Forrest County alone — 239 of which were obliterated.
In Dougherty County, Georgia, where four people were killed, county commission Chairman Chris Cohilas said Monday that he has been "begging FEMA for boots on the ground," referring to the Federal Emergency Management Agency.
"I'm asking President Trump to cut through the red tape and get people on the damned ground here," he said.
In addition to the 19 people confirmed to have died in central and south Georgia and in Mississippi, a 20th person was confirmed Monday to have been killed in northern Florida over the weekend.
Related: Up to 20 Dead After Tornadoes, Thunderstorms Batter Southeast
Shayne Morgan, emergency management director in Columbia County, told NBC News that an unidentified person was struck by a tree that fell during the height of the storm. The victim died at a hospital, Morgan said Monday.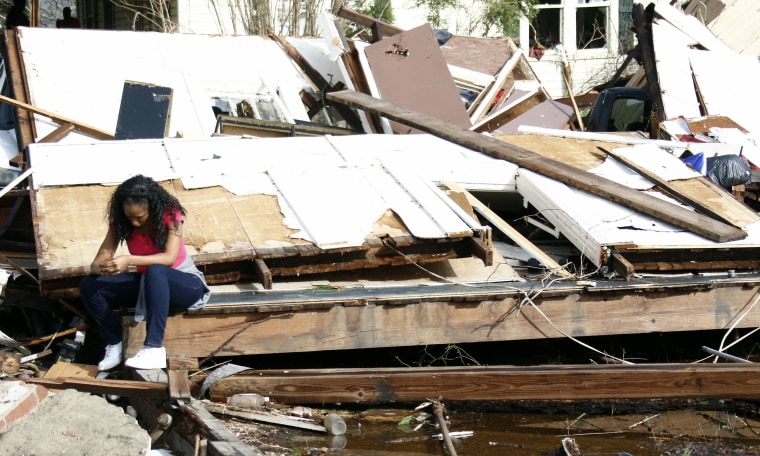 Across the South, 50 unconfirmed tornadoes were reported from Thursday to Sunday as four severe storms moved south from Georgia and Mississippi into the Florida Panhandle, said Frank Giannasca, a senior meteorologist at The Weather Channel.
The worst of the damage was in Georgia, particularly in Dougherty and Cook counties. Seven deaths were reported in Cook County, where a tornado demolished a mobile home park in Adel, NBC station WLTV reported.
"If you were to see it today, it's like a war zone," Adel Mayor Buddy Duke said at a news conference early Monday evening, his voice cracking with emotion.
"I've never seen the outpouring of love and support in any communit
y that I've seen in the last day and a half," he said. "We're going to rebuild, and we'll be back."
Georgia Gov. Nathan Deal expanded a state of emergency from seven counties to 16 on Monday afternoon and extended the order through Jan. 30.
"The cleanup is expected to take weeks in some of these locations," said Danielle Banks, a meteorologist for The Weather Channel. And "it could be days before they're able to complete searches for more victims."
In Dougherty County, "it looks like a nuclear bomb went off," Cohilas said Sunday.
Monday, Cohilas said a search was under way for a missing toddler who was swept away in rushing storm waters. But after four days of round-the-clock emergency operations, "we have exhausted every asset we have," he said.
"The damage that we've suffered in our community is immeasurable," he said. "Our people are suffering. They have no food, no home, no warmth, no hope."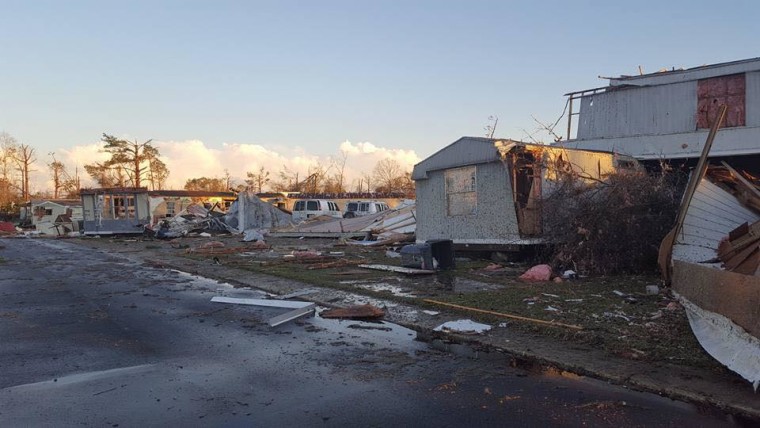 Most of the 200 homes at the Paradise Village mobile home park in Albany were destroyed, Ross Piercy, the property manager, told NBC station WALB. About a dozen were completely washed away and can't be found, he said.
"It just hurts," Piercy said. "It hurts my heart to see how many people have nothing left."
Lasheree Richardson, 35, of Albany, told NBC News that she felt her house shake and heard her windows shatter as the storm passed through.
"I heard my neighbor scream, and it made me rush into the closet," where a neighbor who'd walked a mile and a half found her, she said.
"She was happy I was OK. Once she saw what was around, it was a blessing," Richardson said.