The sound of eruptions from Hawaii's Kilauea volcano rang through the air as Leilani Abaya gathered her belongings to flee the volcanic activity and lava that has destroyed more than two dozen homes.
"We had trash bags and we were just, you know, literally grabbing anything and everything that was the most important to us at that time," Abaya, a mother of two, said Wednesday. She has lived in Leilani Estates on Hawaii's Big Island for about six months and joined nearly 2,000 others who have been ordered to evacuate.
"There was a few times while we were down there where the sounds coming from the eruption was so enormous that it just stopped all of us that was there in our tracks," she said.
The erupting Kilauea volcano has been spewing lava for more than a week, and the island suffered a series of earthquakes that included a strong 6.9-magnitude temblor on May 4. A total of 37 structures, at least 27 of which were homes, have been destroyed, officials said.
President Donald Trump on Friday approved a major disaster declaration ordering federal assistance to be provided for recovery efforts. Hawaii Gov. David Ige said the help would go toward public facilities such as roads, public parks, schools and water pipes damaged in the eruption or earthquakes.
Lava from the volcano, which has been erupting since 1983, has reshaped the landscape, adding more than 443 acres of land to Kilauea's southeastern shore as of the end of 2016, according to the U.S. Geological Survey.
But whether the area affected by the current activity can be rebuilt remains uncertain.
"We really don't know the extent of the damage and whether or not people can actually rebuild," Hawaii state Rep. Joy A. San Buenaventura, who represents the Puna district where Leilani Estates is located, told NBC News Thursday. Another question, she said, "is whether or not you should rebuild" in areas more likely to see lava flows.
The current eruptive period is not over. The USGS warns Kilauea could see explosive eruptions in the coming days or weeks that throw "ballistic blocks" for a half-mile or more. A geothermal plant is threatened and residents of Lower Puna have been advised to be ready to leave. Two new fissures opened in the area Saturday, bringing the total to 17, and one of those new fissures produced a lava flow that traveled around 250 yards before stalling, the USGS said.
The area affected by fissures and lava have occurred in lava-flow hazard zone 1, or the area that the USGS says has the highest likelihood of experiencing lava flows; zone 2 could also be affected before the current eruption ends, Janet Babb, a geologist with the agency's Hawaiian Volcano Observatory, said. There are nine zones on the Big Island in all, with zone 9 having the least risk.
Lava flows approached the nearby town of Pahoa in 2014, and threatened to cover the main Highway 130. The lava changed direction and did not go onto the highway.
The lava cools to rock, and it isn't always cleared: When a section of the scenic Chain of Craters Road in Hawai'i Volcanoes National Park was buried by lava in the 1980s, it stayed blocked until 2014 when a 5-mile section was bulldozed as an emergency access road to connect Kalapana in case it was cut off. (The iconic "road closed" sign sticking up from the hardened lava was removed and saved.) But a section of that road was covered in lava again in 2016.
Sections of cooled lava were cleared from a transfer station in Pahoa after the 2014 flow, and hardened rock was removed from Cemetery Road in 2015, despite the covered road reportedly becoming a tourist attraction.
"It's hard, and it builds up very, very high," said Carolyn Loeffler, owner of Loeffler Construction in Hilo, which did not do work on the areas affected by the 2014 flow. "You generally need hydraulic hammers attached to your equipment," she said.
Building on areas affected by lava flows on Hawaii have to go through a review and permitting process to ensure that building is safe, said Barett Otani, information and education specialist for the Hawaii County Department of Public Works.
Lava engulfed the community of Kalapana, which is southwest of Leilani Estates and near Hawai'i Volcanoes National Park, in 1990. The lava flow buried 100 homes, as well as some other structures, beneath 50 to 80 feet of lava, according to the USGS.
But by 2012, people had returned and new homes had been built in Kalapana Gardens. Honolulu magazine spoke with residents there that year, including Kent Napper and Nancy Lowe, who built a small two-story house there. "Where else in Hawaii can you buy land with an ocean view like this for $10,000?" they told the publication.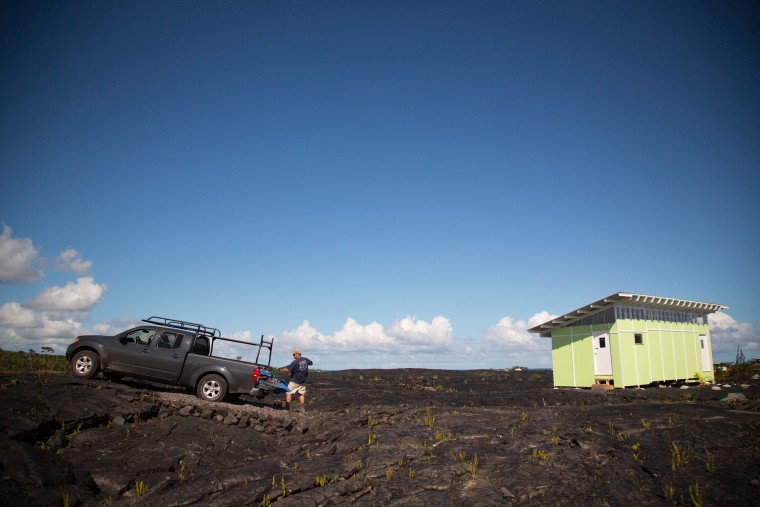 In 2014, NBC News spoke to Chris Adkins, a tax return examiner in Hilo, who was building a home on a lava field in Kalapana. He bought a 0.6-acre lot for $6,500. "I'll have no mortgage, no homeowner's association. It's all a matter of perspective," he said then.
Herman Ludwig, owner of Ludwig Construction in Hilo, whose company cleared hardened lava from the area around the transfer station affected in 2014, said that the hardened lava left behind requires heavy equipment, but is little different than removing other types of rock.
"Most of our island is like that," Ludwig said. One can build houses on the rock left behind, "but the lava might come back again," he said.
No state highways have been covered by the lava flow in the current eruption, but Highway 130 was closed in the area due to cracking, state Department of Transportation spokesperson Tim Sakahara said. If roads are covered by lava flow, crews decide whether to go through, over or around the rock left behind, he said.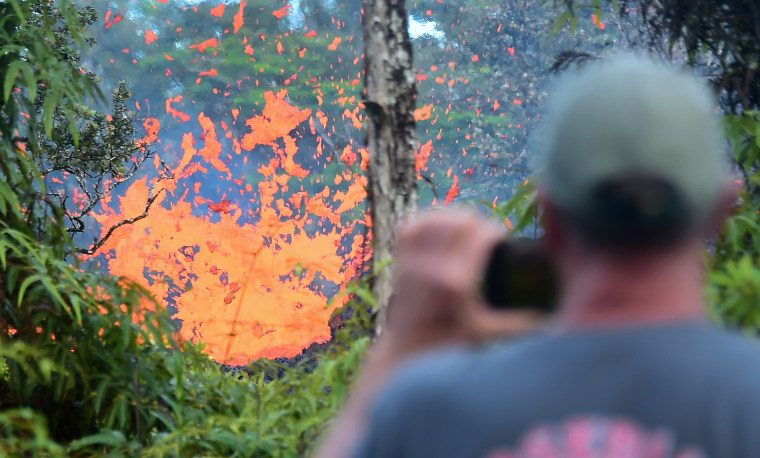 Homeowner and renter's insurance should cover damage caused by fires caused by the heat from lava, the same way that those policies cover fire from any other cause, insurance experts said.
Lava-caused property damage is usually attributed to fire, according to the Insurance Information Institute, a trade group. If the damage is from the earthquake, homeowners and renters would likely need earthquake coverage. Vehicles are covered if the insured has purchased optional comprehensive coverage, the group says.
"In the past situations [with] the lava flow, there has been coverage provided" under fire coverage, Hawaii Insurance Commissioner Gordon I. Ito said. He and the state insurance department are urging people to contact their insurance providers to check on coverage.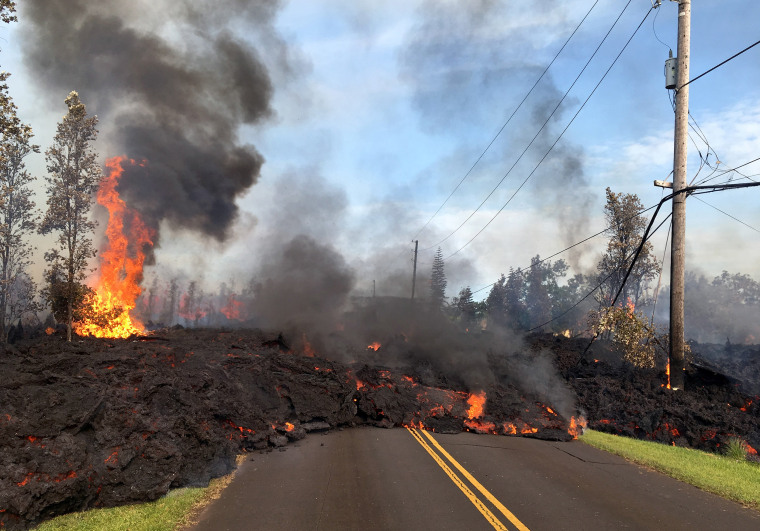 Nearly 300 people and dozens of pets remain at two American Red Cross of Hawaii emergency shelters, NBC affiliate KHNL reported, and those displaced face the challenge of finding temporary housing and driving hours out of their way.
Abaya, who fled her home in Leilani Estates, was unable to get renters insurance from three different companies because the area is in lava zone 1. The home where she and her family were staying is so far still standing, she said.
"I feel like we're coming to terms that, you know, that house may be taken and you know that we definitely need to restart our lives," Abaya said this week.
The family was staying in Oceanside, about two-and-a-half hours away, on Friday but Abaya and her 6-year-old son planned to stay in a tent on a friend's property in Hilo — he goes to school in Hilo, and she works at the University of Hawaii in Hilo.
"Fingers crossed," she said.