Two people were swept away to their deaths and more than 100 others had to be rescued after heavy rains caused severe damage in Maryland over the weekend.
Almost 6 inches of rain fell in Ellicott City from 7 p.m. to 9 p.m., the equivalent of a full month's normal rainfall, Howard County Executive Allan Kittleman said Sunday afternoon.
The Patapsco River, which runs through the area, rose more than 13 feet Saturday night, according to the National Weather Service.
Kittleman called it "a terrible, terrible, horrific incident," adding: "It looks like a war zone."
The bodies of Joseph Anthony Blevins, 38, and Jessica Watsula, 35, were recovered after they were killed in separate incidents when they were carried off by the rushing water, Kittleman said later.
Photos showed damaged buildings — some stripped of windows and doors — and collapsed roadways in Ellicott City, a community of 65,000 in Howard County about 12 miles west of Baltimore. At least four homes were destroyed, and 20 to 30 others sustained substantial damage, the county said.
Joyce Healy said she was driving home along Main Street when she saw a Mercedes-Benz "floating back down the road."
"I've never seen anything like this, ever," Healy told NBC station WBAL of Baltimore. "The devastation down here — I'm just really concerned about them being able to rebuild."
Maryland Gov. Larry Hogan surveyed the damage Sunday morning and declared a state of emergency in the county. "We're going to bring in whatever equipment, whatever manpower they need from every single department," he said.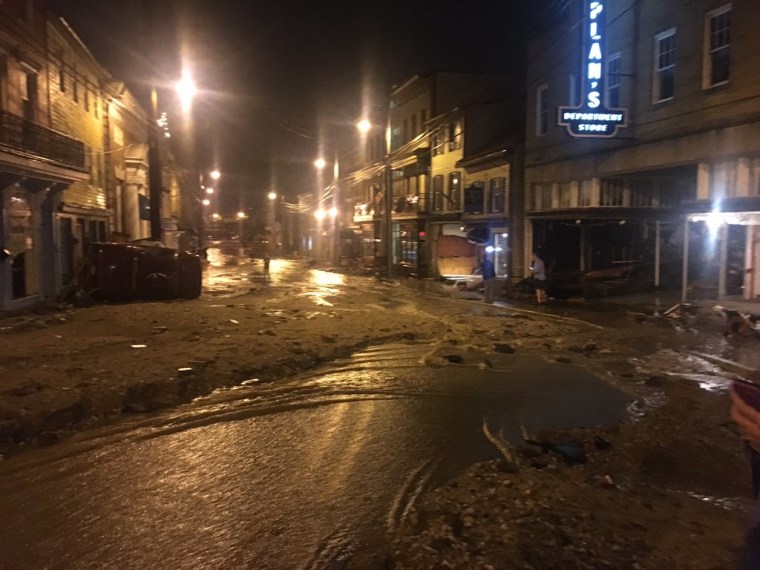 Lt. Gov. Boyd Rutherford also traveled to Howard County on Sunday. "It looks like a movie disaster scene," Rutherford said.
The historic Main Street area suffered some of the worst destruction, Kittleman said. Howard County Fire & EMS said Sunday morning that the street would remain closed until further notice and that people should avoid the area because of gas leaks and downed power lines.
"Many buildings have significant damage. A lot of cars were damaged — there were cars floating down there, as I heard," Kittleman told WBAL.
But Kittleman promised at a news conference Sunday afternoon: "This is not going to defeat us. We're going to become a stronger, better community, because that's who we are."
The heavy rains that struck Ellicott City were part of series of potentially dangerous storms stretching from the mid-Atlantic to the Northeast through the weekend, according to
The Weather Channel
.