The Pacific Northwest, already hammered by destructive storms and two tornadoes, was bracing for even worse weather Saturday.
A powerful storm — fueled by remnants of Super Typhoon Songda in the Pacific — is due to batter the region, with likely wind gusts of up to 100 mph, plus another round of heavy rains, forecasters said.
"This has the possibility of being a fatal storm if people do not take the proper precautions and stay indoors," National Weather Service meteorologist Ted Buehner told TODAY.
Related: Dangerous High Winds On The Way After Tornadoes Hit Region
The strongest winds will be by the coast, particularly the northern Oregon and southern Washington shorelines, while wind gusts of 50 to 60 mph are possible further inland along the Interstate 5 corridor from Seattle to Portland.
The conditions are predicted to last through Tuesday, with power outages and mudslides possible and rainfall of 6 to 10 inches forecast from western Washington south to northwestern California.
Meteorologists feared it could be one of the top 10 windstorms ever to hit the area and said it would bring large waves along the coast as well as flooding.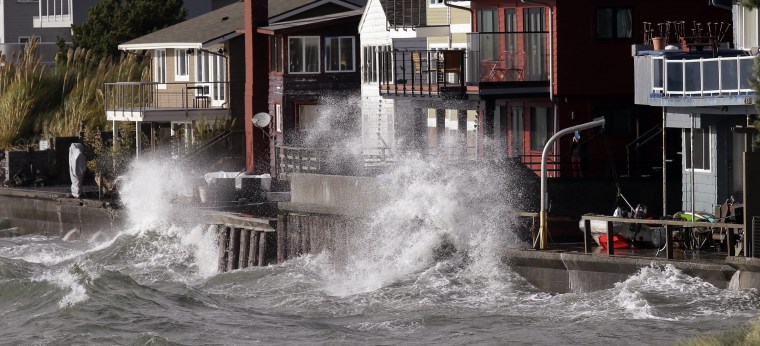 The NWS issued a high-wind warning for the greater Portland area from 11 a.m. PT Saturday until 12 a.m. PT Sunday (2 p.m. ET Saturday to 3 a.m. ET Sunday).
The latest onslaught comes a day after two tornadoes struck: One in Manzanita, a small town along the northwest Oregon coast, at around 8:25 a.m. local time Friday, with winds that topped 130 mph, the NWS said.
Between 25 and 30 homes were damaged, an emergency management official told NBC affiliate KGW, but there were no reports of injuries.
A second tornado briefly touched down in nearby Oceanside, the weather agency said.
The storm was already making history. Before Friday, the NWS in Portland had never issued more than three tornado warnings in one single day; On Friday, it issued 10.
The first storm came Thursday night, wiping out power to thousands. More than 6,600 customers were still without power in Seattle as of 6 a.m. PT (9 a.m. ET), Puget Sound Energy said on its website.
In Oregon, power was knocked out for at least 25,000 customers, The Weather Channel reported.
The storm had already wreaked havoc in many places.
In West Seattle, a 4-year-old boy was seriously injured after a tree branch fell on him Friday. His father also had minor injuries, the Seattle Fire Department tweeted.
Also Friday, the Coast Guard rescued 40 children and 6 adults by boat after they became stranded at a camp in Washington when trees fell and blocked a road, authorities said. No one was hurt.