Cold weather records across the Northeast were shattered on Valentine's Day after the polar jet stream shot a mass of Canadian arctic air south. Warmer temperatures are expected Monday — but so is more hazardous weather, with snow, freezing rain and some potential flooding on the way.
Sunday began with bone-chilling lows: In Boston, thermometers dipped to minus 9 degrees — the coldest day since Jan. 15, 1957, according to The Weather Channel — while in New York City, Central Park registered minus 1, the lowest reading in 22 years.
So it went from Newark, New Jersey, to Hartford, Connecticut, to Watertown, New York, where temperatures plunged to a staggering (and all-time record) minus 37 degrees. Across much of the region, the wind chill drove thermometers down even further.
In Boston, the cold damaged subway lines, cracking one and sending others out of alignment. At Logan Airport, more than 200 flights were delayed because of "minor problems with ground equipment," officials said.
Authorities warned residents of the life-threatening dangers posed by the arctic blast — frostbite and hypothermia — and pleaded with them to stay inside. In New York, Mayor Bill de Blasio deployed hundreds of additional workers to move the city's homeless off the streets, while in Boston, officials opened emergency shelters.
People seemed to heed their leaders' warnings: At least in New York City and Boston, there were no reports immediate reports of weather-related deaths.
But with snow expected to move from the Midwest to much of the East Coast beginning Sunday night, officials scrambled to prepare for the next round of potentially dangerous weather.
In New York City, where as much as 4 inches of snow was expected before turning to freezing rain — and where high tides were anticipated Tuesday — residents were told to expect hazardous road conditions and coastal flooding.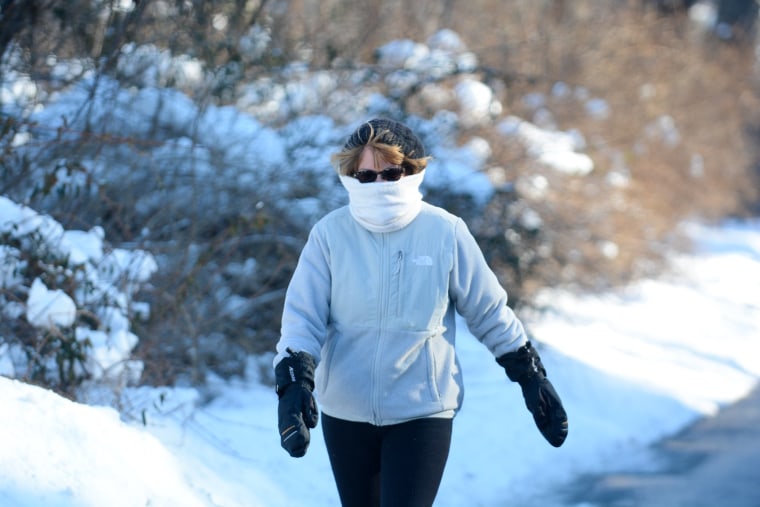 "Even still through Monday night, we could still be dealing with icing across much of the mid-Atlantic and even extending up into New England," said Danielle Banks, a meteorologist for The Weather Channel. "That'll be problematic as we head into Tuesday."
It was already problematic in the Midwest. Several major highways were shut down in Indiana because of multiple crashes.
About 60 vehicles were involved in a chain-reaction series of crashes along a 2-mile stretch of Interstate 65 in Lebanon, Indiana State Police said. At least 10 people were transported to hospitals, but none of their injuries were believed to be life-threatening, authorities said.
"We know that a squall came through here and the visibility was almost zero and it just turned icy very quickly," Boone County Sheriff Mike Nelson told NBC station WTHR of Indianapolis.
"It is what it is," Nelson said. "We deal with this, but in 32 years, this is one of the worst crashes that I've ever seen."
And as many as 50 more vehicles were tied up in a single crash on I-70 in Putnam County. No serious injuries were reported, according to NBC Chicago.