A "potentially historic" storm will batter the north-central United States over the next few days with some parts seeing "moderate to heavy snow" and record low temperatures, according to various weather agencies.
As of Thursday morning, the storm had already dumped some snow on certain parts of Montana, Wyoming and Colorado. Forecasters said there was already a report of 24 inches of snow in Pony, Montana.
Download the NBC News app for breaking news and politics
The Park County Sheriff's Office in Livingston, Montana, posted photos on its Facebook page of a snow-covered interstate and asked motorists to drive safely. Police in Denver issued the same message to drivers after they received 96 traffic crash reports in the span of three hours.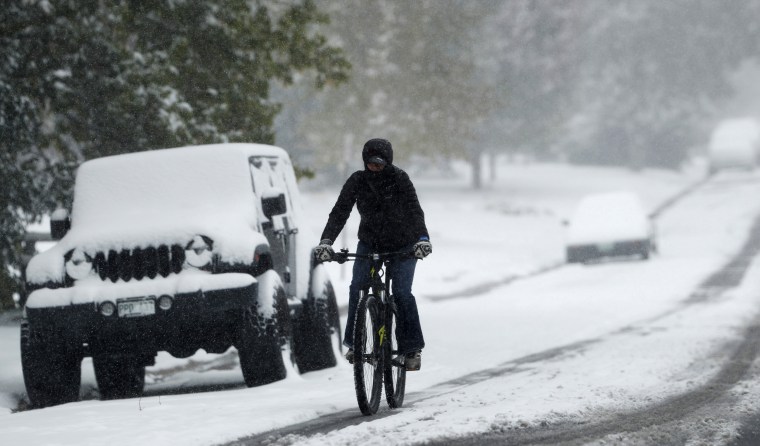 "Rush hour is coming to a close, but the #snow is coming down and there are plenty of motorists still on the roads — keep your wits about you," the police department tweeted Thursday afternoon.
The City of Denver is currently under an Accident Alert, meaning drivers involved in a crash are instructed not to call the police if there are no injuries or deaths and the wreckage isn't blocking a street.
There have been hundreds of flights delayed at Denver International Airport and at least 100 flights cancelled according to FlightAware.
The National Weather Service said "moderate to heavy snow" is expected for the southeast part of the state into parts of the Central and Northern Plains. The snow will be accompanied by gusty winds which could make traveling difficult.
The agency called the tempest a "significant, and potentially historic, October winter storm."
Weather forecasters said the storm is expected to linger over the Northern Plains into the weekend, with 6 to 12 inches of snow predicted for the region and isolated totals up to 18 inches from Bismarck, North Dakota, to Fargo. Weather.com warned that "dangerous blizzard conditions" are expected in the region through to late this week.
Denver, which forecasters said went from 80 degrees Wednesday down to 22 degrees Thursday morning, will see its first snowfall of the season. The state is currently under a winter weather advisory.
Storm warnings and watches have been issued for North and South Dakota, Wyoming, northwestern Minnesota and northwestern Nebraska, according to the weather service. "Record low temperatures" are possible across western and central parts of the country until Friday, the agency said.
The tri-state area may not see any snowfall over the next few days, but that doesn't mean New York and New Jersey are spared from nasty weather.
Showers and periods of torrential, frigid rain began battering the region Wednesday and are expected to last through Friday, according to NBC New York. Strong winds are expected Thursday and Friday with some parts, like eastern Long Island, seeing gusts up to 50 mph.
A wind advisory has been issued for Suffolk County for Thursday into Friday morning, the outlet reported. Parts of the Jersey Shore and Long Island are under coastal flood advisories through Friday.
Across the country in California, wind gusts reached up to 80 mph as of Thursday morning is some isolated areas. The winds are expected to be "dangerously high" into Friday, according to weather forecasters. Due to the strong winds and other conditions, such as dry vegetation and low humidity, much of California and Southern Nevada are in a Critical Fire Danger category.