Hurricane Matthew weakened slightly overnight from its powerful Category 5 status, but still posed a threat as it barreled across the Caribbean as a strong Category 4 storm.
Jamaica, Haiti and Cuba were all in the path of potentially devastating winds and rain, the National Hurricane Center in Miami said. Matthew was expected to reach eastern Jamaica and Haiti on Monday, but the effects were likely to be felt starting Sunday.
The National Hurricane Center warned of life-threatening floods and mudslides in the two countries. The rainfall could be particularly catastrophic in Haiti, a nation hard-hit by natural disasters in the past.
Its brief classification Friday night as a Category 5 storm — the top hurricane strength — made it the strongest Atlantic hurricane since Felix in 2007.
Related: Hurricane Matthew Strengthens to Powerful Category 5 Storm
By early Saturday, Matthew's strength had dipped a tad. But its maximum sustained winds were still measuring at a dangerous 140 mph Saturday afternoon. It was churning through the Caribbean about 400 miles southeast of Kingston, Jamaica, and 380 miles south of Port-au-Prince, Haiti, the National Hurricane Center said in a 2 p.m. ET advisory.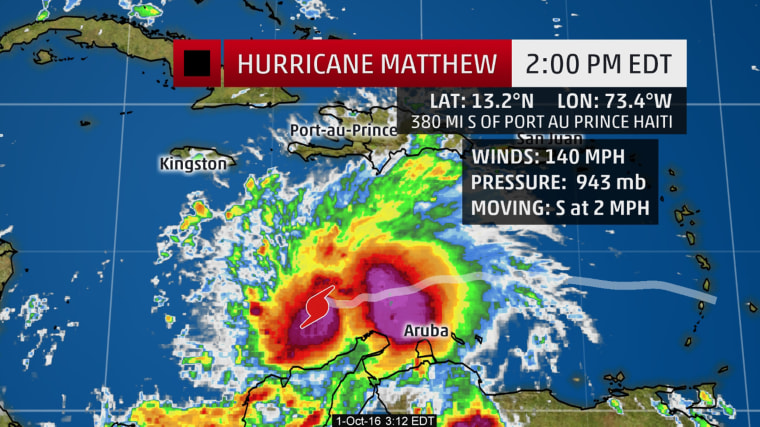 A hurricane watch was in effect for Jamaica and for Haiti along the southern border with the Dominican Republic. But its effects could already be felt in some places.
In Colombia, Matthew brought very high tides, a storm surge and heavy rain on Saturday. Local media in La Guajira province reported one person died in flooding, according to The Associated Press.
Jamaica's Prime Minister Andrew Holness called an emergency Parliament meeting Friday to discuss storm preparations, and Jamaicans raced to stock up on supplies Friday evening.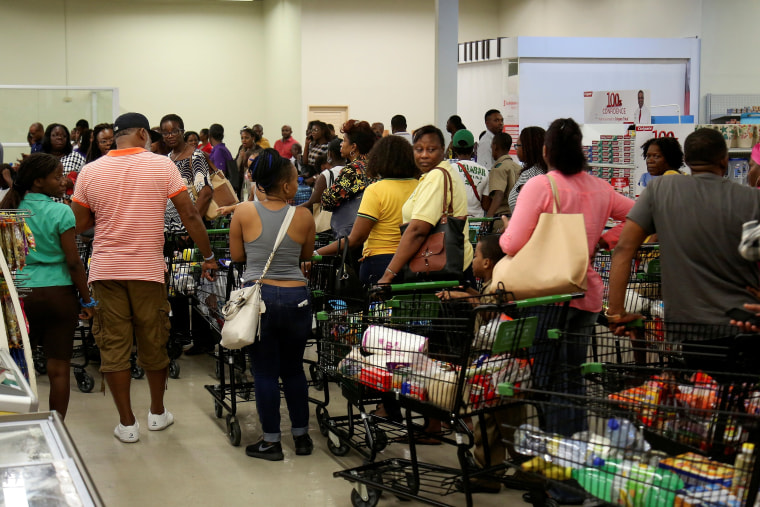 Evan Thompson, director of Jamaica's National Meteorological Service, said the first effects of the storm might be felt as early as Saturday, the AP reported.
"We do consider it serious," Thompson said. "We are all on high alert."
Forecasters said there could be 10 to 15 inches of total rainfall, with isolated maximum amounts of 25 inches in Jamaica and southwestern Haiti. Kingston, Jamaica's capital, was steeling itself for floods.
Winds of 75 mph or greater are possible Monday in Jamaica, and tropical storm force winds may begin late Sunday, The Weather Channel reported.
Matthew is expected to fluctuate in intensity between a Category 4 and a Category 3 before making landfall as a major hurricane, NBC meteorologist Bill Karins said. Some computer models show the possibility of it making its first landfall in Cuba, while others show landfall in Jamaica.
It isn't clear yet how Matthew may impact the United States. Forecasters were watching its path to see if it might be felt in Florida mid-week. The Bahamas, too, may feel effects.
The tropical storm killed a teenager in St. Vincent and the Grenadines when it entered the Caribbean Wednesday, the National Emergency Management Organisation said.