More than one million people were without power early Monday as a ferocious storm rolled through the Northeast.
National Weather Service meteorologist Joe Dellicarpini said there were reports of downed trees around the region and roads that were impassable in spots due to flash flooding.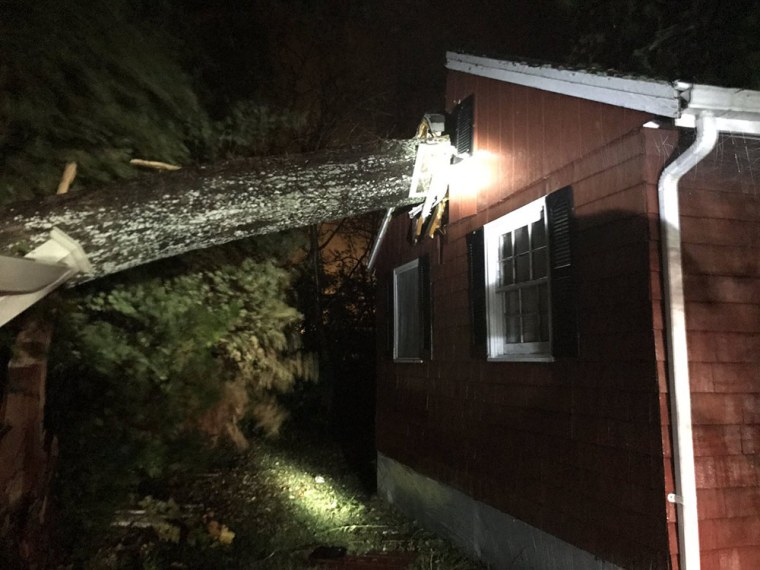 The storm hit Sunday — which was the fifth anniversary of Superstorm Sandy.
NBC News meteorologist Bill Karins said that "heavy rain and damaging winds" were possible on Monday over parts of the Lower Great Lakes and the Northeast.
"Tropical moisture, from what was Tropical Cyclone Philippe, will draw into the rapidly deepening storm over the Northeast coast," Karins added. "The storm will lift through New York today and continue on its track through Quebec Tuesday and Wednesday."
Dellicarpini said parts of Rhode Island and Massachusetts saw wind gusts of up to 70 mph or more. Conimicut Light on Narragansett Bay in Rhode Island reported a wind gust of 81 mph.
Hundreds of New England schools closed Monday due to the storm, The Associated Press reported.
Just before 8 a.m. on Monday, reported outages across the Northeast included approximately 300,000 in Massachusetts, 300,000 in Maine, 270,000 in New Hampshire, 150,000 in Connecticut, 145,000 in Rhode Island and 70,000 in Vermont, according to Weather.com.
About 44,000 total were without power in Pennsylvania and New Jersey, where the worst of the storm had moved out by 8 a.m.
Some utility companies warned customers that power could be out for a few days.
New York's LaGuardia and JFK airports asked travelers to check with their airlines to find out about disruptions and there were several flight cancellations at Boston's Logan airport.
The storm intensified through a process known as "bombogenesis," which creates strengthened winds near the center of the system.
The storm came five years after Sandy made landfall in New Jersey, bringing devastation to the area.
Sandy led to the death of 182 individuals and more than $71 billion in damage.