Flood warnings continued on Saturday for parts of hurricane-damaged Puerto Rico on Saturday, as officials continued to monitor the Guajataca Dam that was in danger of failing.
The National Weather Service warned Friday that the failure of Guajataca Dam in northwest Puerto Rico was "imminent" and could lead to flash flooding for some 70,000 people that could be affected if it collapsed.
As of 1:55 p.m. Saturday, the weather service said "dam operators continued to report the threat of a failure of the Guajataca Dam, potentially causing life-threatening flash flooding downstream on Rio Guajataca."
At least 10 people have been confirmed dead in Puerto Rico after Hurricane Maria hit the U.S. territory, Puerto Rico's governor's office said Saturday. Most of Puerto Rico has lost power, and the governor's office said that so far only around a quarter of the island has water service.
"We were able to directly observe the damages of the Guajataca dam," Gov. Ricardo Rossello said on Twitter Saturday. "We re-affirm the evacuation order for the area."
The National Weather Service said late Friday that a flash flooding warning in western Quebradillas and eastern Isabela covered an area where around 8,000 people live. The flash flood warning for Isabella Quebradillas was extended Saturday.
"Stay away or be swept away," the weather service said in a bulletin Saturday.
If the Guajataca Dam at the northern end of Lake Guajataca breaches, the weather service said there was the possibility of "extremely dangerous" flash flooding downstream on the Rio Guajataca River.
The dam, which was built in 1929, is used for public water and irrigation water supply, and the reservoir has a water storage capacity of 11 billion gallons.
Hurricane Maria, the strongest storm to hit Puerto Rico since 1928, had maximum sustained winds of 155 mph when it made landfall as a Category 4 storm on Thursday. The storm is blamed in 15 deaths in the Caribbean nation of Dominica and one death on Guadeloupe.
The monster storm ripped roofs off buildings and flooded homes, leading to power outages that could last for months.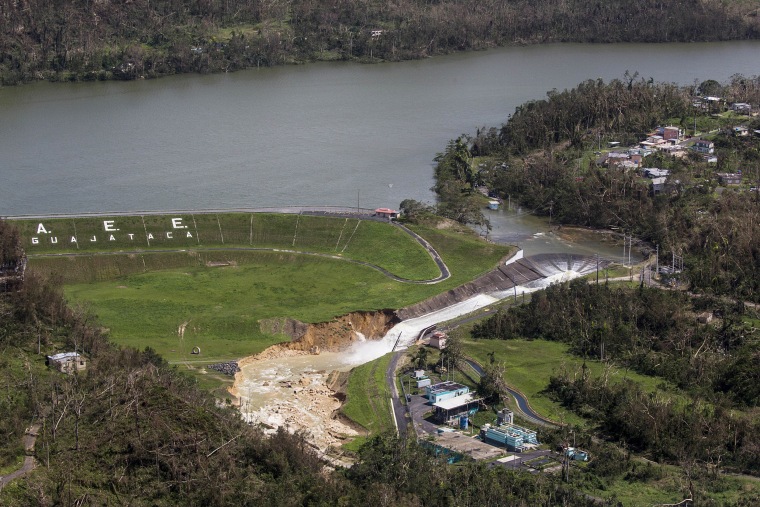 As of 5 p.m. Saturday, Maria was moving north along open ocean away from the Bahamas, the National Hurricane Center said. It was around 285 miles east of Great Abaco Island in the Bahamas with winds of 115 mph.
There are now no storm watches or warnings in effect, although it could generate swells that will affect parts of the southeastern United States and the mid-Atlantic coast, the hurricane center said.