MONTECITO, Calif. — Chaos swept across California's Santa Barbara County on Tuesday after a powerful overnight storm hammered the region with heavy rains, leading to the deaths of at least 13 people — and a dramatic rescue of a girl pinned by debris, authorities said.
Santa Barbara County Sheriff Bill Brown called it "a very somber day," and said the 13 deaths were due to the storm.
"While we hope it will not, we expect that this number will increase as we continue to look for people who are still missing and unaccounted for," Brown said.
Among the hardest hit areas was Montecito, a wealthy community sandwiched between the Pacific Ocean to the south and the Santa Ynez Mountains to the north, where "massive" runoff sent mud and detritus slamming into homes, said Santa Barbara County Fire Department spokesman Mike Eliason.
Debris ruptured a gas line in one neighborhood, causing structure fires, and there were 50 rescues by helicopter and dozens more by crews on the ground by Tuesday afternoon, officials said.
Related: Mudslide, flood threat prompts evacuations in Southern California
In one instance, a 14-year-old Montecito girl was saved from a "tangled mess of a house" that was swept away by raging floodwaters, Eliason said.
Photos: Rivers of mud sweep through wildfire burn areas in California
The teen — later identified as Lauren Cantin — was discovered when firefighters using dogs in the search heard a scream. It was difficult to hear as the rain continued to fall, they said, but they pinpointed the area where the noise emanated and began to dig.
Using the jaws of life and other tools, rescuers sheared off debris from around Cantin. They worked for over six hours before freeing her Tuesday morning.
"I thought I was dead there for a minute," Cantin, covered in sludge as she was brought out, told rescuers.
The girl was able to stand and walk with some assistance and was brought to a local hospital.
"To be able to have her come out safely and as unscathed as she was, it was pretty phenomenal," said Andy Rupp, a Montecito Fire Protection District firefighter.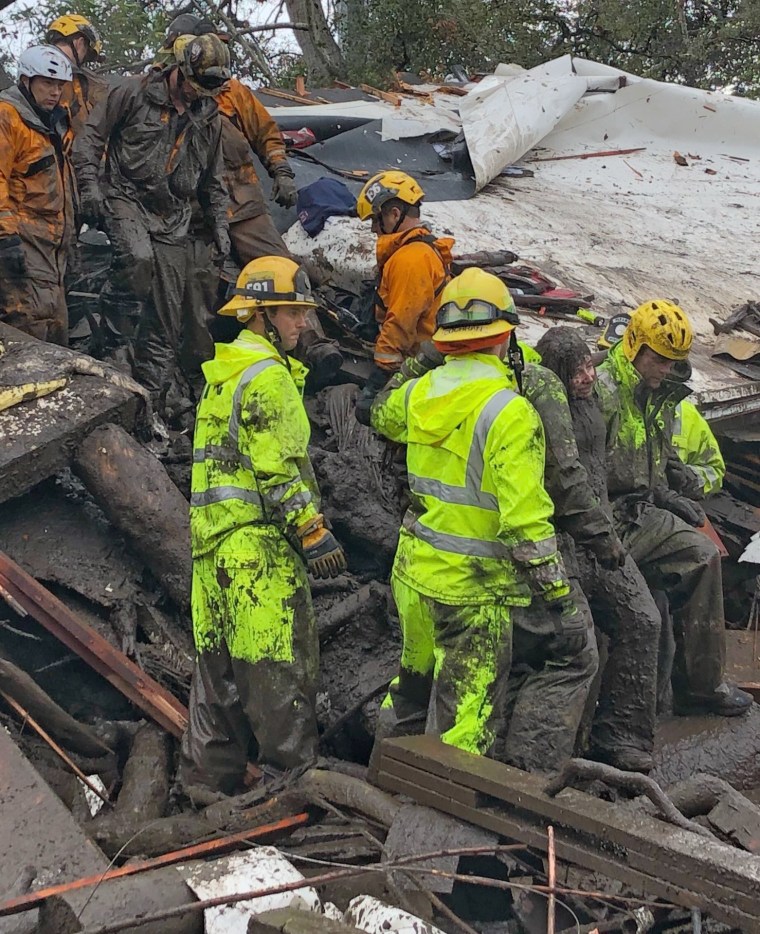 Emergency responders made several rescues in the area after some residents failed to heed warnings the day before to leave. Motorists also had to be rescued as the mud reached waist high in some pockets, Eliason added. The painstaking rescues were done as more than 1,600 people in Santa Barbara County lost power, reported NBC affiliate KSBY.
There were 25 injuries in Santa Barbara County due to the storm, officials said.
One of those killed was Roy Rohter, who was swept from his Montecito home along with his wife who survived, according to Thomas Aquinas College, which said they have been longtime benefactors of the school.
More than 5 inches of rain were collected in the Matilija Canyon rain gauge in Ventura County, according to the National Weather Service in Los Angeles, which issued a flash flood watch for Tuesday after storms rolled in Monday. The flash flood watches in Santa Barbara and Ventura counties were later discontinued.
Thousands of people in parts of Ventura and Los Angeles counties had been ordered to evacuate.
"Rainfall rates were unprecedented," the National Weather Service said in a statement read at a news conference in Santa Barbara County Tuesday afternoon. A rain gauge at the Carpinteria Fire Department recorded ½ inch of rain in just 5 minutes, according to the weather service.
The rain fell in the burn area of the so-called Thomas Fire that burned last month and which was stoked by Santa Ana Winds, officials said. The rain caused "devastation in the Montecito area of the Thomas burn," Brown said.
Decreasing showers are forecast to end Tuesday night, but officials said search and rescue efforts are continuing. First responders were in the process of evacuating around 300 people trapped in Romero Canyon Tuesday afternoon, Montecito Fire Division Chief Kevin Taylor said
A "catastrophic debris flow" occurred in the Montecito area at around 4 a.m., Taylor said.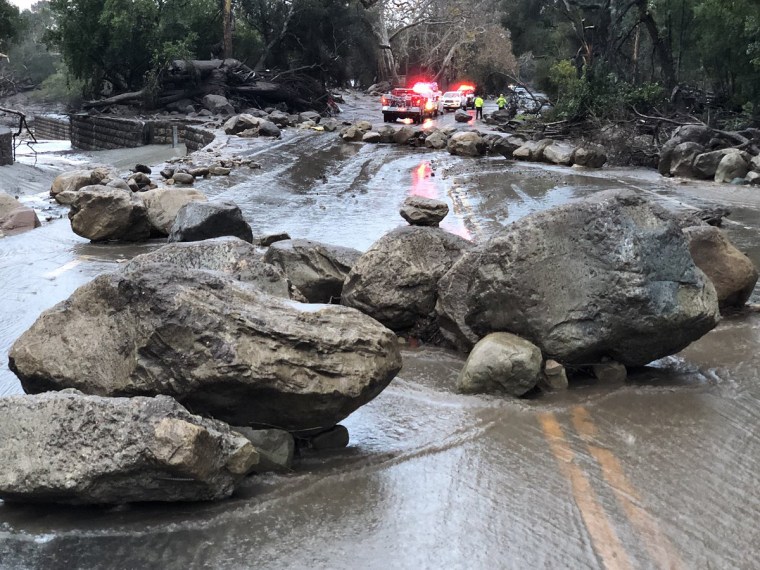 Police tweeted that the 101 Freeway, a major artery that runs along the coast, was shut down from Sea Cliff in Ventura County to Milpas in Santa Barbara County because of the heavy downpour. Vehicles became trapped partially underwater with people needing to be pulled out, fire officials added.
"The only words I can really think of to describe what it looked like was it looked like a World War I battlefield," Brown said of the landslide. "It was literally a carpet of mud and debris everywhere, with huge boulders, rocks, downed trees, power lines, wrecked cars."
The year's first major rainstorm is a test for parts of California where wildfire-ravaged land has lost crucial vegetation and left hillsides bare. The Thomas Fire is the largest wildfire in state history, fire officials have said, and burned more than 280,000 acres and killed at least two people since early December.
In Burbank, city officials said voluntary evacuations were recommended for neighborhoods near where the La Tuna Fire burned thousands of acres in September.
Mandatory evacuations were ordered for County Club Drive in a mountainous community in Burbank, fire officials said. Aerial video showed rivers of mud — carrying tree limbs along — flowing down the street.
Burbank Fire Battalion Chief John Owings said that a rough assessment showed at least a couple of homes had suffered damage.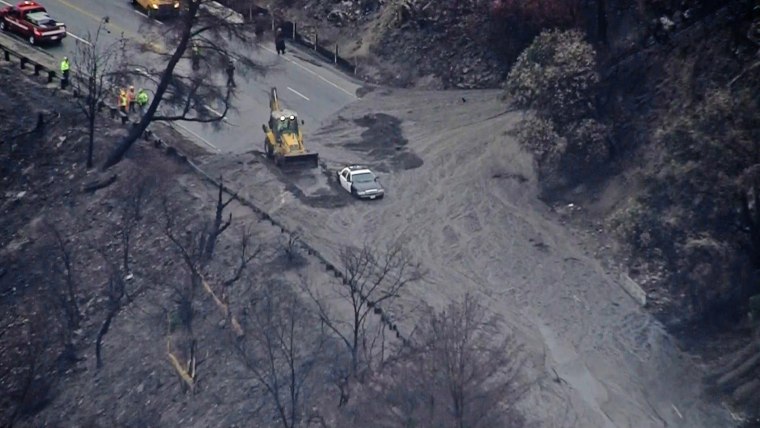 "Originally under the voluntary evac some folks decided to stay and try to defend their homes but now that they've seen the potential of what could come down, they're being much more cooperative," Owings said at a news conference at around noon.
"Right now we're still in a rescue mode and getting all of the occupants out of there," he said. There were between 10 and 20 homes that still needed to be evacuated, he said at the time.
Also making the conditions more dangerous were winds gusting as high as 70 mph — expected through Tuesday night. And the rain isn't expected to taper off until early Wednesday.
A 53-year-old semi truck driver was killed in the Los Angeles area after making an unsafe turn and losing control on Interstate 5, the California Highway Patrol said. It was not immediately clear if the accident was related to the rain, and a cause is still under investigation.
Parts of Santa Barbara County got nearly 3 inches of rain, parts of the Los Angeles metropolitan area saw 1.8 inches of rain, Pasadena got 2.83 inches, and 2.3 inches were reported in Burbank as of 4:40 p.m., the National Weather Service said.
Steady rains and high winds posed a messy Tuesday morning commute in Northern California, NBC Bay Area reported.
Already on Monday, San Francisco saw almost 2 inches of rain through the afternoon, making it the wettest calendar day since Dec. 11, 2014, according to The Weather Channel.
"We're going from one natural hazard straight into another," said Weather Channel meteorologist Danielle Banks.
Tom Piozet reported from Montecito, and Erik Ortiz reported from New York.