Erie and other parts of northwest Pennsylvania continued digging out from a record-topping 5-plus feet of snow on Wednesday, buoyed by forecasts that suggested the worst is over.
Lake-effect precipitation off Lake Erie dropped 34 inches of snow in Erie on Christmas Day alone. And it just kept on snowing: By Wednesday afternoon, 65.1 inches was on the ground — more than an inch higher than retired National Basketball Association star Muggsy Bogues.
"I know it's Erie, and we Erie-ites can get through just about anything, and it's just a little snow — wrong," said Matt Exley, director of emergency management for Millcreek Township in Erie County. "Unfortunately, we have emergency vehicles that are getting stuck. We have people that are out in two-wheel-drive cars that are not prepared for the weather."
Matthew Harrington, who is used to snow as a resident of Erie, spoke for many when he said, "This is insane."
Lake-effect snow pops up when cold air skitters across large, warmer bodies of water, like Lake Erie. That draws water vapor up into the atmosphere, where it freezes and falls back down as snow.
As this week's Arctic blast of cold air moves out of the region, "it's starting to wind down a little bit," said Ari Sarsalari, a meteorologist for The Weather Channel. "I don't think we're going to see a tremendous amount more from here on out."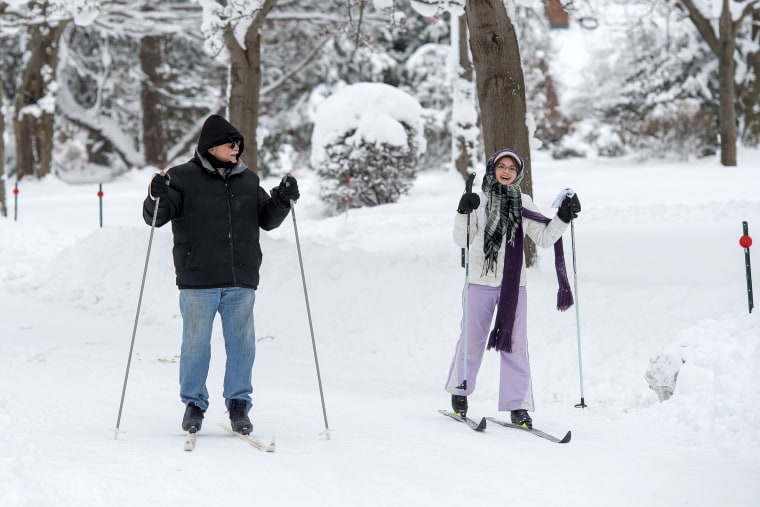 That was music to the ears of travelers stranded at Erie International Airport, which shut down over Christmas.
"They can't keep the snow off the runway, so they keep canceling the flights, and now everything's overbooked, so I can't get home," Deidre Walsh, who had been on her way home to Portland, Maine, after visiting family, told NBC News.
"I've been surviving on vending machine food," said Walsh, whose Christmas dinner was peanut butter cups. "I desperately want a salad."
Erie County Executive Kathy Dahlkemper lifted a disaster emergency declaration that had mobilized the Pennsylvania National Guard. One National Guard ambulance will remain in Erie County, she said.
In other parts of the country, it was normal winter conditions that drove temperatures way, way down.
International Falls, Minnesota, which calls itself the Nation's Icebox, bottomed out at 37 degrees below zero on Wednesday morning, breaking the Dec. 27 record by 5 degrees, the National Weather Service said. And that wasn't even the coldest place in Minnesota — the town of Embarrass, in the northeastern part of the state, hit minus-40.
Related: Storm brings white Christmas to Midwest and Northeast
The low in Peoria, Illinois, on Wednesday, meanwhile, was only 3 degrees — which made it too cold even for ice skaters. PNC Winterfest, the city's annual holiday festival, closed its skating rink "due to the freezing temps."