Record-breaking rain soaked parts of California as one of the strongest storms ever to hit the West Coast moved through as the Northeast issued warnings ahead of the season's first nor'easter.
The National Weather Service in the San Francisco Bay Area on Monday afternoon called some of the rainfall reports "staggering," with 11 inches at the base of Mount Tamalpais in Marin County.
Downtown San Francisco, with 4.02 inches of rain, saw its fourth-wettest calendar day Sunday with records going back to the Gold Rush. It was the wettest October day ever for the city, the weather service said.
In the northeastern U.S., the governors of New Jersey and New York declared states of emergency and New York City issued a travel advisory through Tuesday afternoon.
"Take this seriously," New York City Mayor Bill de Blasio said Monday.
A flash flood watch is in effect through 5 p.m. Tuesday, and while the forecast 2 to 4 inches of rain is not expected to cause catastrophic and deadly flooding, he urged those in basement apartments to have plans.
Over the weekend in California, a storm system dropped to a barometric pressure of 945.2 mb, making it the strongest storm to affect the Pacific Northwest on record. For perspective, this is equivalent to the central pressure you would see with a strong hurricane.
In fact, Mammoth Mountain, California, clocked a 111-mph wind gust.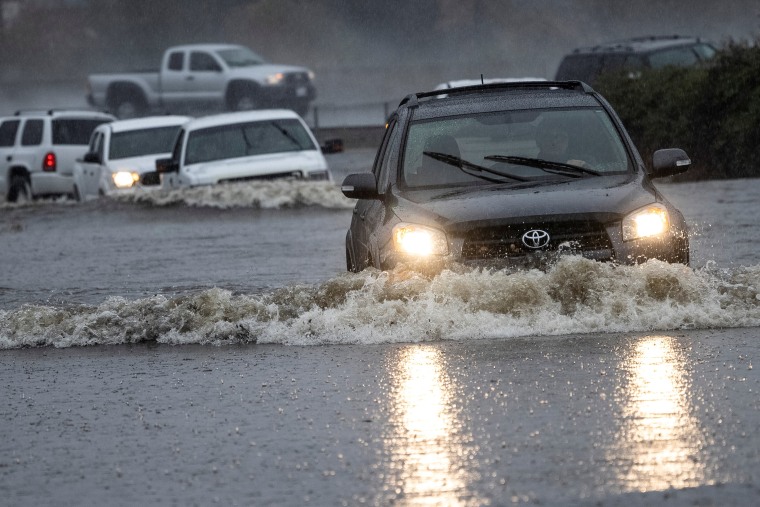 For Sacramento, the stats are even more startling. Sacramento picked up 5.44 inches of rain Sunday, making it their wettest day in history (or any calendar month). Making this even more remarkable is that this came on the heels of a record dry streak of 212 days in a row with no measurable rain. That just ended on Oct. 18.
This example of drought to deluge, also known as precipitation volatility, is exactly what's expected to occur more frequently in California with climate change, where a moisture-loaded Pacific storm system brings a brief period of record rainfall in the middle of an extreme drought exacerbated by record high temperatures.
In Washington state near Seattle, two people died after a tree fell on their vehicle in Preston on Sunday afternoon, NBC affiliate KING of Seattle reported.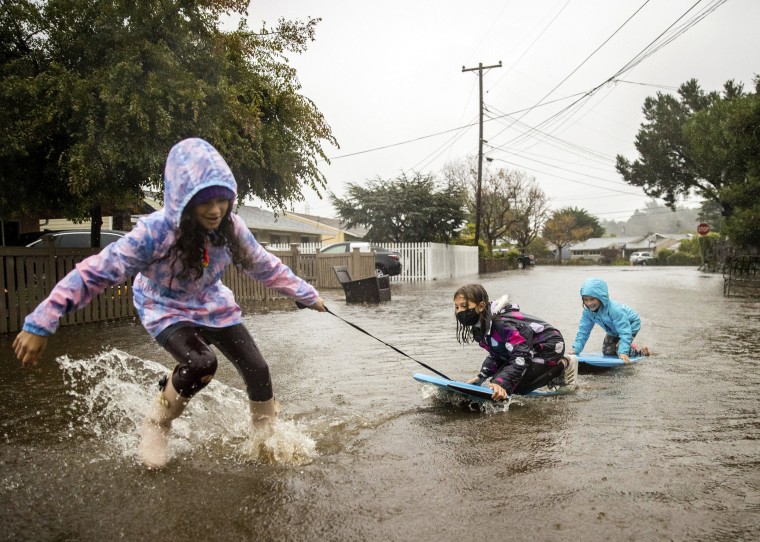 If there was any good news that came out of the powerful western storm, it's that the Dixie Fire is 100 percent contained and Lake Oroville rose nearly 10 feet due to the beneficial rainfall. This summer, the Dixie Fire became the second-largest wildfire in California, eclipsed only by the August Complex Fire of 2020. At the same time, Lake Oroville reached an all-time low, shutting the power plant down for the first time in history.
On the other side of the country, parts of Virginia and North Carolina were under severe thunderstorm watches, and the Northeast and New England braced for the first formidable nor'easter of the season.
New Jersey Gov. Phil Murphy declared a state of emergency effective at 8 p.m. Monday, which allows for state resources to be deployed. New York Gov. Kathy Hochul also declared a state of emergency Monday night due to the risk of heavy rainfall for New York City as well as the capital region and other parts of the state.
Flash flood watches covered a swath of the country from Eastern Pennsylvania to Massachusetts Monday evening.
Sunday night into Monday morning, the storm heading toward the Mid-Atlantic spawned suspected tornadoes in Missouri and Illinois.
The National Weather Service confirmed Monday that the tornado that stuck the Fredericktown, Missouri, area, destroying and damaging buildings, was an EF-3. A tornado that struck from St. Mary, Missouri, to Chester, Illinois, was ranked as an EF-2.
In the Northeast, the heaviest rain was expected to begin Monday night for New York City and Tuesday for Boston.
New York City emergency management officials warned the area could see up to 4 inches of rain, with some locally higher amounts possible. Winds could gust to around 40 mph Tuesday.
Forecasters in the Boston region said rain could become heavy Tuesday evening, with strong and damaging winds in central and eastern Massachusetts.
And it's not just the bookends of the country expected to experience extreme weather over the next few days, but also the middle of the country.
Eight million people are at the risk for severe storms Tuesday across the central and Southern Plains. Hail as big as softballs will be the main risk, followed by damaging winds in excess of 70 mph and isolated tornadoes.
On Wednesday, this storm system will shift east bringing the risk for severe storms to portions of the Gulf Coast. This risk will include 12 million people in the metro areas of Houston, New Orleans, Baton Rouge, Louisiana, and Mobile, Alabama.