A powerful hurricane that brought torrential rains to Hawaii's Big Island, closing roads and causing flooding that prompted the rescue of at least 11 people, was downgraded Friday to a tropical storm, but forecasters warned the danger to the islands is not over.
The Central Pacific Hurricane Center warned that Tropical Storm Lane, which had maximum sustained winds of 70 mph and which was around 150 miles south-southwest of Honolulu and traveling northwest, "will still bring more flooding and damaging winds to parts of the main Hawaiian islands" and could cause landslides.
"I would just like to emphasize that there still is the potential for flash flooding and rain damage due to Lane," Hawaii Gov. David Ige said at a Friday evening news conference, adding that emergency responders would remain on the job monitoring the storm.
On Saturday, the National Weather Service in Honolulu tweeted that preliminary rain totals from four stations on Hawaii's Big Island showed more than 40 inches of rain from Lane, with the highest being a station in Waiakea Uka reporting nearly 45 inches of rain.
Honolulu Mayor Kirk Caldwell said that "we all planned for the very worst and hoped for the best" and he said that officials were right to prepare.
"The good news is, Lane got weak and fell apart," he said. "We dodged a bullet. It doesn't mean it's over — we're going to have rain and wind and local flooding and we need to be vigilant."
The storm, which had been a Category 4 hurricane earlier this week before weakening to a tropical storm by Friday night, has dumped more than 30 inches of rain on parts of Hawaii's Big Island, with other areas receiving more than a foot and in some spots more than two feet of rainfall, the National Weather Service said.
Flooding in the city of Hilo on the Big Island led to waist-deep water in some places. Around 1,980 customers were without power on Oahu on Friday afternoon, utility company Hawaiian Electric tweeted.
The National Guard and firefighters rescued six people Thursday trapped in a flooded home on the Big Island, the Associated Press reported. There were no injuries. Five tourists from California were rescued from another house.
Brush fires Friday in western Maui fueled by high winds led to the evacuation of around 100 homes, NBC affiliate KHNL of Honolulu reported. More than 2,300 acres were burned and some homes were damaged. A woman was injured in the blaze and taken to a hospital for treatment, the station reported.
The now tropical storm was moving northwest at a sluggish 3 mph Friday evening, the hurricane center said. Hurricane warnings that had been issued for the island of Oahu and Maui County were downgraded to tropical storm warnings. The Big Island also was under a tropical storm warning.
Officials cautioned that the slow speed of the storm could prolong rain in parts of the state. Some 1,500 people across the Hawaiian islands were in shelters Thursday night, with around 1,000 on Oahu, where Honolulu is located.
The last Category 5 storm to even come close to Hawaii occurred in 1994 when Hurricane John skirted 345 miles south of the islands. The last severely damaging hurricane was Iniki, a Category 4 storm that killed six people in September 1992.
The storm is expected to turn to the west towards open ocean and pick up speed Saturday, when the center of the storm is expected to pass south of Kauai, forecasters said.
In the brush fires burning in west Maui, Tyler Dreiling, 25, passed out briefly after helping make sure no one was in the houses in an evacuation zone in Lahaina.
"I was just running door-to-door making sure there wasn't anyone else still in houses," he said in a phone interview with NBC News. Eventually he went home to find out that his own neighborhood was being evacuated.
"I grabbed a couple of things and walked out and it was pretty close to the main highway when I started to feel dizzy," Dreiling said. He was staying at Maui High School, which has been made into an emergency shelter.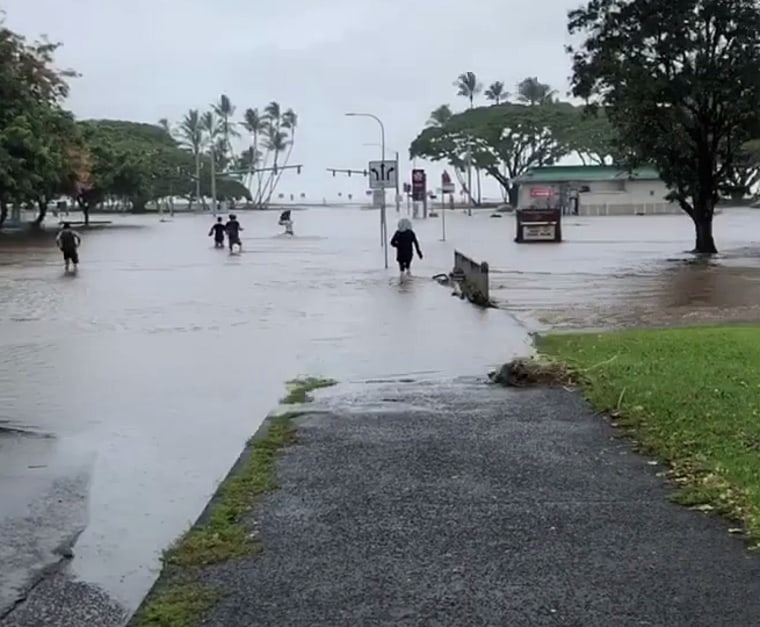 As the hurricane approached, people rushed to stock up on supplies.
At the Hilton Hawaiian Village, guest Elisabeth Brinson said hotel staff left a notice that rooms would have water and phone service, and a backup generator would power one elevator per building in the event of an electrical outage.
But Brinson, a native of the United Kingdom now living in Denver, said many shops were closed, and those still open were frantic with people buying food, beer and water to take back to their rooms.
"We knew it was coming, so I tried to just cram as much as I could into the last few days in anticipation so we could cross things off of our list," Brinson, who is accustomed to hurricanes after living in Florida, told the AP.
President Donald Trump has declared an emergency for the state, freeing up federal assistance. Ige, Hawaii's governor, said he received a phone call from Trump, who pledged his full support.