A pastor defied a deputy's orders Monday, wading out to retrieve a casket floating away in fetid floodwaters in Ridgeville, South Carolina — because "this is America."
Wayne H. Reeves watched for hours Monday as a casket began floating away from the cemetery of New Canaan Methodist Church. That's a sister church of New Life Ministries, a nondenominational church in nearby Summerville, where Reeves is the pastor.
The casket had been forced up out of the ground by the historic floods inundating the Palmetto state.
Tired of waiting for anyone else to do something — and with the family of the deceased grieving along with him — Reeves donned wading boots, walked out into the brown, waist-deep water and began pushing the casket back to dry ground.
"I waited all day, and nobody did anything, so I decided, out of respect for this family, I would do whatever's necessary," Reeves told NBC station WCBD of Charleston.
A Dorchester County sheriff's deputy told him not to do it, because it was too dangerous.
But "that's not who we are," Reeves said. "This is America, and we're not like that."
"You've got all these family members standing out here, and there's moms and dads and aunts and uncles out there in the water," he said. "If that was my mama or my dad, I'd walk through hell and high water, and today it happened to be high water."
Reeves said he knew the dank waters probably harbored dangerous bacteria, but he said he had to help.
"I'm going to go home and take a hot bath and wash with a little bleach," he said. "It'll take care of that, but this family's already hurt enough, and I don't want them to hurt anymore."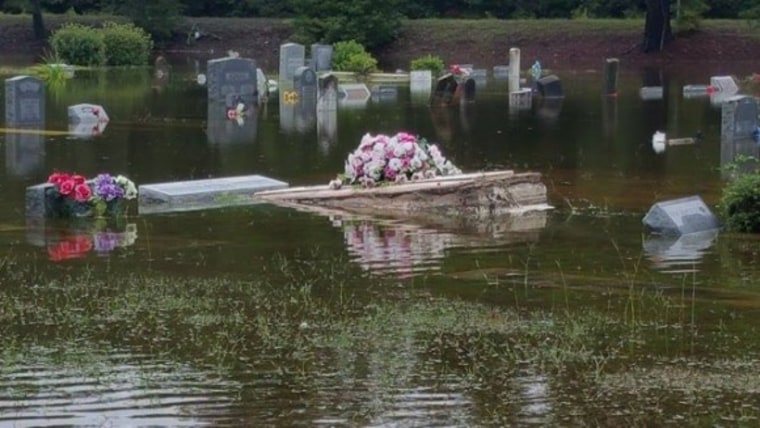 So far, 12 people have been confirmed to have died in the historic floods that hammered the Carolinas over the weekend.
In Richland County, home to the state capital, Columbia, Coroner Gary Watts identified five of the victims Monday:
Alexandria Maret Holmes, 24, of Columbia, who was found dead in her vehicle Sunday afternoon.
Timothy Gibson, 45, of Columbia, who was found dead in his vehicle Sunday night.
Robert L. McCarty, 78, of Columbia, who was found dead in his vehicle late Sunday night.
Melissa Lee Hall, 35, of Columbia, who was found dead in her vehicle early Monday.
Robert Edens Allawos, 60, of Columbia, who was found dead in his vehicle Monday morning.
While Hurricane Joaquin missed the East Coast, it fueled a "fire hose" of tropical moisture aimed directly at the state, the National Weather Service said. Parts of South Carolina were told to expect as much as three more inches of rain before the storm moved offshore.
Related: Flood-Hit South Carolina Set for More Rain After Record-Setting Downpour
"This is not over — just because the rain stops doesn't mean we are out of the woods," South Carolina Gov. Nikki Haley told reporters Monday. "Even though you're not seeing rain, there is still water out there."
The record for the most rain in 24 hours had been 14.80 inches, set during Hurricane Floyd in 1999. That was smashed in several places, with some areas of the coast getting as much rain as they normally would in eight months, the National Weather Service said.
It reported almost 25 inches of rain in Kingstree, 24 inches in the town of Longs in Horry County and 21 inches in Georgetown.