Summer got off to a sizzling start Monday as a deadly heat wave sent temperatures soaring across the Southwest again and forecasters warned the mercury could hit anywhere from 120 to 125 degrees this week.
Excessive heat warnings and heat advisories were in effect across Southern California, Nevada and Arizona, affecting 25 million Americans, the National Weather Service reported.
Another heat-related death in Arizona was confirmed Monday, when authorities said a woman walking on a multi-use path called The Loop collapsed and died Sunday night in Tucson. The deaths of four people in Arizona over the weekend were confirmed Sunday.
Meanwhile, the searing temperatures were complicating the battle against explosive wildfires that have already scorched tens of thousands of acres in the region, forcing evacuations throughout the Southwest.
It was hot enough in Arizona to fry eggs on the sidewalk, the Arizona Republic reported.
"Numerous locations in Arizona reaches 120 degrees yesterday, including city of Yuma," said Michael Palmer, The Weather Channel's lead meteorologist. "Excessive heat warnings continue for at least two more days."
About 150 miles northeast of Phoenix, firefighters battled the Cedar fire, which had consumed 26,739 acres by Monday afternoon, incident commanders said. It was only 40 percent contained, they said.
A 25-year-old man died Saturday while hiking with two friends along the Peralta Trail in Pinal County, 70 miles southeast of Phoenix, Sheriff Paul Babeu said. A second hiker was still missing, he said.
Sunday, a 28-year-old woman who worked as a personal trainer died during a morning hike along the Desert Vista Trail in Maricopa County, Phoenix fire officials told NBC News.
Later Sunday, two hikers — a man and a woman in their early 20s hiking in Pima County — left the trail without taking along water and had to be rescued by helicopter, authorities said. The woman died before deputies arrived, and the man was being treated at a hospital, the Pima County Sheriff's Department said Sunday night.
Two other hikers had to be rescued Monday morning after they suffered heat-related-illnesses in Palm Desert, California, authorities told NBC News. Rescue crews hiked a mile up a hilly trail to reach the hikers after two attempts to get there by helicopter failed.
Their conditions weren't immediately reported.
The deadly heat was also hastening separate blazes across the region.
The Dog Head Fire covering close to 18,000 acres near southeast of Albuquerque, New Mexico, meanwhile, was 46 percent contained Monday night. A second New Mexico fire, dubbed North, continued growing near the town of Magdalena and was at 36,110 acres, with 30 percent containment.
In California, the 7,890-acre Sherpa fire, which had threatened communities and a campground near Santa Barbara, was 62 percent contained Monday night.
Meanwhile, near downtown Los Angeles, a small but dangerous fire threatened a densely populated, hilly neighborhood along Highway 39 amid sizzling temperatures Monday.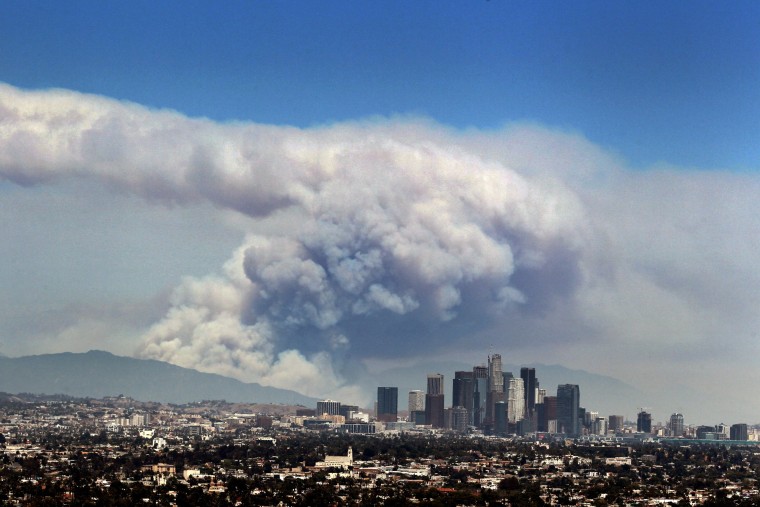 The highway was closed, and residents of the communities of Mountain Cove and San Gabriel Canyon were evacuated, incident commanders said late Monday afternoon.
"Both the heat and the breeze are helping spread the fire," said Brian Donegan, a meteorologist for The Weather Channel. But he said firefighters should catch a break Tuesday, when winds should die down.
And evacuations were ordered Monday afternoon for residents in the Mountain Cove and Rainbow Ranch neighborhoods in Azusa, California. Two brush fires are burning in Angeles National Forest, one of them believed to have been started by a vehicle that went off the road, the U.S. Forest Service said.
All told, more than 3,000 firefighters were battling 10 major wildfires across California, incident commanders said Monday.