The sweltering temperatures of recent days were just a warmup. The heat wave scorching two-thirds of the nation will hit its peak over the weekend.
Thinking about playing the dangerous conditions cool? Think again, health and government officials warn.
Officials from Wisconsin to Boston have declared heat emergencies, canceled classes and mobilized crews to prepare for the soaring temperatures through the weekend, when more than 100 local heat records are expected to fall.
More than 173 million people were under excessive heat alerts on Friday and nearly 60 million more were under heat advisories, according to the weather service national map.
The heat wave blanketed a swath of the nation from central Nebraska and parts of Oklahoma to Vermont and Massachusetts and northern South Carolina, according to the weather service.
"If you absolutely have to be out in this heat, hydrate and take frequent breaks in the shade," the National Weather Service tweeted Friday, with a map showing huge portions of the Southeast, mid-South, mid-Atlantic and Midwest suffering from extreme heat.
For much of the country, even sundown isn't going to bring much relief.
Cities in the northeast were threatening to break all-time high low temperatures with nightfall still being in the 80s, the National Weather Service said.
"In some of the major metro areas along the East Coast this weekend, overnight lows are expected to stay above 80 degrees and may approach record warm minimum temperatures," the weather service said. "In some cases, the heat index readings may remain above 90 degrees."
This week's heat has already killed at least one person, a 32-year-old former NFL player. Ex-New York Giants offensive lineman Mitch Petrus, a member of the 2012 Super Bowl champion team, suffered a fatal heat stroke on Thursday in his native Arkansas, officials said Friday.
The high temperature in Little Rock on Thursday was 92 degrees, with a heat index of 103 degrees. It's expected to be at least that hot on Friday in central Arkansas.
Halfway across the country in New Hampshire, the state with the first presidential primary where many a campaign has dealt with brutal winter weather, officials issued excessive-heat warnings. The mercury is expected to be in the mid-90s Friday and through the weekend with a heat index of about 105, officials said.
Health officials are advising people to stay inside and stay cool. But in Madison, Wisconsin, firefighters on Friday battled explosions and blazes at two power plants that cut electricity to thousands of sweltering customers.
The Kohl Center, where the University of Wisconsin Badgers play their home basketball and ice hockey games, was opened Friday as a cooling center for those without air conditioning.
The extreme heat and traffic snarls in Madison, due to signal lights knocked out by the fire, prompted Gov. Tony Evers to send state workers home early Friday.
"We are asking non-essential state employees headquartered downtown to go home for the day and asking folks to please avoid the downtown area," Evers tweeted.
Despite the potential deadly impact of the heat, National Weather Service officials in Nebraska tried to make light of the brutal heat.
On Thursday, the agency baked biscuits on a car dashboard.
Then on Friday, it re-tweeted the picture of a plastic hair clip, melted on a car handle.
Temperatures in New York City, where the mayor declared a heat emergency on Thursday, are forecast to be as high as 96 degrees on Sunday. With the humidity, it could feel like 110 degrees, the national weather service and emergency management officials said.
The New York City Triathlon, which expected to draw 4,000 participants from 33 countries and 45 U.S. states on Sunday, was called off because of severe heat warnings.
"After exhausting all options to mitigate athlete, volunteer, spectator and staff exposure alike, we are unable to provide either a safe event experience or an alternate race weekend," triathlon organizers said in a statement Thursday.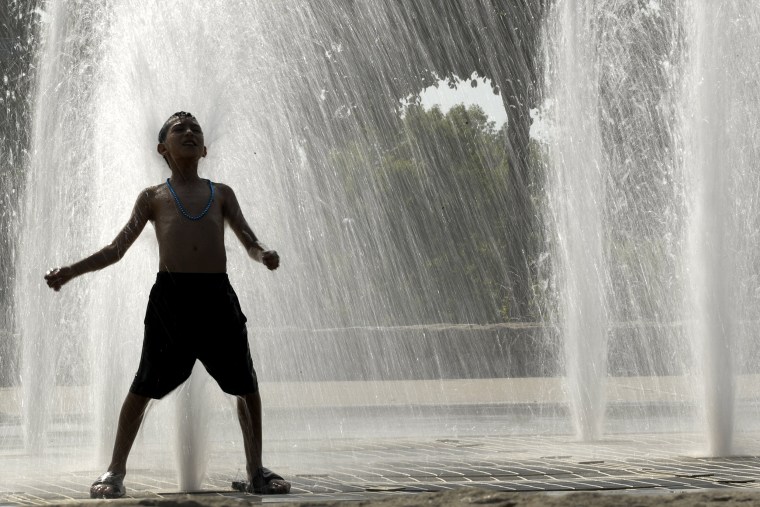 And an annual Central Park cultural event, OZY Fest, was canceled, the mayor and police department announced on Friday.
"Unfortunately due to heat advisory, OZY Fest is canceled this weekend," according to a New York Police Department statement. "Please be aware that the event will not happen due to weather conditions. Everyone please hydrate if you are entering Central Park for any reason."
Mayor Bill de Blasio ordered office buildings at least 100 feet tall and city government operations to set their thermostats to 78 degrees until Sunday night.
"They do not need to be on full blast to be effective," the city's Health Commissioner Dr. Oxiris Barbot said.
The move is necessary to "limit strain on our energy grid" and because "everyone must do their part to ensure safety until this heat wave passes," de Blasio said.
In upstate New York, the state racing association canceled races Saturday at Saratoga Race Course, where the heat index could be as high as 110 degrees.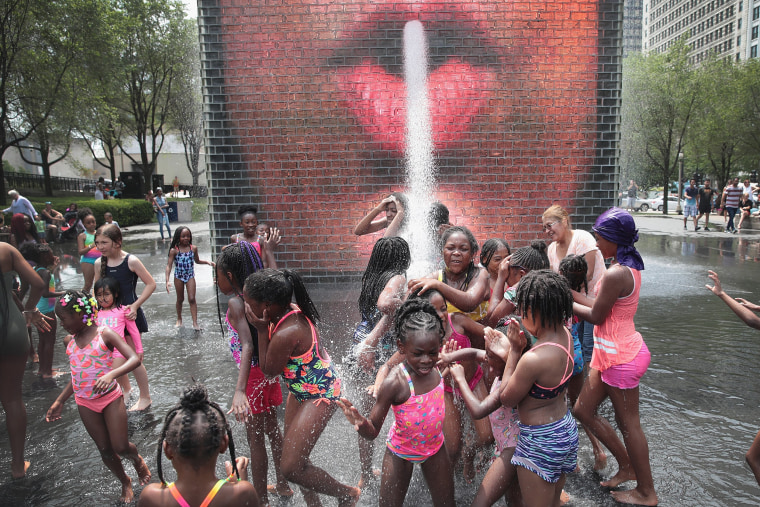 Mayor Lori Lightfoot of Chicago, where temperatures are forecast in the high 90s with a heat index topping 100 degrees through Saturday, declared a "heat emergency."
"It's all hands on deck," Lightfoot said at a news conference Thursday, where she pleaded with residents to take the heat seriously.
"No. 1, don't leave your children in hot cars. ... It's a terrible mistake," she said. "If you stumble across something like that, by any means necessary get the kid out of the car and call 911."
In Appleton, Wisconsin, where a high of 90 was forecast Friday, the school district called off elementary and middle school classes because of the excessive heat.
Philadelphia, which is expected to see 100 degrees on Saturday and 99 on Sunday, declared a "heat health emergency," that it extended it until 11 p.m. Monday.
Washington, D.C., also declared a heat emergency, with the heat index expected to reach 109 and 112 degrees on Friday and Saturday, respectively.
Boston Mayor Marty Walsh also declared a heat emergency. Temperatures there were forecast to be in the high 90s on Saturday and Sunday, but with a hotter feel due to humidity. Detroit's temperatures were also climb to the mid-to-high 90s Friday and Saturday.
In Waterloo, Iowa, the Salvation Army was combating the heat and trying to keep people safe by distributing water, popsicles and other treats in a mobile canteen. In the city of around 68,000 northwest of Cedar Rapids, temperatures were in the low 90s Thursday.
"No one should suffer through this. It can be dangerous and life-threatening if people don't take it seriously," Salvation Army Capt. Shannon Thies told NBC affiliate KWWL.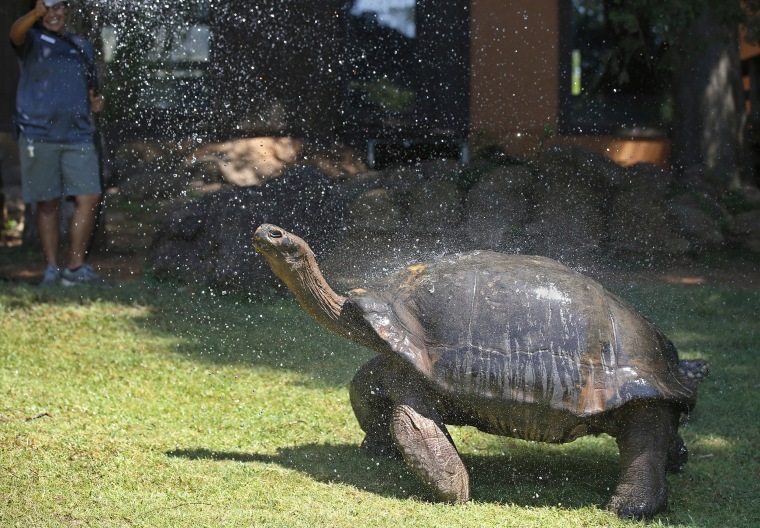 People aren't the only ones suffering. In New York City's Central Park on Thursday, Judith Kadi said that the recent heat has had her and her dog out walking earlier.
"The heat really affects him, so we definitely come out early, and I carry water with us constantly," Kadi said. "He's very, very thirsty; I definitely see a difference in him when it gets to this temperature."
So far, this summer "has not been bad, but this has been really unbelievable," she said. "Everyone's affected by it." She was planning to leave the city Friday and go out to the country to beat the heat — the forecast high is 94 degrees — and to return at night when it's cooler.
On Thursday, the National Oceanic and Atmospheric Administration released a monthly climate report that said that last month was the hottest June on record for the globe. The NOAA global dataset record goes back 140 years, to 1880. Nine of the 10 hottest Junes globally have occurred since 2010, the agency said.
The NOAA also said that in June, for the second month in a row, increasing warmth brought Antarctic sea-ice coverage to a new low.
The national heat wave should break on Monday with more seasonable temperatures settling in then.