The first arctic blast of the season has hit — blanketing parts of the Rockies and Plains with subzero temperatures early Thursday and heralding a bitter freeze that will affect more than 200 million people.
But meteorologists are warning about a second, perhaps even colder chill that could spread across the East Coast and possibly portions of the South late next week. A shift in a weather system known as the Polar Vortex may be partially to blame, according to The Weather Channel.
For now, parts of Montana, Wyoming, Colorado and the Dakotas were bearing the worst of it, with temperatures as low as minus-14 overnight Wednesday. Heavy snow was also falling around the Great Lakes region, and parts of Michigan, Indiana, Pennsylvania and New York could see up to 2 feet of snow.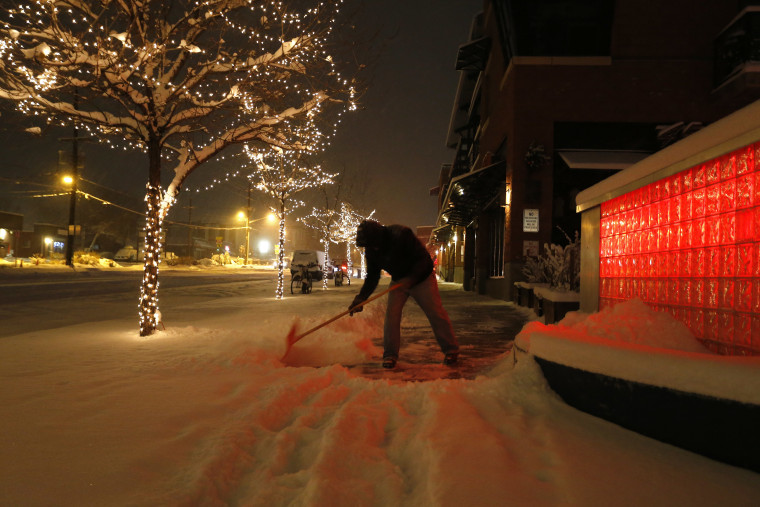 By Friday night, the frigid air was expected to have swept most of the U.S. with temperatures in the 20s from Albuquerque, New Mexico, to Buffalo, New York, and from Atlanta to Seattle.
New York, Washington, D.C., and Boston were also expected to flirt with freezing temperatures late Friday.
"It's going to be a shock," said Kevin Roth, senior meteorologist at The Weather Channel. "The fall was closest to the warmest on record so this is really back to reality."
Although much less certain, a second wallop could be on its way late next week. After a brief reprieve following the weekend, temperatures could plunge into the minus next Friday in Midwestern cities such as Chicago and Minneapolis, into the teens across the North East and possibly back into the 20s in the South.
According to Roth, temperatures are expected to drop because of the Polar Vortex, a shift in a stratospheric weather system.
This is usually based around the polar regions but sometimes affects temperatures further south if it becomes weakened or distorted. To what extent this actually happens will affect which regions are plunged into unseasonable cold temperatures next week.