Former Presidents George W. Bush and Bill Clinton and former British Prime Minister Tony Blair were hustled away from an Arkansas high school graduation ceremony Thursday after severe winds began breaking windows.
A strong storm system sent powerful winds sweeping through Arkansas and Oklahoma, downing trees, toppling a semi-truck on the highway and leaving almost 200,000 customers without power.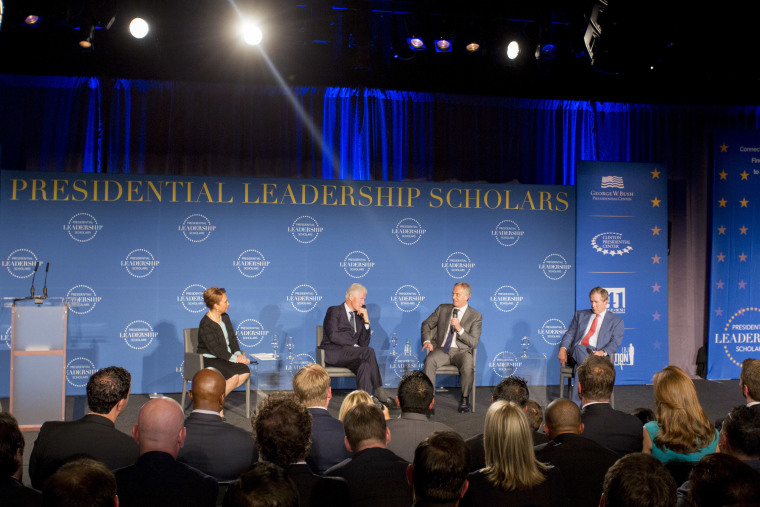 It wasn't known where Bush, Clinton and Blair were taken as sirens started sounding at a graduation ceremony at Central High School in Little Rock for the Presidential Leadership Scholars.
The program is an elite educational course organized by the presidential libraries of Bush, Clinton and former Presidents George H.W. Bush and Lyndon Johnson.
NBC station KARK of Little Rock reported that none of the three former world leaders was injured. Everyone else was ushered into the high school's basement.
The storm system soaked some areas of Oklahoma with as much as 2 inches of rain in six hours Thursday morning and afternoon. Scattered flash floods were reported, including one that half-submerged a U.S. Postal Service truck.
But the system's winds were the biggest problem. Sustained winds above 50 mph were recorded in many parts of both states, with gusts above 70 mph — approaching hurricane force — in a few spots.
The National Weather Service reported that the roof of a building was blown off near Mazie, Oklahoma, in Mayes County, where some mobile homes were also reported to have been overturned.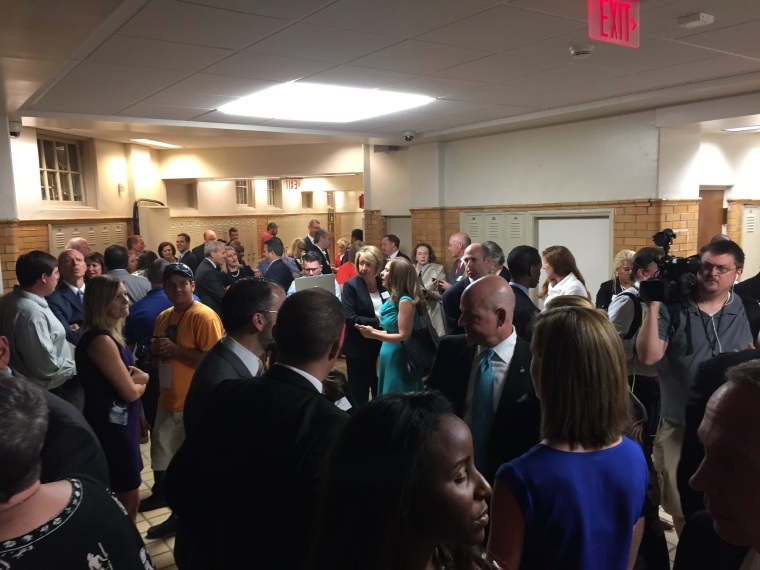 A tractor-trailer rig was blown over on a part of Interstate 44 near Tulsa called the Turner Turnpike about 12:30 p.m., the Oklahoma Highway Patrol said. No one was injured, but traffic was blocked for a time, it said. Reports that another semi was toppled in Muskogee County couldn't immediately be confirmed.
Almost 130,000 customers were without power Thursday night in Oklahoma, in addition to more than 63,000 in Arkansas, electric utilities reported.
The National Weather Service said significant wind damage was possible as the system moves toward the mid-Atlantic. Major cities in the risk area include Tulsa, Oklahoma City and Fayetteville, Ark.
"We're still kind of rocking and rolling across Arkansas [and] Tennessee into Alabama into the evening," said Kait Parker, a meteorologist for The Weather Channel.