Severe weather put the brakes on some of the world's fastest motorsports athletes over the weekend but NASCAR finally made its debut Sunday in Chicago after an overnight rain delay.
The NASCAR Cup started late in the day Sunday following torrential rains that delayed its Saturday start. The delay continued through the afternoon, and the event was shortened with darkness looming.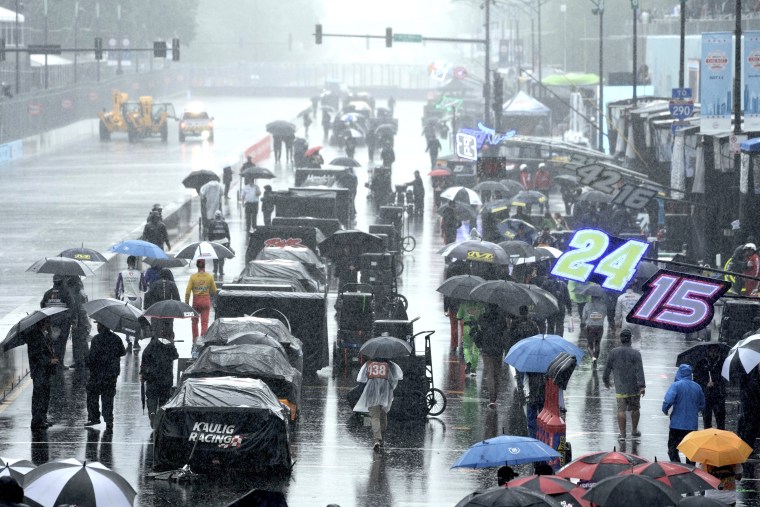 On Sunday night, New Zealand's Shane van Gisbergen, an Australian Supercar champion, became the first driver in more than half a century to win a debut NASCAR start.
"This was so cool," he said after the race. "This is what you dream of. Hopefully I can come and do more."
Chicago wasn't alone. Severe weather took aim across a wide swath of the U.S. from New York and Pennsylvania down to Arkansas.
Scattered showers were reported in Kentucky and Tennessee, and the line of storms was expected to shift into the Appalachians overnight.
In St. Louis, Missouri, a 33-year-old woman was killed when a tree fell on her car during severe weather, according to the Metropolitan Police Department.
Flooding was reported in Clinton County, New York.
New York Gov. Kathy Hochul said rain over the past 12 hours had led to dangerous conditions in some areas.
"I am closely monitoring the situation and have directed my team to assist local officials however necessary," Hochul said in a statement Sunday.
The storm system will target the Carolinas and the mid-Atlantic region Monday, affecting 29 million people in Philadelphia; Baltimore; and Charlotte and Raleigh, North Carolina. Damaging wind, large hail and a tornado or two will be possible.
As the July Fourth holiday approaches, the Northeast and the Southeast can expect scattered showers and temperatures in the 80s and the 90s, respectively.
The Midwest and the Rockies may get rain, while the West will be sunny and dry, with temperatures from 70 to the 100s.
Heat alerts from coast to coast
Around 63 million people coast to coast remained under heat alerts Sunday afternoon, including those living in Raleigh; Charlotte; Atlanta; Tallahassee, Florida; Montgomery, Alabama; New Orleans; Corpus Christi, Texas; Phoenix and Tucson, Arizona; Bakersfield and Sacramento, California; and Portland, Oregon.
Excessive heat warnings were issued in Mohave, Maricopa, Yuma and eight other Arizona counties.
More than 30 records were threatened Sunday in cities across eight states: Tucson and Phoenix; Tampa and Jacksonville, Florida; Fresno and Palm Springs, California; New Orleans; and Asheville, North Carolina.
Phoenix Sky Harbor International Airport posted a high temperature of 115, the hottest of the year so far, according to the National Weather Service.
The weather service in Las Vegas said the time it took to climb 10 degrees in triple-digit high temperatures — starting with the 100-degree high on Friday and ending with Sunday's high of 110 — was the shortest since 1955.
Tucson International Airport reached 110 degrees Sunday, the weather service said. It was expected to be hotter on Monday, it said.
Death Valley National Park in California reached at least 119 Sunday, with the official high yet to be announced, and expectations that 123 was possible, the weather service said.
On Saturday, Tallahassee temperatures reached a high of 100 degrees, tying a record set in 1990, according to the National Weather Service. In New Orleans, a heat alert was in effect Sunday.
"Heat indices up to 110 are expected," the weather service tweeted. "Practice heat safety and take care of yourself!"
In the West, heat alerts will continue through Tuesday as afternoon highs range from 100 to 120 degrees. Temperatures will drop to at or below average across California and Arizona for the second half of the week.
Authorities have recorded 18 heat-related death in the U.S. since June 18 — 11 in Webb County, Texas, and two in Caddo Parish, Louisiana.