An erratic wildfire in Northern California advanced closer Friday morning to the edges of a city home to 92,000 people as more residents were forced to flee and officials announced a second emergency responder was killed.
The Carr Fire, which spread late Thursday at the height of a blistering heat wave, has scorched more than 44,000 acres and was only 3 percent contained, according to the California Department of Forestry and Fire Protection, known as Cal Fire.
The flames had jumped the Sacramento River and was approaching Redding, a city located in Shasta County and about 160 miles north of Sacramento.
Cal Fire said Friday that a Redding firefighter was killed. It earlier reported a bulldozer driver helping to battle the blaze also died. The International Association of Fire Fighters Local 1934 said Friday afternoon that Fire Inspector Jeremy Stoke was killed while battling the Carr Fire.
Amid intense heat, it expanded so quickly that it wiped out the progress firefighters had made since it began burning on Monday.
Cal Fire Deputy Chief Scott McLean told NBC News that "a wall of flame" hit the western part of Redding, an area where around 5,000 people live.
"For the most part, west Redding is on fire," he said, adding that a "significant" number of structures had burned, including residences. McLean said the blaze was "taking everything down in its path."
Cal Fire Department Unified Incident Commander Chief Brett Gouvea urged people to heed evacuation orders and to leave their homes promptly.
"This fire is extremely dangerous and moving with no regard to what's in its path," Gouvea told a press conference late Thursday local time.
Gouvea said other firefighters and civilians had been injured, but gave no further details. Three Marin County firefighters suffered burn injuries while battling the Carr Fire Thursday, that fire department said. Two of those firefighters were treated and released, and one was receiving further evaluation at a hospital, the department said Friday.
The blaze was moving "extremely quickly and erratically" into western Redding, Gouvea said, and was making a "significant push" into the northwestern part of the city.
Cal Fire issued further evacuation orders Friday for cities north or Redding toward Shasta Lake.
Mercy Medical Center told NBC affiliate KNVN that it was on high alert and confirmed that it was treating several burn victims in its emergency room. The hospital said it planned to move babies and intensive-care patients late Thursday.
An evacuation center at a high school in Redding was also forced to shut and move to Shasta College.
"The fire is picking up again with these high winds, and the unpredictability of how the wind is going to blow this is just crazy," Sgt. Tim Hinkson of the state Highway Patrol's Redding unit said in a Facebook video post. "It's out of control."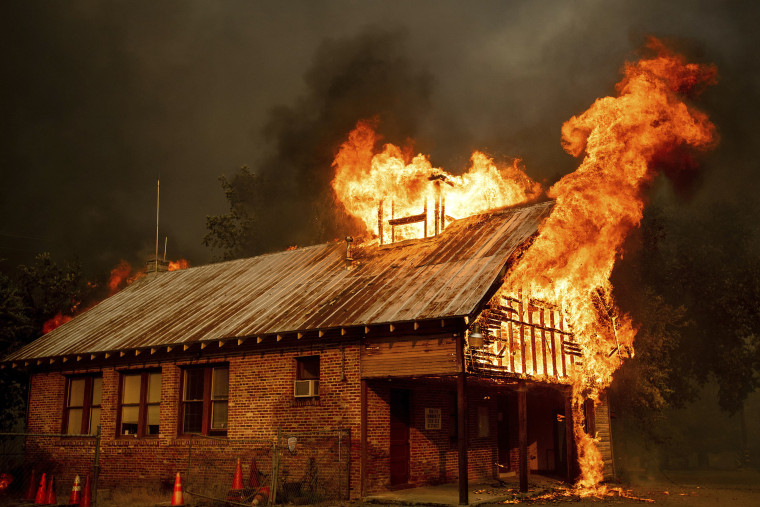 Topography, high heat, years of rain/snowpack deficits and winds of up to 70 mph have contributed to conditions and made this an extremely erratic and dangerous fire. Firefighters have been fighting the inferno in near-record temperatures that have hit more than 110 degrees Fahrenheit for the past three days.
Dramatic footage posted online by the Peardale-Chicago Park Fire Department, of Nevada County, shows vehicles driving past what they describe as a "fire whirl," while battling the blaze in Shasta County.
Cal Fire spokesman Jonathan Cox told the Record Searchlight newspaper that firefighters cannot keep up with the blaze as it spreads.
"This fire is moving at such speed and such intensity that it's moving faster than we can," he told the Redding-based publication.
Gov. Jerry Brown declared states of emergency in Shasta County as well as Riverside County in the south, where the Cranston Fire also forced evacuations and burned homes.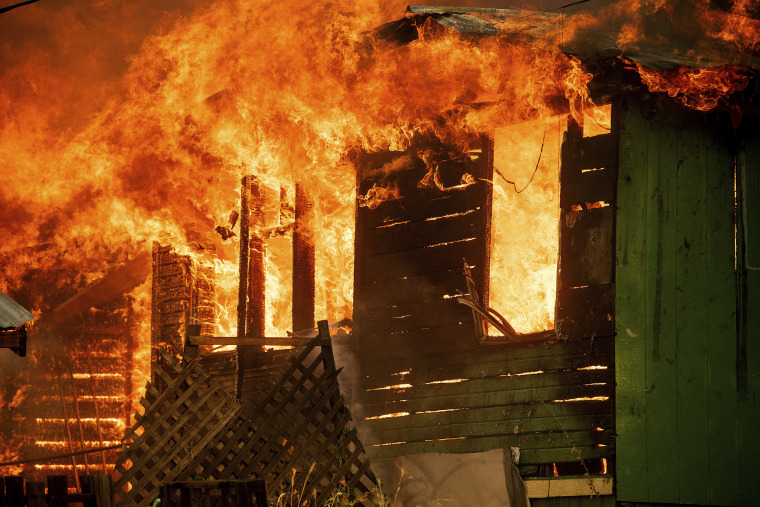 The intentionally set Cranston Fire was so powerful that it created its own weather system, dotting the area with lightning as it raced through dry Southern California mountain land in Riverside County.
It grew to 11,500 acres after an arsonist started it around noon Wednesday (3 p.m. ET) in the San Jacinto Mountains in San Bernardino National Forest, east of Los Angeles, Cal Fire said.
About 3,200 residents were evacuated from more than 2,100 homes, and about 600 more homes were in immediate danger in harshly hot, dry conditions, authorities said.
"We were all peeling out of there as fast as we could. It was apocalyptic," William Blodgett of Idyllwild, a town of about 12,000 people that was under the most immediate threat, told NBC Los Angeles.
Brandon N. McGlover, 32, of Temecula, south of Los Angeles, was charged Friday with 15 counts of arson related to nine wildfires, the largest of which was the Cranston Fire, The Riverside County District Attorney's Office said Friday. He was arrested on Wednesday. The nine fires were all set that same day.
Jail records Thursday night listed no attorney who could comment in McGlover's behalf. He is being held in lieu of $1 million bail.
The district attorney's office said that five homes have been destroyed in the Cranston Fire.
There are already 200 more fires in California to date in 2018 than the same period last year. A total of 130,000 acres burned vs. 240,000 acres.