A powerful system of storms churned across the Rocky Mountains and into the Midwest on Wednesday, dumping snow, driving high winds and leaving tens of millions of people in its projected path.
Blizzard conditions hit the Denver area on Wednesday morning — less than 24 hours after it hit a high temperature of 70. Strong winds reduced visibility, and ice closed roads in the Eastern Plains.
Denver escaped significant snow, but 6 inches fell near Palmer in the northern Colorado and near Lake George in the central part of the state. Up to 12 inches of new snow fell in the mountains, NBC station KUSA reported. Fifty-five flights were canceled Wednesday and 190 more were delayed at Denver International Airport.
The Illinois Emergency Management Agency issued an alert encouraging Chicago residents to stay aware of local forecasts and "be prepared to act quickly if storm warnings are issued."
"It's a huge, typical November storm," said Kevin Roth, lead forecaster for The Weather Channel. "Winter is on the way, that's for sure."
At least one Illinois school district, in Barry, closed early Wednesday because of the storm threat, NBC station WGEM of Quincy reported.
"We normally have a [Veterans Day] assembly, but we'll have to do that Friday," Western Community District Superintendent Terry Robertson said.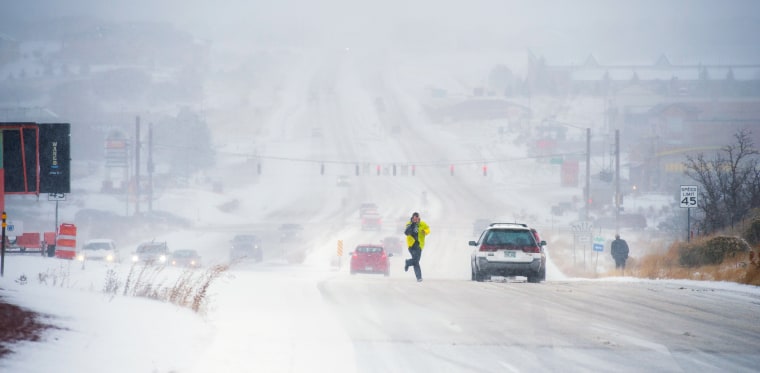 Chicago was likely to see thunderstorms and gusty winds Wednesday night, but it should escape the tornado threat, Roth said.
Blizzard conditions were also forecast for northwest Kansas and southwest Nebraska. Winds could reach 35 mph, resulting in areas of blowing and drifting snow, the National Weather Service said. More than 12,000 customers had lost power in the Kansas City area Wednesday afternoon.
A tornado watch was in effect until 6 p.m. (7 p.m. ET ) for parts of southeast Nebraska, southern and central Iowa, northern Missouri and northeast Kansas. That includes Kansas City, Des Moines and Omaha.
Less snow than forecast was falling in Nebraska, but icy roads and strong winds caused several accidents on state Highway 71, the State Patrol said.
By late Wednesday, the severe winds are likely to have spread to St Louis, where forecasters warned of possible tornadoes, and Indianapolis, where wind gusts approaching 60 mph could knock out power.
"We've got plenty of wind energy from the jet stream to work with," said Danielle Banks, a meteorologist for The Weather Channel. "That is going to drive the snow around, leading to poor visibility."
At Pi Kappa Cino Coffee in Sterling, Colorado, workers were checking their heaters and stocking up on coffee to handle a busy morning on the first significant snowfall of the season.
"We always try to keep prepared for the winter, keeping extra water on hand and checking the heaters," owner Patricia Prescott told the Associated Press. "Business normally picks up because everyone wants our warm drinks."