The Great Plains were buried by a blizzard Tuesday that was expected to dump up to 18 inches of snow across eight states.
Iowa got hit by the wintry blast just after the Democratic and Republican presidential candidates split for New Hampshire following the caucuses.
Des Moines was walloped with several inches of snow in the morning, which turned the commute into a treacherous trek for thousands. And it was bracing for a second round of snow that was expected to turn the evening commute into a nightmare.
A total up to 6 inches of snow was in the forecast for Iowa's biggest city, and 2,000 Des Moines residents found themselves shivering in their homes after their power went out.
Iowa wasn't alone. The storm stretched from the Denver exurbs to the Upper Peninsula of Michigan, with the worst of the blizzard and whiteout conditions cutting a swath through Nebraska and the spot on the map where South Dakota, Minnesota and Iowa meet.
From Wyoming to Michigan, winter storm alerts were in effect across at least eight states, with strong winds snarling travel and making roads hazardous. Some areas could even see lightning and thundersnow, The Weather Channel said.
Hundreds of flights were canceled even before the blizzard barreled in, FlightAware reported, with Denver's the hardest-hit airport.
The powerful weather system has already delivered record snowfall in Colorado and triggered 3,400 lightning strikes across Arizona.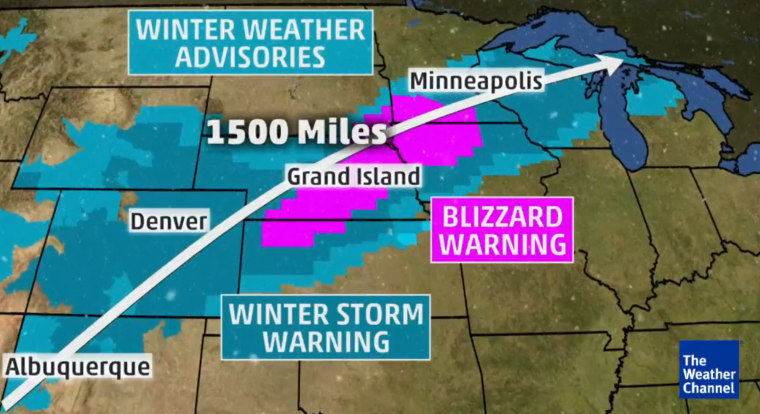 The National Weather Service issued blizzard warnings for northwestern Kansas, eastern Nebraska, southeastern South Dakota, southwestern Minnesota and northern Iowa.
Minneapolis was forecast to get 5 to 8 inches of snow Tuesday. Omaha, Nebraska, was supposed to get hit with 11 inches. And 12 to 18 inches were in the forecast for Sioux City, Iowa, while Wisconsin could get "about a foot" before it's all over, said Kevin Roth, lead meteorologist for The Weather Channel.
Photos: Storm Blasts Plains and Midwest
The winds were expected to keep whipping, with gusts up to 60 mph, even after the snow stops falling in parts of central Nebraska and northwest Kansas, leading to ground blizzards.
"That will reduce visibility to very poor, with dangerous driving conditions," Roth said. "In whiteout conditions, you won't be able to see very far in front of you, if at all."
By Wednesday, however, the worst of the storm is expected to be over.