Rain drenched much of the East Coast down to Florida overnight Sunday, and meteorologists warned that blizzards could hit the northern Plains and Northeast early in the week.
"Soaking rain continues to push through the Northeast," said Mark Ressler, lead meteorologist with The Weather Channel. "Places in the Northeast have gotten as much as 2 to 3 inches of rain overnight."
Flood watches were in effect for much of Connecticut, New Jersey and parts of New York state until Sunday evening, NBC New York reported, adding that the risk of snow and sleet could snarl the early Monday commute.
Passengers at Newark and LaGuardia airports were advised to check with carriers about potential weather-related flight delays, according to the station.
Heavy rain and powerful winds in Massachusetts resulted in road closures and downed a radio tower in the northwest corner of the state, according to North Adams Police.
Cell phone service, internet service and public safety radio communications were affected by the collapse, which resulted from 110 mph winds, said Peter Judge, a Massachusetts Emergency Management Agency spokesman.
Meanwhile, in northeast Massachusetts, severe flooding caused a sinkhole that impacted a telephone line and resulted in road closures, according to Chelmsford Police.
Flooding was also a problem in several Connecticut counties, forcing some people Norwich from their homes, according to NBC Connecticut. Nearly 5 inches fell in some parts of the state on Saturday and Sunday, and the precipitation could turn to sleet and hail on Monday, NBC Connecticut reported.
Governor Dannel Malloy issued a statement Sunday afternoon warning residents of flood-prone areas to be cautious while driving,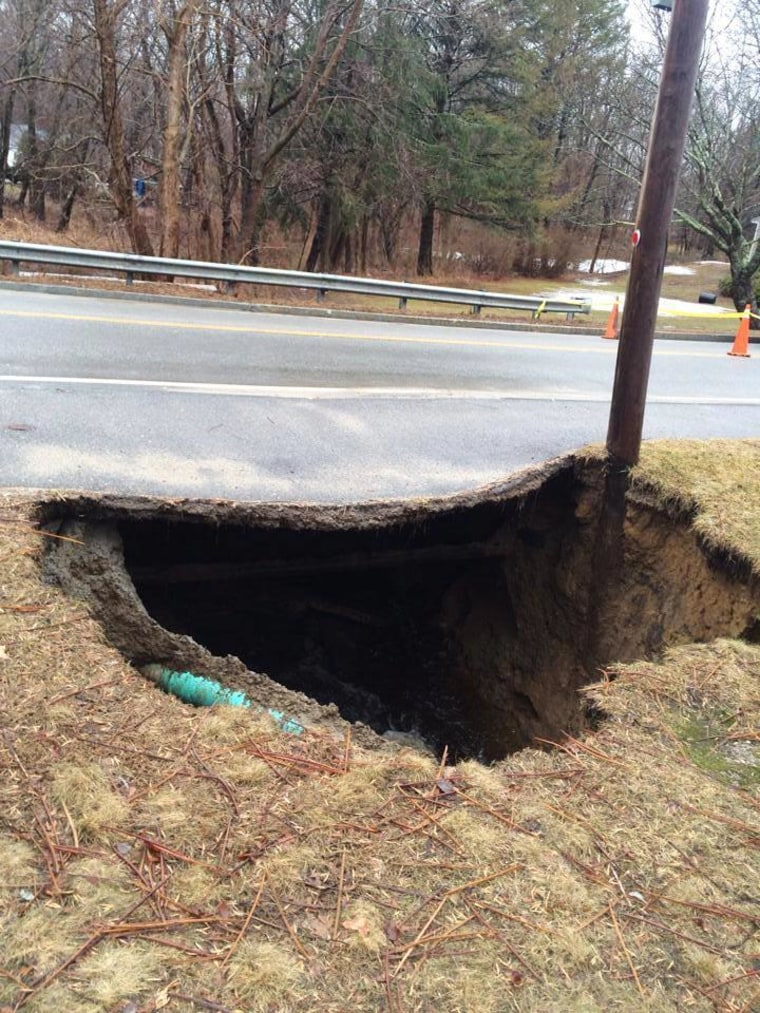 One tornado was reported in the Raleigh, N.C., area late on Saturday, Ressler added.
Areas around Washington, D.C., saw a dusting of snow and sleet Sunday, according to NBC Washington. The mix was expected to last until evening.
In Florida, the rain and wind forced the delay of the St. Petersburg Grand Prix car race and the evacuation of spectators from the grandstands on Saturday, Reuters reported.
A tornado warning was issued for parts of Orlando, about 84 miles northeast of St. Petersburg, after meteorologists detected a twister in the area.
"Heavy rainfall may obscure the tornado. Take cover now," the warning said.
Snow was set to follow the rain in West Virginia, western Virginia, northern New York and northern Maine, Ressler said.
"Some areas may see as much as 12 inches of snow out of that," he said.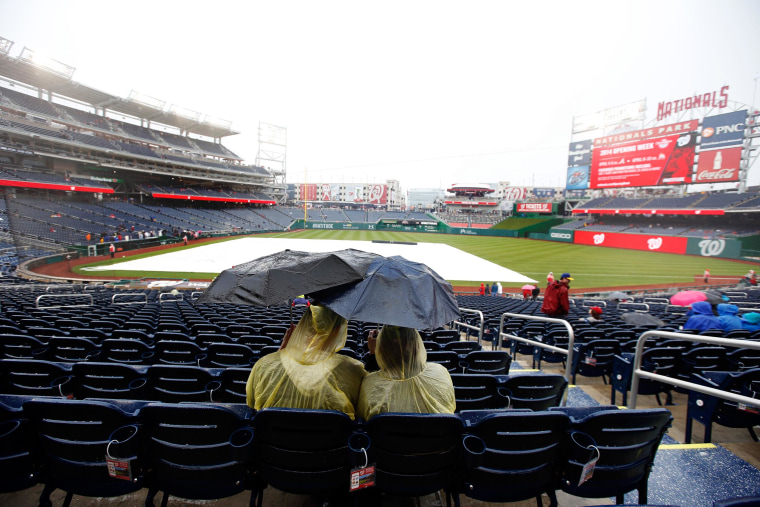 — F. Brinley Bruton, with Reuters