Washington, D.C., was bracing to be in the heart of a monster storm that will clobber the East Coast with snow and ice this weekend, forecasters warned.
"The Mid-Atlantic is going to get walloped," said Ari Sarsalari, a meteorologist for The Weather Channel. "We're talking blizzard condition, whiteout conditions."
The nation's capital could get 12 to 24 inches of snow, the National Weather Service said, calling the system "a potentially crippling winter storm." With Washington and nearby Baltimore under a blizzard watch for Friday afternoon through late Saturday, the weather service urged people to avoid any travel if at all possible.
D.C. officials said the city has 14 new dump trucks ready to be deployed to salt and plow major streets, along with six new trucks for residential streets, NBC Washington reported. If 2 feet of snow fall there, it will be the city's second-biggest snowstorm ever: The largest one was a 1922 storm that produced 28 inches.
The National Weather Service issued a graphic Wednesday afternoon vividly showing what capital-area residents can expect through the weekend:

The difficulties the city could face were illustrated Wednesday, when a mere inch of snow — not even related to the coming blizzard — sent vehicles in President Barack Obama's motorcade slipping and sliding into curbs.
Obama was returning to the White House from Joint Base Andrews, Maryland, after bad weather grounded helicopters, and a drive that usually takes 25 minutes took more than an hour, NBC Washington reported.
NBC Washington: Inch of Snow Snarls D.C. Traffic, Including Obama'a Motorcade
D.C. Mayor Muriel Bowser said the city has requested military vehicles from the National Guard to reach people in isolated places once the big snow starts Friday.
"If this is a blizzard and we have sustained winds and people lose power, that would be my biggest concern," Bowser said. "We can move the snow. We will move the snow."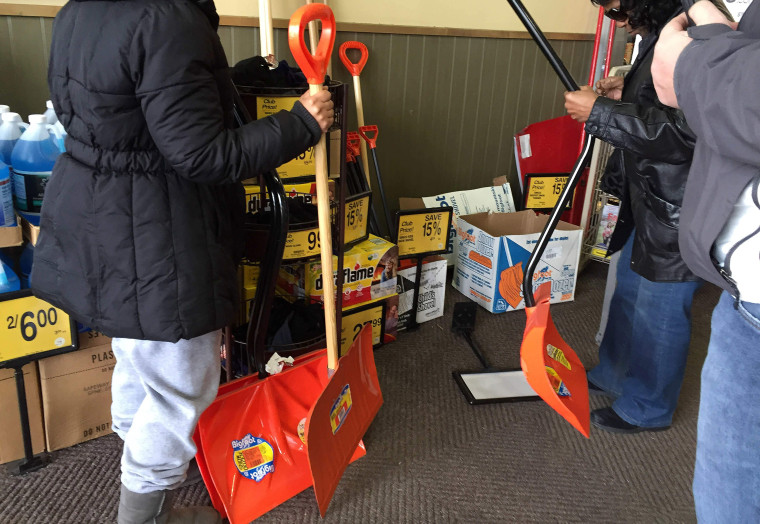 The Midwest and the East Coast have already shivered in frigid temperatures this week — and a storm due to start taking shape Thursday promises another wintry wallop for millions.
Winter storm watches were posted over an area bordered by northern Delaware south to central Mississippi and west to eastern Arkansas. Major cities in the mammoth watch area included Philadelphia; Washington; Baltimore; Memphis and Nashville in Tennessee; Richmond, Virginia; and Charlotte, North Carolina.
To add to the misery, severe winds arriving at about the time of an unusually high tide Friday mean serious coastal flooding is also likely.
Related: East Coast Has Gotten Below-Average Snowfall This Year — So Far
While the track of the storm still wasn't immediately clear, snow is expected to start in the central Plains on Thursday and move into the Northeast Corridor with more than a foot of snow possible in some places, The Weather Channel said.
The National Weather Service warned that the central Appalachians could get at least 12 inches of powder.
Parts of western Virginia are in the region that could the biggest snow, approaching 2 feet, and the state Transportation Department was already at full staff working round the clock to prepare.
"For a storm of this size, we're really looking at mobilizing just about everything we can, including our hired equipment, as wells as our pre-treatment ahead of it," said Jason Bond, a spokesman for the agency.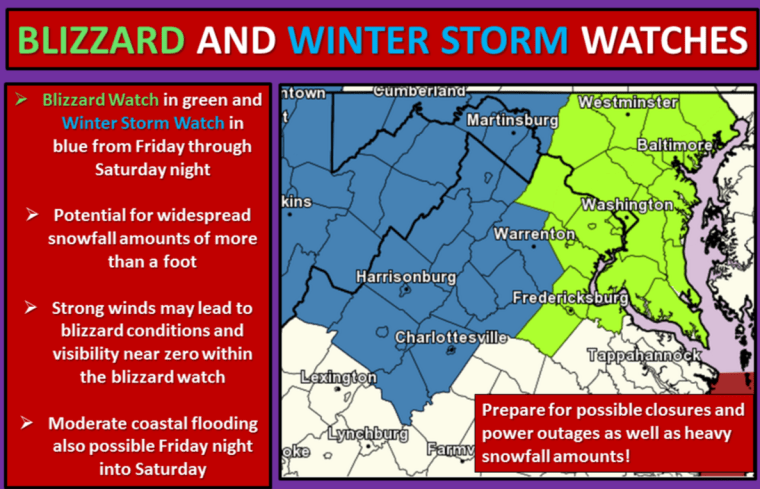 Ice is the biggest concern along the Indiana-Kentucky border, said Louisville Public Services Director Doug Hamilton, who called it the "game-changer."
"Snow any day is better," Hamilton told NBC station WAVE. "Ice is a A lot more for us to deal with. It takes just a little to create a lot of problems."
In Seymour, Indiana, the state Transportation Department was already salting roads at the rate of 250 pounds per lane per mile Wednesday, district spokesman Harry McGinity said.
New York Mayor Bill de Blasio said officials were keeping an eye on the storm but didn't expect the need for drastic measures.
This is "not the sort of storm that would shut down train service," he said, according to NBC New York.
Connecticut residents were making preparations for a heavy hit, with hardware stores doing brisk business in shovels, batteries and flashlights.
"We've been very busy all day, very busy selling any storm-related items," Tom Gaetani, manager of Cheshire's R.W. Hine Hardware store, told NBC Connecticut.