Flash-flood and severe weather warnings were in effect for a broad swath of the southern U.S. on Wednesday as the deadly storm that slammed the region this week churned on.
The National Weather Service warned Americans living in parts of Texas, Louisiana, and Arkansas to "act quickly to protect your life," as the slow-moving weather system refused to budge and threatened to dump up to a foot of rain.
At least one person has been killed since the storm moved over Mexico border Monday night. The relentless storm system has spawned tornadoes, high winds and thousands of lightning strikes across the southern U.S.
There were at least two EF1-category tornadoes on Tuesday in Texas. Several structures were damaged in Cool, about 40 miles west of Fort Worth. The second hit Stephenville, around 60 miles southwest of the city.
While unconfirmed by the NWS, a third possible tornado near Tolar caused the most damage, destroying six mobile homes and injuring two people in the town southwest of Fort Worth.
The storm was still in full swing early Wednesday. A patchwork of severe thunderstorm watches, flood warnings, and flash-flood warnings and watches was in effect for a 1,000-mile stretch from the Texas-Mexico border all the way up to Illinois.
The heaviest rain was falling across northern Louisiana, eastern Texas and southern Arkansas, which were all under flash-flood warnings. Those areas could receive up to a foot of rain through Friday, according to The Weather Channel.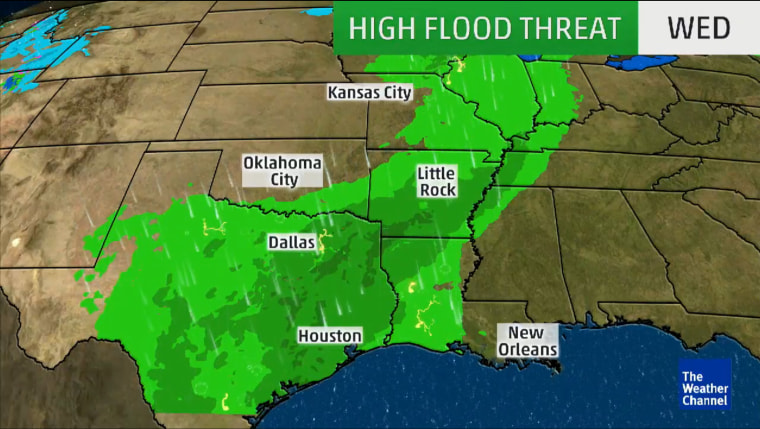 "Move to higher ground now! Act quickly to protect your life," the NWS said in its alert for these areas. "If you encounter flooded roads, turn around. Don't drown! Most flood deaths occur in vehicles."
Louisiana was already seeing severe flooding on roadways early Wednesday. Up to four feet of water was reported east of Shreveport in Minden, according to the local NWS station early Wednesday. Further east in Arcadia, water was reportedly coming into homes and businesses, while roads were closed across the parish.
The nasty weather prompted another series of flight cancellations in Texas on Wednesday. By 4:30 a.m. ET, more than two dozen flights had been canceled at of Dallas/Fort-Forth International Airport, according to FlightAware.
More than 1,600 lightning strikes were recorded in just one hour in city of Austin, according to NBC station KXAN early Wednesday.
Meanwhile, there also were 19 reports of severe hail across the region on Tuesday and early Wednesday, according to the NWS' Storm Prediction Center — including some reports of "golf-ball sized" hail.
The storms were expected to continue through Wednesday, before shifting east Thursday into Mississippi and declining by Friday and into the weekend.