A great-grandmother and her four great-grandchildren were killed amid heavy flooding in the east Texas town of Palestine, police said, as severe storms pummeled the region overnight Friday.
"The water just came up extremely fast," Palestine Police Chief James Muniz told NBC News. "Before they knew it, water was waist-high, then chest-high, and then it was roof-line."
The victims, who were discovered at about 3:45 a.m. local time, were identified Saturday afternoon as 64-year-old Lenda Asberry and her great-grandchildren Jamonicka Johnson, 6; Von Anthony Johnson Jr., 7; Devonte Asberry, 8, and Venetia Asberry, 9. She was their legal guardian, her son told NBC Dallas-Fort Worth.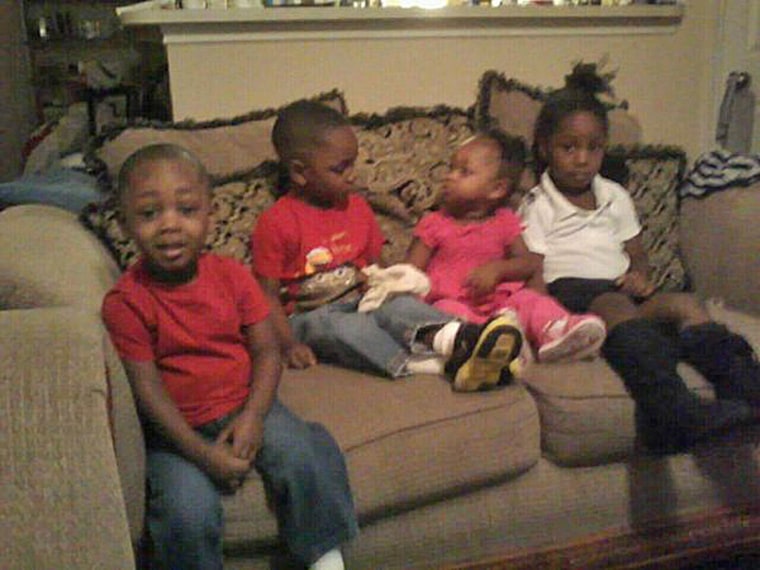 Palestine police said an additional six to eight families on their block had been displaced by the fast-moving floodwaters, and everyone else was accounted for.
Sometime after midnight, police received word that Lenda Asberry and her great-grandkids were missing, Muniz said.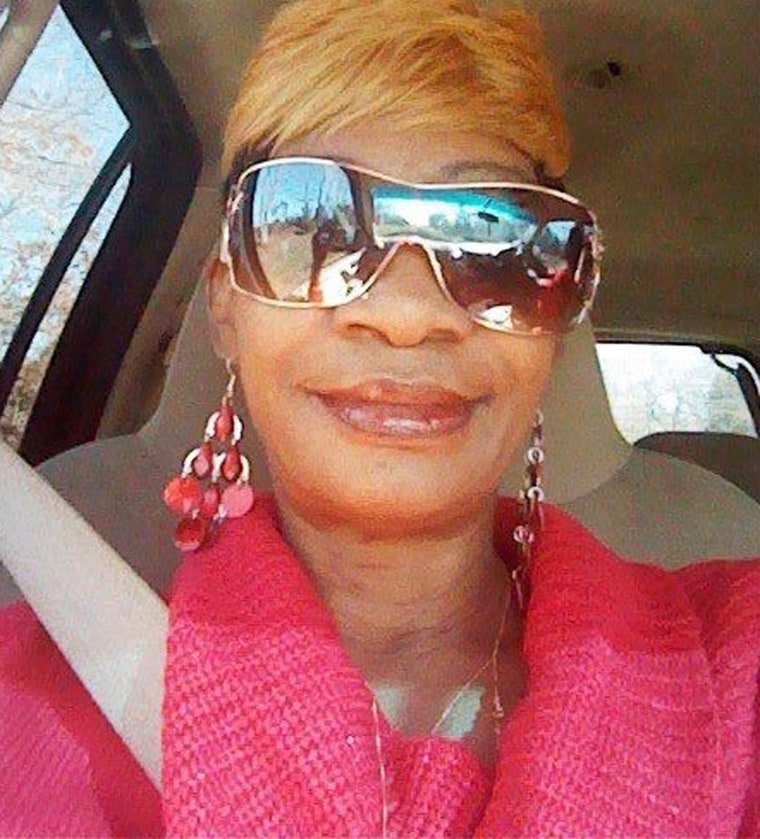 "We started to get overwhelmed with calls," he said. "We had fire and other city workers out looking for them and once the water receded, we found them."
The children lived with Asberry and were the only people in the home when the waters began to rise.
Other residents on the block attempted to salvage belongings from their inundated homes.
"All the residences are empty right now. The people are going to go back in a see if they can salvage anything," Muniz said.
Rachel Tidwell, 26, was playing pool with friends in downtown Palestine on Friday night when the floodwaters swept through town.
"It just kept raining and raining," she told NBC News. Then, water started rushing into the pool hall. She and her friends ran to the parking lot to try to find their Jeep.
"The water was too high for me to see anything," she said. "We never found our Jeep. Once we realized the Jeep was gone, we saw all the other vehicles were completely submerged. Then everyone was saying we had to get to high ground."
The group waded through chest-high water to the firehouse, which is in an elevated area.
"The whole thing from the time in the pool hall to the time we waded to the firehouse was only about five minutes. I now understand what they mean when they say flash flood," she said.
The overnight flooding was part of dangerous storms that tore through parts of the Plains and South on Friday and early Saturday, knocking out power and prompting disaster declarations in at least two Texas communities.
A record amount of rain fell on Little Rock, Arkansas, overnight, with the same system expected to drop up to 5 inches in parts of Louisiana and Texas, according to Weather.com. A new round of heavy rain was forecast for the storm-weary South that could linger for two days.
Parts of northeast Texas, southwest Oklahoma, northeast Louisiana and southwest Arkansas remained under flash flood warnings early on Saturday, according to the National Weather Service.
Officials issued a disaster declaration in Texas' Lindale and Smith County — which are between 80 and 100 miles east of Dallas — late Friday due to the dangerous weather. Lindale's fire department reported three minor injures in the town.
Near Dorchester, Texas, a funnel cloud that was called a tornado was spotted Friday afternoon and residents potentially in the path in the nearby town of Sherman were told to take shelter. There were no immediate reports of damage or injuries.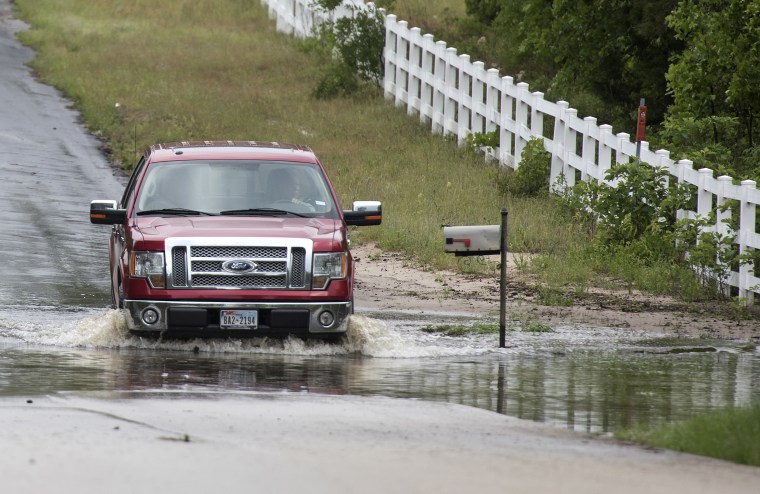 Hail the size of quarters and golf balls was reported in Tarrant County where Fort Worth is located, according to the National Weather Service, and street flooding of 3 to 4 inches was reported in Hopkins County.
And severe weather and thunderstorms caused delays at Dallas/Fort Worth International Airport, with arriving flights held up an average of 2 hours and 45 minutes Friday, the Federal Aviation Administration said.
There were no injuries reported after two homes — a mobile home in Ninnekah, Oklahoma, and a trailer house in Fletcher — were destroyed, emergency management officials said.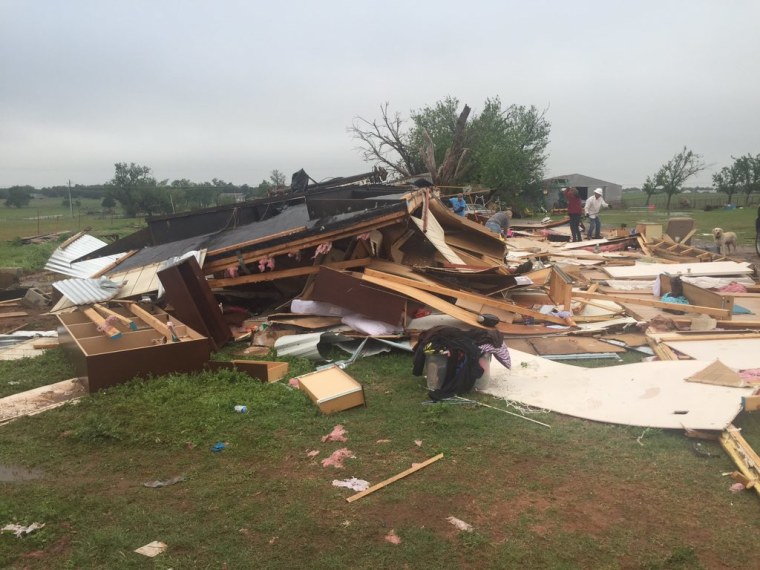 In Ninnekah, the homeowner and his family took shelter at a nearby school and no one was hurt, NBC affiliate KFOR reported. "That's what's important, is all my family members are safe," the homeowner told the station.
In Alabama, power was knocked out to 25,000 customers, with most of the outages in the Birmingham area, Alabama Power said. The National Weather Service warned of a severe thunderstorm in the Birmingham area with 40 mph winds Friday evening.
April has brought a consistent spate of storms to the South and the Plains, and many areas are grappling with clean-up from recent floods, along with swollen rivers and saturated ground. The heavy rain, expected to linger over the South until at least Sunday, will likely trigger flash flooding in areas that have already dealt with widespread flooding damage, according to Weather.com.