The torrent of floodwaters that raged through downtown Ellicott City, Maryland, on Sunday took many residents by surprise. In just two hours, more than 6 inches of rain fell, and the Patapsco River rose 17 feet, submerging the green valley in muddy waters.
The power of the flash floods ripped small buildings from their foundations, lifted cars and scattered them like toys, and forced more than two dozen water rescues in the historic mill town of 65,000 people. Efforts to find and rescue at least one person continued Monday afternoon.
Although the roiling waters had receded by early Memorial Day, the scenes of devastation looked worse than they did two years ago, residents said, when what was called a "once-every-1,000-years flood" killed two people and nearly wiped out Main Street.
As officials assessed the damage on Monday, they said they were lucky in this regard: While 1,100 calls were placed to 911 during the storm and several people were hospitalized, there were no immediate reports of deaths.
Downtown shop owners "have gone through hell to get where they are today before this flood, and they're facing it all again," Howard County Executive Alan Kittleman said at a news conference Monday afternoon. "Our hearts are with them."
The aftermath is "worse, I think, than it was in July of 2016, which is kind of hard for me even to imagine, because back then we all said that it looked kind of like the set from a disaster movie," Kittleman said Sunday.
Maryland Gov. Larry Hogan declared a state of emergency for the community in Howard County, west of Baltimore. He is expected to ask the Federal Emergency Management Agency for help.
Videos shared on social media captured the catastrophic conditions: A stone cottage collapsed in the fast-moving water, forcing a man into the current. It was unclear what happened to him.
In another scene, a road completely collapsed.
And in other videos, people trapped in the currents clung to cars that were being swept away, with the water pouring into first floors of homes and buildings.
Amid the chaos, firefighters were also alerted to two buildings that caught fire — one of them potentially started by a lightning strike, Howard County Fire Chief John Butler said.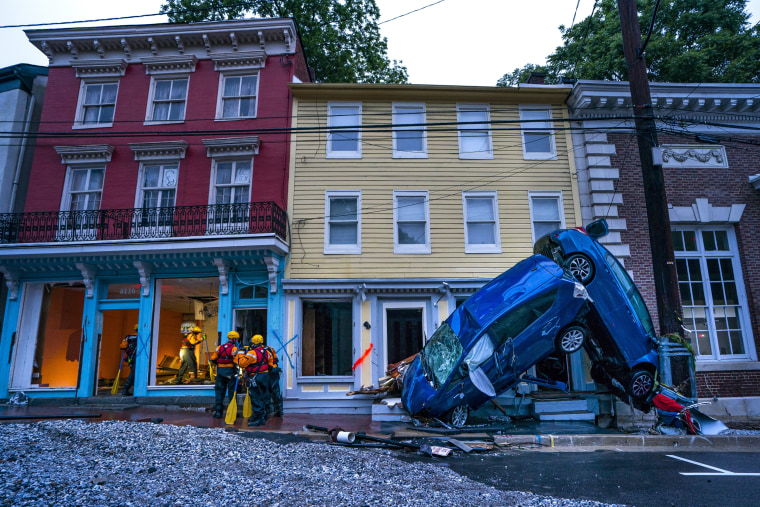 The missing person was identified as Eddison Hermond, 39, a member of the National Guard, Howard County police said.
Howard County Police Chief Gary Gardner said Hermond was in a restaurant on Main Street with friends when the water came surging through. A woman entered asking for help finding her missing cat. Hermond and his friends went to help, and that's when, they said, he was pulled under and didn't resurface, Gardner added.
Many residents of Ellicott City had just finished rebuilding from the major flooding of two years ago. Efforts were underway to install stream gauges that would help analyze water flow patterns around the river and warn residents of impending flooding, The Baltimore Sun reported last week.
The city also spent the past two years cleaning out debris from its channels and had planned to use previous money from FEMA to improve a culvert on the west side of downtown and to replace a runoff pipe. But construction wouldn't have begun until 2019.
"You can't get that much done in 22 months," Kittleman said.
Residents acknowledged Sunday that Ellicott City's flood-prone geography remains problematic. They've also suggested that new development above Main Street in the past two decades has worsened the runoff, which they see as contributing to more devastating flooding downtown.
"We're down in the valley. When the downpours come like that, this is the bottom of the bowl," resident Robert Simmons said.
Officials said Monday that they were focused on finding the missing person and helping downtown businesses and that there was time to address other concerns later.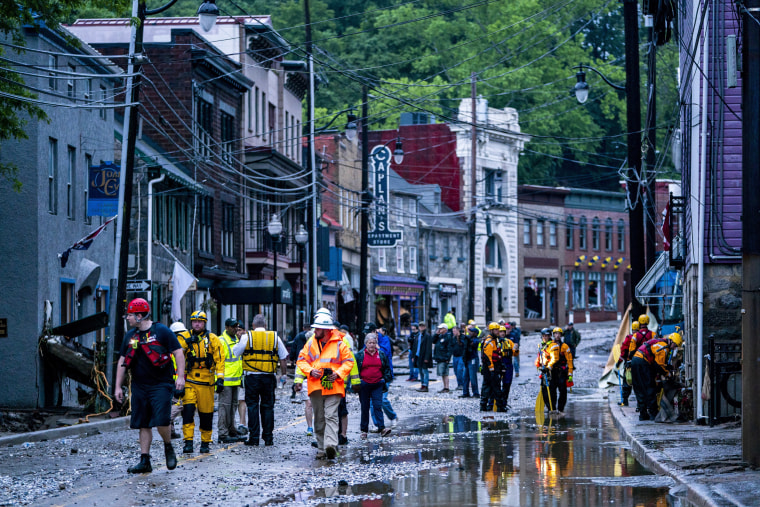 Much of the devastation from two years ago had already been repaired when Sunday's storm struck, Kittleman said, and more than 90 percent of its businesses had reopened.
Resident Isabelle Levine worried that this storm might have delivered the final blow to the downtown district.
"If Old Ellicott City comes back after this, I will be amazed," she said. "I would give up as a business owner."