Having already weathered a devastating hurricane season, Caribbean residents feared a new round of destruction from Category 5 Hurricane Maria as it barreled towards the Virgin Islands and Puerto Rico Tuesday.
"We already had years ahead of us to recover from the first one [Hurricane Irma] and now we have to pick up the broken pieces to try to protect what's left," Tammy Sueiras, in St. John, said in a text message to NBC News on Tuesday morning, due to poor cell service on the island.
"I think that some people are in disbelief, a lot of people haven't even been able to process what just happened less than 2 weeks ago and it's happening all over again," she added.
Sueiras, 40, said she planned to ride out the storm by herself in a first-floor apartment of a three-story building in Cruz Bay and had boarded up windows in her home.
"The bad part about that is that there is no light inside the apartment, zero no signal inside the apartment and there is very little air movement but if it means that I'm going to be safe then I'll take," she said.
Kenneth Mapp, governor of the U.S. Virgin Islands, has suspended all Irma recovery efforts in order to shift focus to preparing for Maria. And President Donald Trump declared states of emergency in the USVI and Puerto Rico on Monday.
The "potentially catastrophic" hurricane was producing maximum sustained winds of 175 mph, triggering hurricane warnings for the U.S and British Virgin Islands, Puerto Rico, its satellite islands of Culebra and Vieques, and parts of the Dominican Republic according to the National Hurricane Center.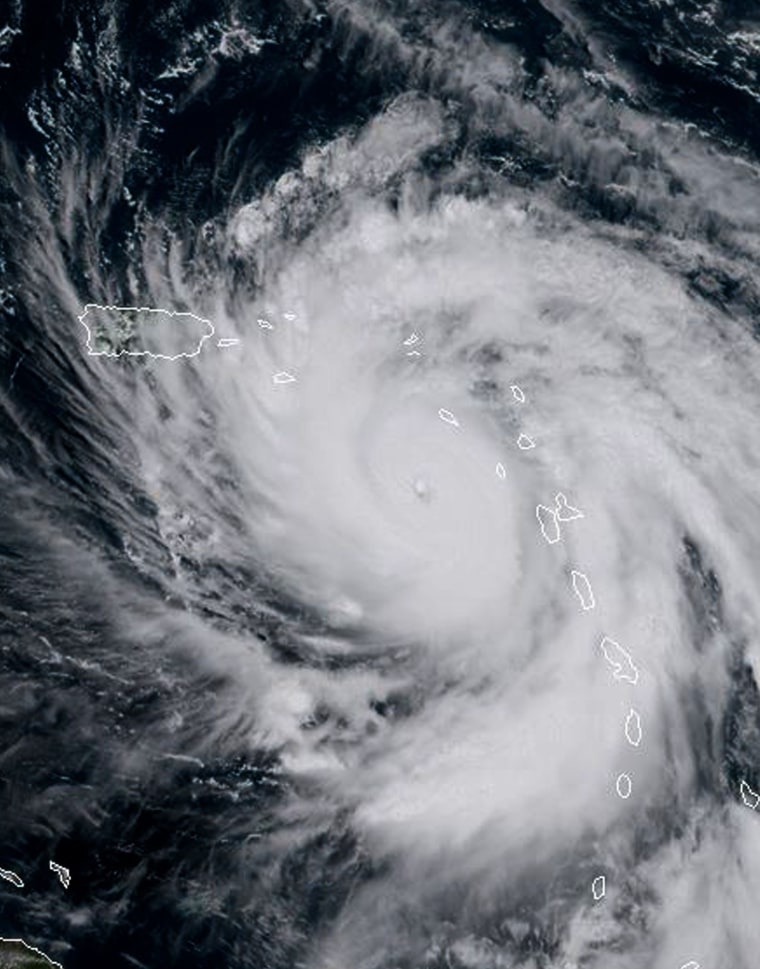 "Preparations against life-threatening storm surge and rainfall flooding and destructive winds should be rushed to completion," the center said.
Roosevelt Skerrit, the prime minister of the island of Dominica said on Facebook Monday night that his roof was gone and he was "at the complete mercy of the hurricane." Skerrit later said he had been rescued, but initial reports showed the island had sustained "widespread devastation."
The eye of Maria was forecast to pass near or over the Virgin Islands Tuesday night and cross Puerto Rico on Wednesday before skirting just north of the Dominican Republic Wednesday night and into Thursday, according to the hurricane center. It was expected to remain "an extremely dangerous category 4 or 5 hurricane" as it moved near or over the islands, the center said.
To people in the path, the categorical difference means little, according to Orelon Sidney, a meteorologist with The Weather Channel who noted, "Whatever a 5 can do, a 4 can do."
As residents of Puerto Rico scrambled to prepare for Maria's arrival, San Juan resident Monica Morales described "incredible" lines of people trying to get fuel from the stations that had some left, street lights with no power and stores running out of supplies for the island's residents.
"Everybody's tense, the streets are a little bit crazy right now," she said by phone Tuesday.
Morales said fallen trees and debris were still in the streets from Hurricane Irma and many people were still without power. She herself lost power Monday night.
Related: Hurricane Irma Survivors in Caribbean Fear They Will Be Forgotten After 'Apocalyptic' Storm
"We're doing as much as we can with not too many means," she said.
Morales, 48, said she would be waiting out the storm with her parents, brother and her two children in a home in Río Piedras, in the San Juan metro area.
"We're worried about the aftermath of this — how it's going to be," she said. "People's livelihoods are going to be affected, if they haven't been already by all the issues and problems that we have."
Meanwhile, Puerto Rico is already trying to recover out a historic financial crisis, and a direct hit by Maria could set the territory back further.
Gov. Ricardo Rosselló said Tuesday that 500 shelters would be open for people. Late Monday, he said that Trump had signed a state of emergency declaration for the territory.
Forecasters warned that the storm could leave some parts of Puerto Rico and the Virgin Islands uninhabitable for months.
"We're praying to God that it will weaken out at sea," Sonia Yanguas, 76, of Puerto Rico, said by phone in Spanish on Monday. Yanguas, who lives in a ninth-floor apartment in coastal Condado, said she would head inland to the city of Miramar during the hurricane.
Maria was shaping up to potentially be more dangerous than Hurricane Irma, which killed at least 70 people in the Caribbean and Southeastern U.S.
The Rev. Jeff Neevel, pastor of the St. Thomas Reformed Church, said the church was working with nonprofit My Brother's Workshop and the Salvation Army to provide hundreds of meals and relief supplies to families devastated by Irma.
"We've been preparing just to keep people fed and their basic needs met so that they can be as ready as possible for this storm," he said.
Related: Hurricane Maria Devastates Dominica on Path to Puerto Rico
Neevel said the worst part of dealing with the storms was losing communication with family, friends and members of his congregation.
"You just wonder how people are doing and what it's going to look like when you stick your head out for the first time," he said.
Julius Jackson, who works with the nonprofit, said there just weren't enough supplies to help those most in need.
"People aren't able to cover their windows and their roofs that are already destroyed, it's been really tough this past week," said Jackson, 30. "A lot of people need food and goods. A lot of people are out of jobs."
Jackson said he would wait out the storm with his dog, a pit bull mix named Lolita, in a home in Dorothea. He and his family decided it would be best for his wife and their eight-month old son to leave to evacuate from St. Thomas.
While he said it was difficult to be away from them, he felt it was his duty to stay behind.
"I don't plan on going anywhere. I really feel like it's a duty of mine to be here, especially to help people who can't take care of themselves — and to rebuild this place, he said.